A Lackluster September Jobs Report
September's Jobs Report was disappointing to say the least, and calls into question the Federal Reserve's apparent plan to raise interest rates in the near future.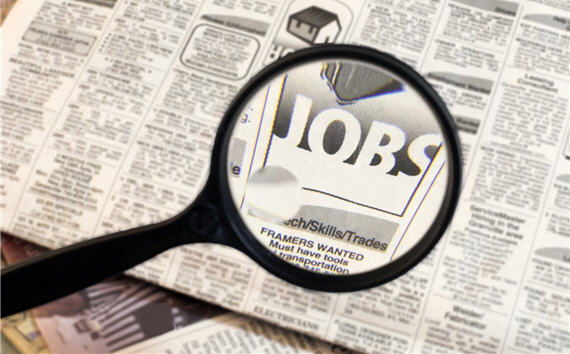 September's Jobs Report seems to show that the economy is not growing nearly as well as might be hoped, and yet again calls into question the future direction of Federal Reserve interest rate policy:
Total nonfarm payroll employment increased by 142,000 in September, and the unemployment rate was unchanged at 5.1 percent, the U.S. Bureau of Labor Statistics reported today. Job gains occurred in health care and information, while mining employment fell.

In September, the unemployment rate held at 5.1 percent, and the number of unemployed persons (7.9 million) changed little. Over the year, the unemployment rate and the number of unemployed persons were down by 0.8 percentage point and 1.3 million, respectively. (See table A-1.)

Among the major worker groups, the unemployment rates for adult men (4.7 percent), adult women (4.6 percent), teenagers (16.3 percent), whites (4.4 percent), blacks (9.2 percent), Asians (3.6 percent), and Hispanics (6.4 percent) showed little or no change in September. (See tables A-1, A-2, and A-3.)

The number of persons unemployed for less than 5 weeks increased by 268,000 to 2.4 million in September, partially offsetting a decline in August. The number of long-term unemployed (those jobless for 27 weeks or more) was little changed at 2.1 million in September and accounted for 26.6 percent of the unemployed. (See table A-12.)

The civilian labor force participation rate declined to 62.4 percent in September; the rate had been 62.6 percent for the prior 3 months. The employment-population ratio edged down to 59.2 percent in September, after showing little movement for the first 8 months of the year. (See table A-1.)

(…)

Total nonfarm payroll employment increased by 142,000 in September. Thus far in 2015, job growth has averaged 198,000 per month, compared with an average monthly gain of 260,000 in 2014. In September, job gains occurred in health care and information, while employment in mining continued to decline. (See table B-1.)

Health care added 34,000 jobs in September, in line with the average increase of 38,000 jobs per month over the prior 12 months. Hospitals accounted for 16,000 of the jobs gained in September, and employment in ambulatory health care services continued to trend up (+13,000).

Employment in information increased by 12,000 in September and has increased by 44,000 over the year.

Employment in professional and business services continued to trend up in September (+31,000). Job growth has averaged 45,000 per month thus far in 2015, compared with an average monthly gain of 59,000 in 2014. In September, job gains occurred in computer systems design and related services (+7,000) and in legal services (+5,000).

Retail trade employment trended up in September (+24,000), in line with its average monthly gain over the prior 12 months (+27,000). In September, employment rose in general merchandise stores (+10,000) and automobile dealers (+5,000).

Employment in food services and drinking places continued on an upward trend in September (+21,000). Over the year, this industry has added 349,000 jobs.

Employment in mining continued to decline in September (-10,000), with losses concentrated in support activities for mining (-7,000). Mining employment has declined by 102,000 since reaching a peak in December 2014.

Employment in other major industries, including construction, manufacturing, wholesale trade, transportation and warehousing, financial activities, and government, showed little or no change over the month.
Heading into today's report, the consensus from analysts was that we'd see job growth somewhere in the range of 200,000 new jobs or higher, so this was a massive miss and an indication that economic conditions are not quite as good as we may have thought. Adding to the concerns is underlying data that seems to indicate that there's no indication that the job market will turn around any time soon. The Labor Force Participation rate, for example, declined to a rate unseen since October 1977, while the total number of those employed or looking for work also declined. Job creation reports for July were revised downward from 245,000 to 223,000, and August's report was revised down from 173,000 to 136,000, for a total downward revision of 59,000 for the two months combined. Taking those revisions into account, the average job growth for the past three months has been 167,000 per month, which is significantly lower than the 237,000 new jobs per month we saw for the same period in 2014. Additionally, September saw the average hourly work week and average hourly earnings decline slightly. This continues a trend that has been in place for the better part of this year, and the fact that there has been little movement in wages is taken by many analysts as an indication that there is little to non-existent pressure being placed by the market on employers to either increase hiring or raise wages at this point. That suggests that the labor market is likely to remain stagnant for the foreseeable future, although we're likely to see temporary hiring step up a bit in the coming months as retailers and delivery companies like UPS prepare for the Christmas shopping season.
As The New York Times puts it, this is a very lackluster jobs report:
Employers added 142,000 jobs in September, the Labor Department said on Friday, suggesting that the American economy is losing momentum after a similarly lackluster report for the previous month.

The official unemployment rate held steady at 5.1 percent, and hourly wages for private sector workers were flat after jumping by a relatively robust 0.4 percent in August.

The report for August was revised sharply downward, showing the economy created only 136,000 jobs, well below the 173,000 originally estimated.

Friday's report came just two weeks after the Federal Reserve decided that the recovery was still too frail to risk lifting interest rates from their near-zero level. While the Fed chairwoman, Janet L. Yellen, later suggested that the Fed was still likely to go ahead with a rate increase before year's end, the latest evidence of a weakening economy may push any such increase into next year.

Diane Swonk, chief economist at Mesirow Financial, noted in an analysis before the report's release that "it would be more reassuring if we could see a point where the economy is truly firing on all cylinders for a change."

Other reports suggest that while the overall American economy remains sturdy, it has lost steam on several fronts in recent months. The manufacturing sector has been hit by the strong dollar and weak global demand; theoil industry has cut back sharply on investment in response to low prices; and farming has taken a hit because of slumping commodity prices.

Instead, the places to look for sparks, said Andrew Chamberlain, chief economist at Glassdoor Economic Research, are in industries like professional and business services, health care, and travel and leisure (where automation cannot take the place of servers and maids). The need to collect, manage and report information along with the expansion of mobile apps in health care and other sectors is also propelling job growth in high technology.

"An increasing trend is the growth of tech jobs in nontech sectors," Mr. Chamberlain said. "Everybody needs a data scientist these days."

Looking at the feeble yearly rise in median wages, Mr. Chamberlain said such figures mask a huge disparity among industries. Referring to data from the summer, he said that workers in the financial services, construction and graphic design sectors saw hefty double-digit wage growth from the previous year. Those suffering some of the steepest wage declines included those in the manufacturing (down more than 12 percent since last year), retail clothing and textile industries.

Reports of continuing weakness in the manufacturing sector this week bolstered continuing concern among analysts. Prospects are not helped by the strong dollar, which is pushing up the cost of American exports, or fitful growth around the globe, particularly in China and emerging markets.

(…)

The outlook is much worse for those in the low-skill corners of the economy.

"We're still finding a lot of skilled jobs come open, but it's certainly slowed down for the unskilled," said Robert A. Funk, chairman and chief executive of Express Employment Professionals, a staffing agency based in Oklahoma City with 750 offices.

To Mr. Funk, a former chairman of the Federal Reserve Bank of Kansas City, the anemic labor force participation rates, which have continued to scrape along at record levels, is further evidence that many of these workers have given up looking for work.

"I believe the economy slowed down a little bit in the last six weeks or so," he said. He said his agency has observed the biggest drop-off in the oil-drilling states including Texas, Oklahoma, and North and South Dakota.

Tom Gimbel, chief executive of LaSalle Network, a Chicago staffing firm, has also noticed a recent wariness among employers, who have been unsettled by the Fed's uncertainty as well as changes in regulations governing overtime exemptions and compensation. "What I'm seeing with companies is that they're taking a little bit longer to hire," he said. "Companies are just trying to figure how it's all going to play out."

He added: "I think it's a good healthy job market, but it's just not as robust as people want it to be. I don't think it gets better."

Others agree that the economy is not going to rev up much more. .

William Spriggs, chief economist for the AFL-CIO, said, "We've pretty much reached a kind of stability, and the unemployment rate will continue to fall mostly because of retirements."

An analysis this week from Morgan Stanley noted that the decline in the unemployment rate to 5.1 percent in August, from 5.5 percent in May, was entirely attributable to a drop in the labor force participation rate. Indeed, the percentage of the working-age population that is employed — which some economists consider a bellwether of how the economy is performing — has for most of this year stayed flat at under 60 percent, significantly below its prerecession levels.
Inevitably, of course, this report and other underlying economic data will be the cause for another round of speculation about the intention of the Federal Reserve Board. For months now, the Fed has been hinting that interest rates would be rising at least somewhat from the historically low rates that they've been at since the start of the economic downturn some seven months ago. When it came time for the board to make that decision last month, though, they ended up keeping rates where they are, mostly in response to news over the summer regard financial instability in China that has had repercussions on Wall Street. Most recently, though, we got what seemed to be a strong final revision in Gross Domestic Product growth that led many to wonder if we might see a rate hike after the Fed's meeting in December. Data such as this, however, would seem to suggest that the underlying weakness in the economy that the board noted in the statement accompanying its September statement. Given that, and unless we see something really strong over the next two months, it seems likely that interest rates will remain steady for the time being if only to avoid the risk of causing the economy to slow down even further, or push it into recession. Indeed, since the purpose of raising rates is generally agreed to be to slow down an overheating economy, the fact that we clearly don't have an overheating economy based on all the available evidence would seem to argue for restraint rather than the kind of inflation hawkishness that the Board has been signalling for the better part of this year.