A Long Time Ago In A Movie Theater Far, Far Away….
Thirty-Five years ago, an adventure began.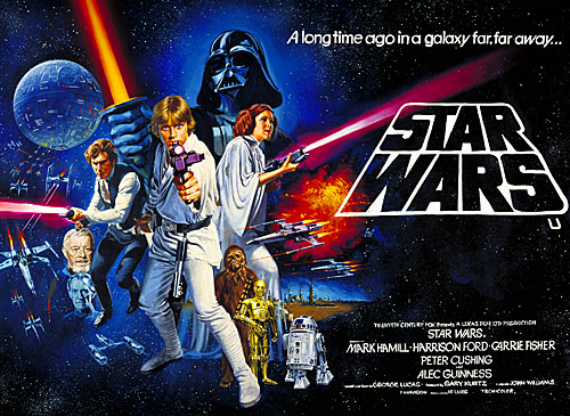 It was thirty-five years ago yesterday that Star Wars first hit movie screens:
Where were you 35 years ago today? Wherever you were, just about now you were probably starting to hear stirrings about a certain movie that was zooming into theaters and about to change everything.

"Star Wars" hit theaters for the very first time 35 years ago today, on May 25, 1977.

When that day dawned, not only did we have no idea who Luke and Leia were, but we hadn't heard of Admiral "It's a TRAP!" Ackbar, no one cared whether or not Greedo shot first, and thankfully, weesa no hearda of Jar Jar Binks.

Maybe you weren't among those first to discover the film and see it early. But if you went near a movietheater at all that May and June, you probably saw the lines winding around your local multiplex, and very soon you likely wanted to know what was going on in a galaxy far, far away.

If you were a kid, "Star Wars" merchandise soon filled your room, and your school. Action figures, pajamas, wastebaskets, bedsheets — nothing existed that George Lucas couldn't put a Wookiee face on.
Indeed, you did. I wasn't even seven years old when the movie came out and, while I don't think I went to see it that first weekend, I know it wasn't too long after that. And of course you had to go see at least one more time, right? And then there was all the merchandise, perfectly marketed for kids to beg their parents for just in time for birthdays and Christmas. It was really the first mass-marketed movie blockbuster, which is kind of interesting only because, going into the deal the studio was so unsure that it would succeed that they signed over the merchandising rights to Lucas himself, foolishly one would think.
Star Wars was also the beginning of something we've become very used to from Hollywood, the summer action blockbuster. To some degree, Jaws had started the phenomenon when it was released two years earlier, but with Star Wars, and the merchandising that came with it, Hollywood learned a lesson about how to make the really big money making movies, and every summer since then it seems like one studio or the other tries to out-do what's been done before. Just this year, for example, we have The Avengers, which has been a massive success in the theaters and, in a few weeks, The Dark Knight Rises. For nearly every summer for the past 35 years, these kinds of movies have brought millions of people theaters, put millions of dollars in studio's pockets, and changed the way movies are made and marketed.
The other thing that the success heralded was the return of science fiction to Hollywood. The last real Sci-Fi epic to hit the big screen had been 2001 back in 1969, and that's still a movie that some people have problems wrapping their brain around. After Star Wars, Hollywood picked up on the idea that this was a genre that would succeed on the big screen, so before long we saw Close Encounters Of The Third Kind, Blade Runner, E.T. The Extra Terrestrial, and the return of the Star Trek franchise ten years after the television show had gone off the air.
Looking back, one can find things to criticize about Star Wars, and the many changes that Lucas had made over the years are frustrating to those of us who fell in love with the story the way it was supposed to be told (Han shot first!). Some would argue that the movie was surpassed when its sequel was released four years later, and they'd have a pretty good argument to make there. However, even after 35 years there are few things more fun than sitting down and watching Episode IV again and remembering what it was like to see it for the first time.
It started out, you'll remember, like this: