A Quick Word or Two for the No Labels Folks.
Has anyone told Mike Bloomberg that "No Labels" is, well, a label?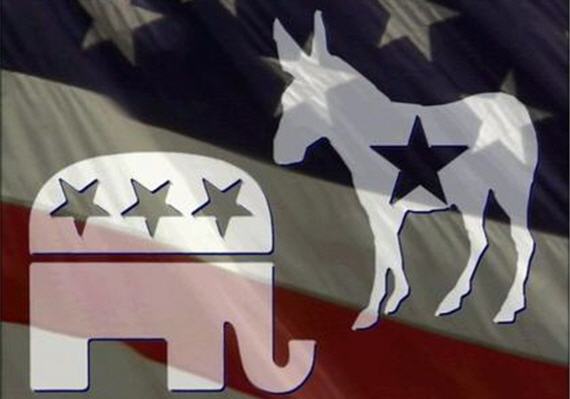 First, by calling your yourself No Labels (caps and all), you are indicating that, in fact, you have a label.
Second, you underscore the importance of labels to political parties (and mass politics in general):  they are a shorthand to describe a viewpoint.  Yes, they are overly simplistic but is a lot easy to say "Democrats" instead of "the American political party of the center/center-left and even left (depending on the candidate) that is in favor of funding the welfare state, increased taxes on upper earners, is basically pro-choice, favors gay marriage, draws a lot of support from urban areas and is no longer especially liked in the southeastern United States.  And, oh, yeah, and is the Party of Jefferson, dontcha know."
As such, the obvious reason for calling yourself by a label is that so people can identify you by a linguistic shorthand is amusing given the moniker you have chosen.
Third, the odds are good that is it going to be awfully difficult to carve out a space in the alleged center of American politics, as given the nature of the Republicans and Democrats (being all catch-ally and whatnot), one or the other can co-opt your issues.  Remember the Last Great Centrist Hope? (that would Ross Perot, who himself eventually succumbed to the label game, only to have it appropriated by Pat Buchanan—i.e., the Reform Party).   Well, his issue was the deficit.  Last time I checked, the Republicans like to talk a lot about that one these days.  Certainly the Tea Party faction (eek, another label!) of the GOP has thoroughly co-opted it for the nonce.
Carving out the aforementioned political space is going to be especially difficult if one is going to state that the group "has nothing to with politics, it has nothing to with ideology, it has everything to do with civility" as Joe Scarborough said. (source)  Or, for that matter, calling it the "radical middle" (from David Gergen, same link) given that, by definition, the least radical part of politics tends to be the middle.
I would be more than happy to see more civility in US politics, but it is awfully hard to build a movement on that basis.  I would further state for the record that I would be more than happy to see a healthy third party in the United States.  However, one is unlikely to emerge by simply trying to camp out in the ill-defined "middle."