Fear of a Third Party
The Electoral College is holding a nation of millions back.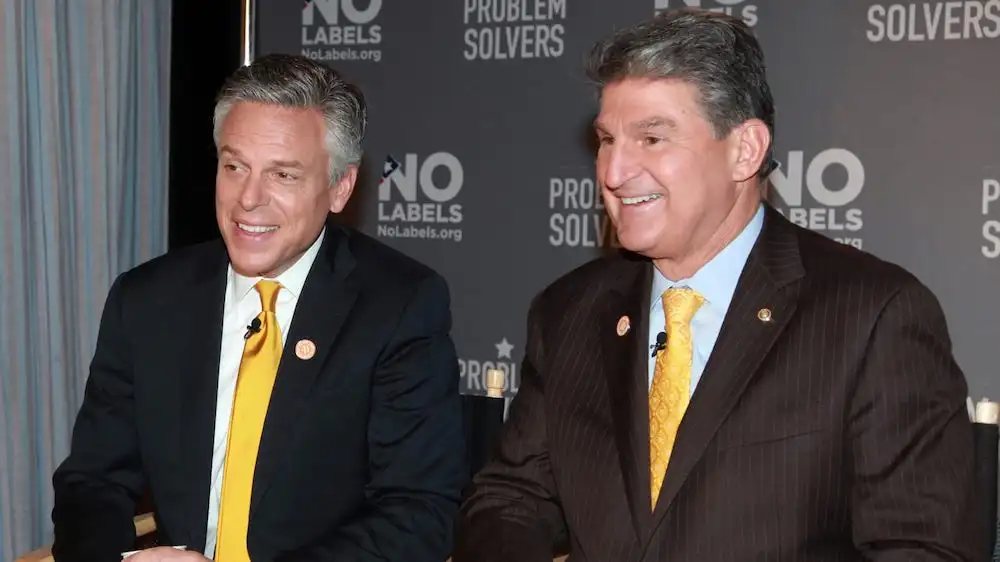 There's a surprising amount of consternation surrounding the possibility that some candidates who will likely get a minuscule number of votes in the 2024 Presidential election will hand the election to Donald Trump.
Steven Shepard, POLITICO's senior campaign and elections editor and chief polling analyst, gets right to the chase with the headline, "The Electoral College is the big factor in a third-party nightmare for Democrats."
Democrats are rightly spooked by the prospect of credible third-party candidates this cycle.

Third-party candidates tend to get the most traction when there's greater-than-usual dissatisfaction with the major party presidential candidates — like in 2016, when Hillary Clinton and Donald Trump had favorability ratings of just 43 percent and 38 percent, respectively.

If 2024 is a rematch between Trump and President Joe Biden, third-party candidates could get even more traction — with both holding nearly identical 39-percent favorable ratings, according to RealClearPolitics' average.

This comes just as the bipartisan group No Labels is set to host Sen. Joe Manchin (D-W.Va.) and former Republican Utah Republican Gov. Jon Huntsman at an event in New Hampshire next week. And No Labels isn't the only one: Academic Cornel West is jockeying for the Green Party nomination.
But "No Labels" (which, as we are required to note every time we mention them, is itself a label) has been "Fighting the extremes since 2009" and losing badly. And, while I've grudgingly come to admire West over time, it's not at all clear who thinks he should be President of the United States.
Indeed, Shepard points to evidence for how little minor party candidates matter.
But there is one point of solace for Democrats: Voters in battleground states have been less likely to vote third party in recent elections than those in less competitive states.

According to a POLITICO analysis, none of the top 20 states for third-party voting in the past two presidential elections is broadly considered a swing state, and only three of the top 20 were states where the winning candidate's margin in 2020 was within single digits: Minnesota (No. 11, Biden +7), Maine (No. 13, Biden +9) and Iowa (No. 19, Trump +8).
Which makes sense, right? While voters aren't known for being super well-informed, those who care enough about politics to even know there are candidates on the ballot other than the two major party nominees are likely to also know that the Electoral College is a thing and whether their state's delegation is truly up for grabs.
So, if, like my co-blogger Steven Taylor, I still lived in Alabama, I wouldn't hesitate to vote for a Manchin-Huntsman ticket to send a message—or, hell, West just for fun—because there's simply zero chance that the Republican nominee won't carry the state by a landslide. Virginia, where I now live, was a solid red state when I moved here twenty-one years ago but it's now voted Democrat in four straight elections and the margins haven't been all that close. Still, I'd be more reticent to "waste" my vote here. If I lived in a true swing state, say, Pennsylvania or Ohio, I would always vote for the major party candidate that I least disliked.*
That doesn't mean well-funded third-party candidates with significant or universal ballot access don't pose a major threat to Biden. Analysis of way-too-early polling by FiveThirtyEight suggests that those third-party candidates currently draw more voters away from Biden than Trump.
But that's only because Trump's floor and ceiling are essentially the same. Further, not only do the theoretical candidacies of Joe Manchin, Larry Hogan, and Cornel West have negligible impact in the linked polling but the margins shown are for a national race, not the state-by-state contests that would actually happen.
Indeed, Shepard agrees.
But the Electoral College — which has otherwise favored Republicans in the Trump era — could blunt those effects.

Since the formation of the two-party system in the 19th century, no outside candidate has ever won the presidency — or even come close. In the past 100 years, only three third-party candidates have even carried a single state in the Electoral College: progressive favorite son Robert La Follette won Wisconsin in 1924, then-South Carolina Gov. Strom Thurmond carried four Southern states as a segregationist "Dixiecrat" in 1948 and former Alabama Gov. George Wallace won five states in the same region on a similar platform in 1968.

In more recent years, Ross Perot set the high-water mark for independent candidates: 18.9 percent in 1992. Other than Perot's 1992 and 1996 performances, only one other third-party candidate has won more than 3 percent of the national popular vote: Libertarian Gary Johnson in 2016.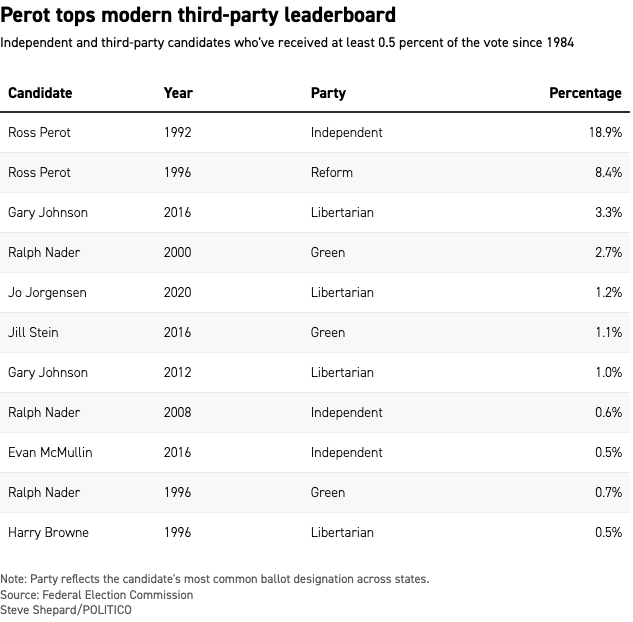 Ah, but there are the two oft-cited cases where these negligible votes possibly mattered:
But third-party candidates don't need to have large magnitudes of support to swing an election. Ralph Nader, the Green Party nominee in 2000, may have tipped that election away from Al Gore and toward George W. Bush by earning 2.7 percent of the national vote. And while the Green Party's 2016 candidate, Jill Stein, only received a little over 1 percent, her share of the vote in Michigan, Pennsylvania and Wisconsin — the three decisive states Trump flipped that year — exceeded Trump's winning margin over Clinton.
There is, of course, no evidence that Nader voters in 2000 or Stein voters in 2016 would have bothered to show up to cast a ballot for Gore or Clinton, respectively. Still, it's reasonable to assume that those who voted for the progressive third-party candidate would have preferred the Democrat to the Republican if offered a chance to change their vote knowing that it would have affected the outcome. (It's also true that the 2020 analysis conveniently ignores that Libertarian Gary Johnson, who had been a Republican governor of New Mexico, garnered three times more votes than Stein.)
After quite a bit more exploration of the variable tendency among the states to vote for third-party candidates, Shepard offers,
West could be more formidable, however. He's a longtime public figure who could harness some of the liberal dissatisfaction with Biden's presidency so far — particularly among otherwise solidly Democratic voting blocs.
Note that he's comparing West to non-entities Stein and Howie Hawkins, not Johnson or Nader.
That dissatisfaction is real, and it's one reason why a 2024 rematch could look more like 2016 — when third-party candidates combined exceeded 5 percent of the vote — than 2020. Both Biden and Trump have average favorability ratings hovering below 40 percent, roughly equal to Trump's 2016 measurement but trailing Clinton in 2016 (43 percent), Trump in 2020 (46 percent) and Biden in 2020 (52 percent).

In 2016, 18 percent of voters viewed both candidates, Trump and Clinton, unfavorably. They broke largely for the first-time candidate, 47 percent to 30 percent, with nearly one in four of those voters, 23 percent, supporting other candidates.

In 2020, only 3 percent of voters said they had an unfavorable opinion of both Biden and Trump, limiting the appetite for other candidates.

But a lot has happened since November 2020: The Jan. 6 riot at the Capitol. Twin Trump indictments — so far — which may be solidifying Trump's base in the primary at the expense of voters he'd need to win a general election. Biden's job performance is viewed negatively by most voters, and a majority says it's concerned about his ability to serve another term at his age.

Biden and Trump won't necessarily stay at 39 percent if they face off in the general election, as both campaigns will attempt to boost their standings. But as Democrats fret about third-party candidacies seemingly engineered to draw from the two ideological ends of their party, the ingredients are there for another volatile race beyond just the top two names on the ballot.
In the above-linked poll, FiveThirtyEight's senior elections analyst Geoffrey Skelley likewise points to "Why A Third-Party Candidate Might Help Trump — And Spoil The Election For Biden." After preliminaries rehashing ground already covered above, he explains,
Initial evidence suggests that, in a rematch between Biden and Trump, a No Labels and/or West campaign could pull marginal support from Biden and subtly shift the election toward Trump. Whether this would actually make for a potential spoiler, though, is a different question: History — and common sense — suggest that these possible third-party candidates would be most likely to affect the outcome if the overall race were close. But in our deeply divided political era, close elections have been the norm, which makes a spoiler candidacy a live possibility.

[…]

Across the polls, Trump tended to more firmly hold on to Republicans than Biden did Democrats, while the shifts in preferences among independents were inconsistent. Data for Progress's poll examining Hogan's possible impact found that Trump benefited from Biden's reduced advantage among independents, while Echelon Insights's survey testing Manchin found more Democrats broke away from Biden to select Manchin than Republicans left Trump. Meanwhile, polls from Emerson College and Echelon Insights measuring West's impact found the progressive mainly cutting into Biden's support among Democrats, although the Emerson survey also showed more independents shifting away from Biden than Trump.

Now, we should be cautious about reading too much into these surveys. After all, we are talking about small overall movements that lie inside the margin of error for each poll. That consideration also applies when trying to analyze who shifted, given that margins of error are larger for subgroups within a survey's overall sample. More broadly, surveys conducted this far out from the general election historically have had little predictive value. Additionally, third-party candidates often poll better farther away from Election Day, when the stakes of the election are lower — and millions of dollars in general election advertising have yet to be spent. And finally, not every third-party voter would vote for a Democrat or Republican if their preferred candidate didn't run, so we can't assume that, say, a Green Party voter would back a Democrat or a Libertarian would vote Republican.

Nevertheless, these early polls demonstrate how a third-party option could affect the election and potentially boost Trump in a rematch against Biden. Let's look at a hypothetical scenario using the 2020 election. Biden won the national popular vote by about 4.5 percentage points, but he carried Wisconsin — the "tipping-point state" that gave him a majority in the Electoral College — by just under 1 point. We can't know precisely how a national swing to the right of the magnitude found in these early surveys might've played out in each individual state, but suffice it to say that a shift of 1 to 2 points in margin toward the GOP could have handed Trump victory via the electoral votes in Arizona, Georgia, Pennsylvania and Wisconsin — all of which were decided by margins under 1.2 points. Given that recent presidential elections have been close — we live in an era of intense partisanship in a pretty evenly divided country where five of the past six had a national popular vote margin smaller than 5 points — there's ample evidence to suggest that 2024 will be another close election, by historical standards. 
Look, I'll almost certainly vote for Biden again come 2024. But it's frustrating how much the artifact of the Electoral College—which Steven and I have noted time and again in no way functions in the way the Framers envisioned**—impacts our discussions of Presidential campaigns. I get why that's the case, of course, but there's something fundamentally wrong about a situation where the voters overwhelmingly dislike both the sitting President and his odds-on challenger and the fact that other candidates might emerge to offer voters an alternative they like better is considered a problem.
Indeed, Skelley backhandedly concedes as much,
To be clear, third-party campaigns don't have to care one iota about how their presence might affect an election. They want to offer something they believe the major parties aren't giving voters, in this case an unambiguously progressive platform (West) or a bipartisan and centrist-minded approach (No Labels). 
before shifting back to the standard "spoiler" framing:
No Labels in particular has found itself mired in conversations about how it might potentially help Trump. Some former friends of No Labels, such as the centrist Democratic outfit Third Way and moderate Democrats on Capitol Hill, have criticized its efforts because they might benefit Trump. No Labels's connections to some GOP donors have also prompted accusations that the group's presidential campaign is a vehicle aimed at — wittingly or not — helping Trump win, a claim No Labels rejects.

In an interview with FiveThirtyEight, Ryan Clancy, No Labels's chief strategist, pushed back against the notion that a No Labels ticket would act as a spoiler. "What is a spoiler?" he asked rhetorically. "One, it's a candidate who isn't going to win. Two, it's a candidate whose votes would come almost entirely from one side." Clancy argued that unlike, say, a Green Party candidate pulling mostly from the left, a No Labels ticket would seek to attract similar shares of support from independents who lean toward either party by offering a truly viable third option — a rarity in most presidential elections. Clancy cited Ross Perot's campaign in 1992 as precedent for how No Labels hopes to broadly appeal to the electorate. Back then, exit polls suggested Perot's voters would've split evenly between incumbent Republican George H.W. Bush and Democrat Bill Clinton, and around one-fifth would've voted for a different third party or wouldn't have voted at all.

[…]

Clancy explained that the group's initial polling in December suggested that around 3 in 5 voters would consider backing a "moderate independent" candidate for president. If the group could win 3 in 5 of that universe of voters, it could get to 270 electoral votes. But if that ceiling of support becomes significantly lower in the next six to nine months — before the group's April convention — then No Labels would take that as a "warning sign" that its ticket can't win. "There is absolutely an outcome where we may not offer our ballot line to anybody," Clancy said.

While No Labels understandably pointed to the Perot example, a potential centrist ticket isn't guaranteed to take roughly the same from each major party. In the 1980 election between Democratic incumbent Jimmy Carter and Republican Ronald Reagan, moderate independent John Anderson won roughly 7 percent nationally and may have cost Carter victory in some Northeastern states, as the ABC News exit poll suggested Anderson's supporters would've split for Carter 49 percent to 38 percent over Reagan. To be sure, Anderson didn't "spoil" the election for Carter (Reagan won easily), but he did take more from one side and likely affected the outcome in a few states.
While I wasn't old enough to vote in 1980, that was the first election to which I paid serious attention. It's notable that Anderson was a sore loser candidate who ran as an independent after failing to secure the Republican nomination.
Regardless, it's amusing that No Labels is simultaneously rejecting the "spoiler" label and yet recognizing that it could be a spoiler. While there's a vague Perot-style "If the voters in all 50 states put me on the ballot . . ." feel to this, it's interesting to both be putting together a platform and possible presidential slate and yet being willing not to run if they think the result is to help Trump.
It's also somewhat amusing that yet another group, which apparently actually does lack a label, is forming to stop No Labels.
Former House Democratic leader Richard A. Gephardt is planning to launch a new bipartisan group next week [This report is five days old -ed.] to oppose the No Labels third-party presidential effort, according to people familiar with the plans.

The new group has already commissioned private polling showing that a generic "moderate, independent third-party candidate" would pull more votes away from President Biden than former president Donald Trump in a hypothetical three-way race, all but assuring the Republican wins back the White House.

"No Labels equals Trump," said Greg Schneiders, a former aide to President Jimmy Carter whose firm Prime Group has conducted the polling for the Gephardt group. "It is going to affect the race and it is going to affect it negatively for Biden, and it is probably going to elect Donald Trump."

Stuart Stevens, a Republican consultant who has worked for the presidential campaigns of Bob Dole, George W. Bush and Mitt Romney, has also joined the effort, along with former senator Doug Jones (D-Ala.). A person familiar with the plans said the nascent effort is working to sign up more political leaders, will disclose their donors and plans to formally release their polling, which includes samples in seven swing states.
Not surprisingly, No Labels isn't happy.
No Labels founding chairman Joseph Lieberman, a former U.S. senator from Connecticut who ran for office both as a Democrat and independent, said the effort to stop the No Labels project was an effort to deny Americans options.

"They are really working overtime to prevent the voters from a choice," he said. "We feel that the voters in this country deserve a third choice, a bipartisan choice. And I will also repeat that we will not be spoilers in this."

Former Maryland governor Larry Hogan (R) and former House member Fred Upton (R-Mich.) also issued statements voicing continued support for the No Labels effort.

"Panicked Washington insiders in the Democratic Party who claim to oppose voter suppression are actively working to suppress the vote and to deny choice," Hogan said.
Both things can, of course, be true. In an ideal world, I would vastly prefer other alternatives. While I would vote for Cornel West if the only alternative were Trump, his presence on the ballot wouldn't lure me away from Biden. But, in a different political system, I might well be enticed by a ticket with some combination of Huntsman or Hogan and a moderate Democrat. (Joe Manchin seems the obvious choice since he's the Democratic co-chair. The possibility of him running seems to have some fearful. But he's not exactly popular and, at 77 come Election Day, he's too old given that one of the reasons people want a third choice is that Biden and Trump are geriatric.)
Because our system is in fact our system, though, voting for your preferred ticket is consider "wasting" your vote and has the potential of electing your least-favorite of the viable candidates. And that's not a problem with either No Labels or Cornel West but of the system.
_________________
*As a matter of actual practice, I've voted for a major party candidate in every presidential election since becoming eligible to vote in 1984, either because I genuinely liked the candidate or because I felt like I needed to actually choose among the prospective winners. So far as I can recall, the only time I ever voted third party was in a House race where the incumbent was essentially unopposed.
**See, for example, Steven's 2010 post "Against the Electoral College II: Not As Framers Intended" or my 2021 post "Stop Blaming the Framers for Everything."