A Reminder about Higher Ed
US higher education is made up of far more than just the Ivies and other elite schools.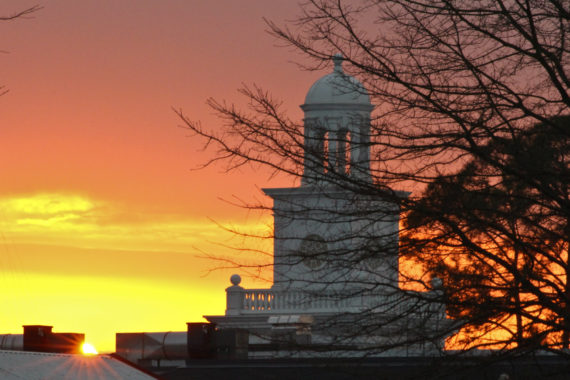 A piece in The Atlantic was a nice counter-balance to a pet-peeve of mine, which is the tendency of most discussions of American higher education to be constantly written from the perspective of elite institutions, as if that universe was comprised of the Ivies, select privates, and a handful of flagship state institutions.
While I do not have a systematic set of examples of the phenomenon in question, I can illustrate it with a clear example of the genre: the controversial commencement speaker. On balance, a school has to have some level of elite status* to being with to get a speaker anyone has heard of. Most commencement speakers fall into the "who was that, again?" category. In other words, despite the annual concern over whether Condoleeza Rice or Betsy DeVos is being booed, the reality is that the main question asked about 99.99% of commencement speakers each spring is "are they done yet?"
At any rate, the piece in question is focused on the admission scandal, College-Admissions Hysteria Is Not the Norm, although what caught my eye was the sub-title: "A focus on highly selective schools obscures the experience of the vast majority of American undergraduates."
Every year at this time, headlines reveal once again what everyone already knows: America's top institutions are selective—very. Harvard took a record-low 4.5 percent of the applicants to its 2023 class. Yale accepted 5.9 percent, the same as the University of Chicago



Yet:
The majority of students—more than 80 percent—attend schools, such as Texas A&M, Rutgers, and Simmons University, that accept more than half their applicants. In 2017, our analysis shows, roughly 3 percent of the country's bachelor's-degree candidates were enrolled at a four-year university that accepts fewer than a quarter of undergraduate applicants; only 0.8 percent of undergraduates were attending one of the handful of universities that accept fewer than one in 10 applicants.

Most schools are not these highly selective institutions, and the application process for millions of students is not the stress-inducing nightmare that gets so much public attention. Excluded from the narrative are the thousands of four-year colleges that serve millions of undergraduates, including many historically black colleges and universities—not to mention the 1,000-plus community colleges.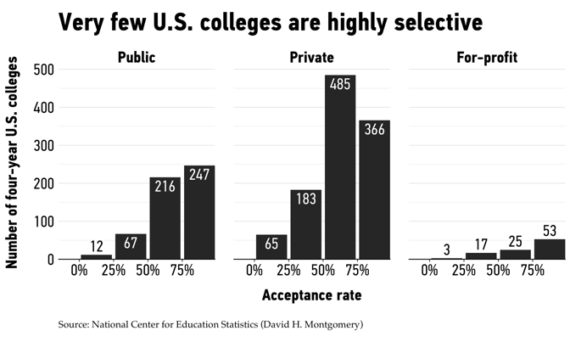 In descriptive terms:
Various characteristics set these more-typical institutions apart from their brand-name counterparts, such as the fact that the former are more likely to enrollPell grant recipients (read: very low-income individuals), as well as "nontraditional" students (that is, those who are 24 or older and/or have children of their own) and military veterans, according to the New America higher-education policy analyst Iris Palmer. They're also less likely to be considered research universities—generally those that offer doctoral-degree programs—and more likely to be commuter campuses, according to Georgetown University researchers. Of all the country's four-year institutions, slightly more than half are private, nonprofit schools, such as Massachusetts's Endicott College and Texas's Trinity University. About 29 percent are public—Mississippi's Alcorn State University, for instance, and the University of California at Merced, near Fresno. The remaining 17 percent are for-profit, such as the College of Westchester in New York, and Oregon's Pioneer Pacific College.
I have no grandiose point to make, save to point out the reality in question–most schools are not elite (which is, of course, axiomatic). Still, a lot of coverage of higher ed in the US is elite-focused (because, I suppose, if you write for an elite newspaper, it is quite likely you went to a school more on the elite side of the spectrum). And when we talk about things like funding or teaching loads,** the press coverage is more likely than not to talk as if all colleges and universities are R1s with low teaching loads and higher research requirements (and large endowments and significant grant funding) than is the norm across most schools. This matters not just because it isn't reality, but it matters for political reasons: if the public perception is that all college faculty teach light loads (without even understanding what the overall workload actually is–i.e., it isn't just time spent in class) then pressures to cut costs by not funding lazy profs are amplified (especially if they are lazy, liberal profs).
As a side note, for a lengthy but well-written essay on the subject of the admissions scandal, I would recommend They Had It Coming (also in The Atlantic).
Of course, what this also demonstrates is that what the parents embroiled in this scandal were buying was a brand name, not an education. Not only are there plenty of just-below-huge-name-recognition-but-still-quite-elite schools to get into, but there are plenty of schools where a student can get a fantastic education without bribes or pretending like one is a coxswain.
---
*Being near DC increases the chances of getting someone controversial. And there is always the possibility of controversial alumni (although having an alumnus/almuna who is famous enough to be controversial also correlates more with elite schools than not).
**That is: the number (and variety) of courses faculty teach per year.