A Santorum Bump In South Carolina?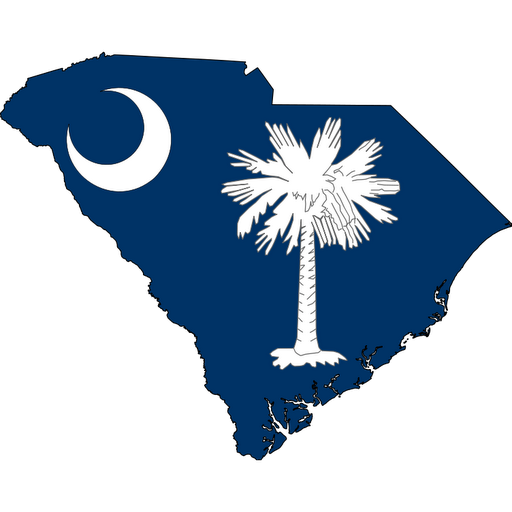 The first poll of the Republican race in South Carolina in three weeks shows a much different picture than the last time we looked at the Palmetto State, including evidence that Rick Santorum has replaced Newt Gingirch in the "Not Romney" role:
What a difference a caucus makes. Rick Santorum who two months ago had one percent (1%) support among likely South Carolina Republican Primary voters now is running a close second there with 24% of the vote.

The latest Rasmussen Reports telephone survey in the Palmetto State finds former Massachusetts Governor Mitt Romney still in the lead, earning 27% support from likely GOP Primary Voters, up from 23% in early November. Former House Speaker Newt Gingrich is in third with 18% of the vote, followed by Texas Congressman Ron Paul at 11%.

Bringing up the rear are Texas Governor Rick Perry with five percent (5%) and former Utah Governor Jon Huntsman at two percent (2%). Another two percent (2%) of these likely primary voters like some other candidate, and 11% remain undecided.
Yes, it's Ramussen, but the fact of a Santorum surge is not all that surprising considering the media attention he's gotten over the past two weeks or so, the fact that Newt Gingrich has essentially collapsed since mid-December when South Carolina polling was showing him in the lead, and the fact that there's a pretty broad socially conservative evangelical population among Palmetto State Republicans that would likely be attracted to him.
Ed Morrissey looks at some of the internals, which actually look pretty good right now:
Looking at the internals, Santorum competes better in some demos with Romney.  He edges Romney among men, 27/25, but is behind 30/20 with women and almost tied with Gingrich at 19%.  Surprisingly, Romney edges Paul for voters under 40, 25/22, with Santorum in third at 16%.  Santorum tops Romney with 40-64YOs 30/22, but Romney wins seniors by a large margin, 41/25 over Gingrich, with Santorum in third again at 18%.   Romney and Santorum win among Republicans and non-Republicans, 29/25 and 23/21, respectively.  Paul only manages a 19% with independents and just 8% among Republicans.

Romney has a bigger problem with very conservative voters.  He comes in third among this self-identified set, which comprises the plurality in the sample (41%), behind Santorum (36%) and Gingrich (22%).  Santorum has a problem among "somewhat conservative" voters, as Romney wins 38% and Gingrich comes in second at 20% among respondents who accounted for 35% of the sample.  Santorum will have to find a way to increase his appeal beyond the very conservative base, while Romney has to work in the opposite direction.
Santorum is also benefiting from a pretty high favorability rating (72%) but that number likely reflects the fact that he has not faced media scrutiny until now, and his opponents have largely ignored him. That's about to change, and whether Santorum can survive the onslaught is an open question.
It's almost pointless to look at the RCP average right now because of the three week gap in poling that failed to capture the changes that took place in the race in the closing weeks of 2011. Nonetheless, the chart shows us what we've seen elsewhere, Gingrich declining, Romney holding steady, and Santorum rising: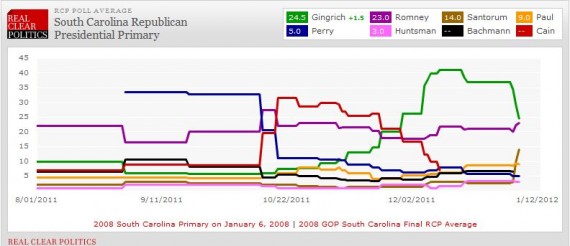 It's going to take a few more polls to see what the new landscape in South Carolina actually is, but it appears at the moment that the state is reflecting the national trends. That's good news for Santorum, who is rising, and Romney, who is staying even while the conservative vote remains divided. It's not so good news for candidates like Ron Paul, who shows now signs of rising out of single digits in South Carolina, or Rick Perry, who is essentially at the back of the pack in a state that has become due-or-die for him.
Update: CNN released its own poll of South Carolina at Noon and it shows similar results:
(CNN) – Mitt Romney's numbers in South Carolina are surging, and he now has a solid lead over his rivals for the Republican presidential nomination, according to a new survey of likely GOP primary voters in the Palmetto state.

And a CNN/Time/ORC International poll released Friday also indicates that former Sen. Rick Santorum's support in South Carolina has soared, while former House Speaker Newt Gingrich's numbers have nose-dived

South Carolina holds the first in the South contest in the race for the nomination, with its January 21 contest coming 11 days after the New Hampshire primary. Since 1980, when the state switched from a caucus system to a primary, the winner of the South Carolina GOP primary has always gone on to win the Republican nomination.

According to the poll, 37% of likely GOP primary voters in South Carolina say they are currently backing Romney, the former Massachusetts governor who is making his second bid for the White House. Romney has nearly doubled his support from CNN's last survey in the Palmetto State, which was conducted early last month. The new poll was conducted Wednesday and Thursday, after Romney's eight-vote victory over Santorum in Tuesday night's Iowa caucuses.

Santorum and Gingrich are battling for second place, with Santorum at 19% and Gingrich at 18%. But they appear to be going in opposite directions, with Santorum's support up 15 points from last month and Gingrich down 25 points from early December. Gingrich, once the front-runner in Iowa and in national polling, finished fourth in the Iowa caucus results.

Rep. Ron Paul of Texas, who is making his third run for the White House, has doubled his support, from 6% to 12%. Texas Gov. Rick Perry, who may be making a last stand in South Carolina, has the backing of 5% of likely primary voters, down three points from last month. Perry had a disappointing fifth-place finish in the caucuses.

Former Utah Gov. and former ambassador to China Jon Huntsman, who is campaigning almost exclusively in New Hampshire, is at 1%. The poll also indicates that 4% of likely GOP primary voters are unsure of who they're backing.
You can expect numbers like this to pretty much guarantee that Romney will be subjected to attacks from all sides at this weekend's debates. If he survives and goes on to a decisive victory in New Hampshire, then the South Carolina primary will be the place that decides whether or not the"Not Romney" movement lives or dies.