Afghan Protests Prove, It's Time For Us To Leave
The latest round of protests in Afghanistan prove yet again that it's time for us to leave.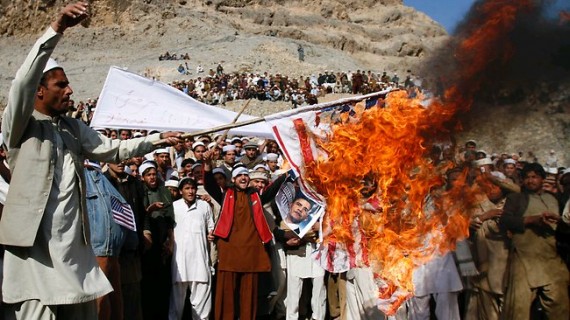 The fallout over the accidental burning of several copies of the Koran at an American base in Afghanistan shows no sign of letting up. Yesterday, two Americans were killed inside the Afghan Interior Ministry in what was apparently a Taliban attack by an Afghan solider who has since gone missing. Today, protests in the northern part of the country led to seven American injuries in a grenade attack:
Seven U.S. military trainers were wounded on Sunday when a grenade was thrown at their base in northern Afghanistan, police said, as anti-Western fury deepened over the burning of the Koran at a NATO base.

Despite an apology from U.S. President Barack Obama, riots raged across the country for a sixth day on Sunday against the desecration of the Muslim holy book at a NATO air base at Bagram. Some protesters hoisted the white Taliban flag.

The Afghan Interior Ministry identified one of its employees as a suspect in the fatal shooting of two U.S. officers in its headquarters a day earlier, an attack that prompted NATO to recall its staff from ministries.

One civilian was killed, 15 more were wounded and three policemen injured in riots near the NATO base in northern Kunduz province, where the blast that wounded the Americans took place, regional police chief Samihullah Qatra told reporters.

NATO confirmed there had been an explosion outside one of its bases in northern Afghanistan, but declined to comment on casualties.

The protests have killed 30 people and wounded 200, including two other U.S. troops who were shot dead by an Afghan soldier who joined rallies in the country's east.

The Koran burnings could make it far harder for NATO forces to win the trust of the Afghan public as they try to stabilise the country ahead of the withdrawal of foreign combat troops at the end of 2014.
Even without the Koran burning incident, though, I have got to wonder why anyone would think that this "stabilization" mission would succeed to begin with. Dave Schuler puts it best in a post over at his own site:
We've done our best to make the Afghans prosperous. Clearly, they would much rather that we leave so they can go back to killing and abusing each other without whatever hindrance that we provide. The difference between us and the Taliban can be summarized succinctly: the Taliban cuts off young women's ears and noses and leaves them for dead; we restore those noses and ears and try to heal their scars.
And in return all we get is hatred and attacks. Really, what's the point anymore? Why are we bothering to try to civilize a nation that clearly is either incapable of being civilized or simply just doesn't want to join the 21st Century? Surely we have to understand that if the Soviets were incapable of suppressing this type of fanaticism and even the mighty British Empire found itself in a quagmire in the Hindu Kush  that the odds that we'd be able to do any better is nothing other than sheer folly? How many times do we have to keep repeating the same mistake over and over again?
I've talked with several pro-war conservatives about this issue since the rioting started. All they seem to want to talk about is condemning the actions of the Afghans who are rioting and killing over the burning of a book.  On some level, they're right. It is barbaric and idiotic to riot and murder people because a book was burned. And if you're rioting because you believe the book was written by God himself, then you're just the delusional adherent of an irrational religion. It's just a book. If one gets burned there are millions, if not billions, of other copies in the world. Get over it.
But I'm willing to bet that the burning of the Koran is only part of the issue. We've seen protests like this in Afghanistan before. Usually they are stoked by some perceived insult to Islam, such as the idiotic plans of that Pastor in Florida who wanted to burn a Koran to mark the 10th Anniversary of the September 11th attacks, but it seems rather obvious to me that the resentments and the cultural conflicts are far deeper than that. Part of the dissatisfaction, no doubt, is due to the fact that we continue to back the corrupt regime of Hamid Karzai. Part of it is likely the humiliation of living in an occupied country. And a great deal of it is just the fact that they just don't want us there. If there hadn't been a Koran burning to spark these protests, it's likely that  something else would have.
The protests are barbaric and the deaths are tragic, but from an American point of view that's largely irrelevant. We're at the point now where it's not at all clear that the counter-insurgency strategy that President Obama embarked upon at the recommendation of his Generals three years ago is working at all, or that it is likely to lead to any measurable success within what the American people would consider a reasonable period of time. More importantly, though, it's not even clear that our presence in Afghanistan serves our national interests anymore. At least at the beginning, when we were concentrating on rooting out and capturing members of the terrorist organization that had caused the deaths of 3,000 Americans, there was a plausible national security argument in favor of our presence and our mission. Now, it's hard to see what the point is of staying any longer. Yes, perhaps there's some desire to bring about justice for soldiers who are dying in what are essentially terrorist attacks rather than military engagement, but vengeance isn't a rational military policy, it's just pure emotion.
Our war in Afghanistan has now lasted longer than any war in American history, except perhaps Vietnam if you consider that war to have begun in the 1950s with the introduction of American military advisers rather than at the time of the Gulf of Tonkin Resolution.  The al Qaeda that existed on September 10, 2001 no longer exists. Osama bin Laden is dead. And, most importantly, to the extent that there are real terrorist threats out there, they are now located in nations other than Afghanistan. What, exactly, are we gaining by staying even one second longer other than the chance to send another solider home in another flag-draped coffin? Not a damn thing as far as I'm concerned. If we really want to set things right for the American soldiers who died last week because of protests over a burnt book, we should get their comrades the heck out of there as soon as practically possible so that there aren't yet more pointless deaths.