Against the Electoral College I: Disparity Amongst Citizens
The first in a multi-part series on the Electoral College.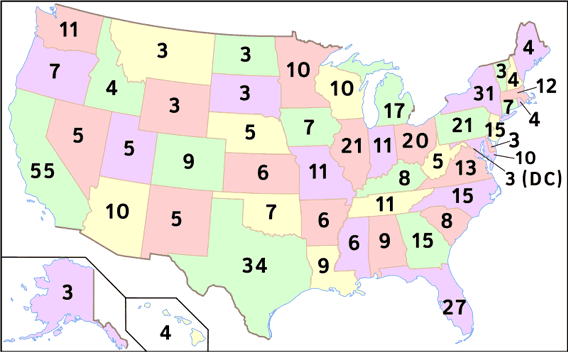 Contra my OTB colleague, Doug Mataconis, I favor scraping the electoral college.  My preferred system would be either a basic majority requirement, i.e., a run-off if no one received a majority, or IRV (and instantaneous run-off where voters rank their preferences on election day).   The technical aspects of all of that requires its own discussion, which I will leave aside for the moment.
Let me note, I was once an EC defender and had numerous rationalizations for the process founded primarily in respect for the US Constitution and its framers.  However, as I have studied the mechanism (and its history) over time, I have come to the conclusion (for numerous reasons) that such respect in regards to this specific institutional feature of our system is not warranted.
I started writing one post on this subject, but have decided it will be better to break it down into multiple posts.  This one starts with my most fundamental objection to the EC:  the vote disparity amongst citizens, which I think is ultimately indefensible.  To wit:  the current system treats voters different in at least two key ways.
First way:
Because the Electoral College distributes votes to states based on the number of House and Senate seats allocated to each state, there is an inequality that exists amongst states which skews to lower population states.
Consider the most extreme example:  California versus Wyoming.
California had, at the 2000 census, 33,871,648 residents.  It had 55 electoral votes.  That created a ratio of residents to electoral votes of 615,848.1:1 .
In the same census, Wyoming had 493,783 residents and 3 EVs.  That's a ratio of 164,594.3:1.
To pick a moderate sized state (and my state of residence), Alabama, we have the following numbers:  4,447,382, 9 and 494,153.6:1.
To summarize, the ratio of residents to EVs for these states are:
Alabama,  494,153.6:1

California, 615,848.1:1

Wyoming: 164,594.3:1
That means, btw, that a voter in Wyoming has a vote worth ~3.7 times that of a voter in California.  Or, that now that I vote in  Alabama that my vote is now worth ~1.25 times what my brother's vote is worth (who votes in CA). (Note:  exact ratios will vary based on residents, which the Constitution uses as the unit for the census, versus eligible votes as well as turnout in a given election).
Any defense of the EC has to find a justification for these types of disparities.  And simple saying that the states have role is a logical dead-end:  a role in what way?  Is there really a profoundly important reason that Wyoming should be so disproportionately over-represented in the EC?  Should an Alabamian's vote really count more than a Californians?  The president is the only office that has a truly national character.  Apart from the original political compromise in 1787, what is the justification for treating the voters in different states differently?
Yes, the founders needed to craft a political compromise in 1787 so as to get the smaller states to sign on to the Constitution.  However, that is not, in and of itself, a good argument for keeping the current system.  Further, as I have noted before, the system does not even come close to functioning in the way the founders intended, which makes arguments based in their wisdom on the subject all the more problematic.
Second way:
There is no doubt that the EC creates a situation in which voters in swing states are more important than voters in non-swing states, regardless of population.  This creates a disparity in which candidates and campaigns are oriented not towards a national election, but to a series of localized contests (such as in Florida).  How this can be construed as healthy for our democracy is beyond me.
I could further elucidate, but this "simple" post has already gotten too long, and I think people have a pretty solid understanding of the issue.
And before someone tries:  none of this can be countered by a "democracy v. a republic" argument (I need to address that issues as well, but one can consult the following if one likes:  here, here, and here).  The simple version is as follows:  there is absolutely nothing about a direct popular election of the president that violates the republican principle noted in the Constitution and discussed in the Federalist Papers.  Nothing.  Federalism, per se, has nothing to do with ensuring a republican government in the US (one can have a unitary state that is also a republic).  Further if the popular election of House and Senate members, and well as for a host of local offices does not violate the republican principle, why would the popular election of the president?
A few caveats:
1.  The above have nothing to do with NPV, per se.
2.  I recognize that doing away with the EC is highly unlikely.