Alabama Wins 14th National Championship; Playoff Needed
There's no perfect system for choosing a champion but we can do better than this.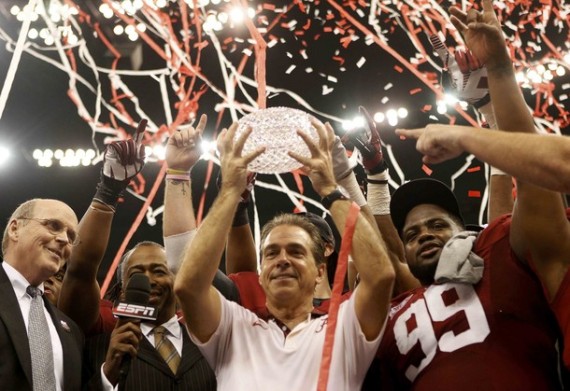 Judging by the running commentary on Twitter last night, Alabama's 21-0 defensive beatdown of a Louisiana State team that was being touted as The Greatest College Football Team of All Time was not enjoyable television to those of us who aren't Crimson Tide fans. Indeed, judging by my own reaction, it wasn't all that enjoyable to those of us who are.
Alabama played a truly great game on defense. But this was marred substantially by LSU never seeming to shake off the rust of the absurd five-week layoff that the silly college bowl season imposes. Their quarterback, Jordan Jefferson, played at times like George Jefferson (which I swear Kirk Herbstreit called him about every third time). Indeed, toward the end of the game, I tweeted that they should try putting in Weezie. Simply put, as good as Alabama's defense was—and it was the best in the nation all year long—LSU didn't bring the offense that put up ridiculous point totals against quality opponents like Oregon, West Virginia, and Arkansas earlier in the season.
The fact that Alabama didn't score a touchdown until the closing minutes of the game, treating the television viewing audience to yet another field goal-kicking exhibition, didn't help matters. Not after the November 5 Game of the Century between these same two teams which featured Alabama attempting six field goals and making only two and LSU needing overtime to kick its third and decisive field goal.
There was, of course, the perennial debate about whether a team left out of the one-game playoff known as the BCS National Championship Game shouldn't have been invited instead. Scott Lemieux joins thousands in arguing that, given that only two teams can be invited, it should have been Oklahoma State and not Alabama.
The experts mostly agreed that Alabama was the second-best team in the country but, it was argued, having already lost to LSU—and thus not winning its own division, much less its own conference—someone else should have gotten a chance. The snoozefest two months earlier added to that sentiment.
Still, OSU's loss to lowly Iowa State overshadowed an arguably more impressive victory list. Plus there was the fact that Alabama statistically dominated the first game, losing by 3 points in overtime because of an inability to kick even short field goals and a brilliant defensive play that took away what would otherwise have been Alabama's winning touchdown.
Had the roles been reversed—with Alabama beating LSU in the regular season and then having to win the SEC Championship Game only to have to face LSU again as equals—I'd have been pissed. But the current BCS system aims to match the two best teams in the country in a championship game and most of us think that's what happened.
This year, I'm not sure LSU should have had to play again after the SEC championship given their strength of schedule and the lack of other serious no-loss teams. No one really deserved a right to face LSU as equals in a single-elimination tournament.
Then again, there's simply no perfect system for choosing a champion.
The closest is that employed by the NBA and NHL, which involve a string of best-of-7 series. That pretty much eliminates a fluke play or hot night from deciding the championship and almost always results in the best team holding the trophy at the end of the tournament. But it also renders the regular season meaningless.
The most exciting championship in American sports, hands down, is the NCAA basketball tournament. But it's really a ridiculous way to pick a champion. One can argue, for example, that last year's winner, UConn, shouldn't have even been in the tourney.
That said, we regularly live with that sort of outcome. Many a time, a team that I root for has dominated the regular season, won its division, and gone on to lose to a wild card team from that division in the playoffs. The Atlanta Braves did it several times, in fact, including both of the Florida Marlins championship years. The Dallas Cowboys went 13-3 in the 2007 season, including two victories over the New York Giants. The 9-7 Giants then edged the Cowboys on a freak play in the second round of the playoffs and then proceeded to beat a series of other teams that had beaten them in the regular season, culminating in beating the 18-0 New England Patriots in the Super Bowl on another freak play.
That's sports.
There have been enough years where an undefeated or highly deserving one-loss team has gotten hosed in college football that I favor a playoff. The so-called "Plus One" system—essentially, a four-team, single-elimination tournament—strikes me as being the right balance between including the worthy teams and maintaining the importance of the regular season. But the likely outcome of that would have been an Alabama-LSU rematch and a defensive struggle that made for bad television.
Photo credit: Reuters