Alan Dershowitz Hasn't Changed
While longtime supporters have turned on the legendary attorney over his support of Donald Trump, he's been astonishingly consistent.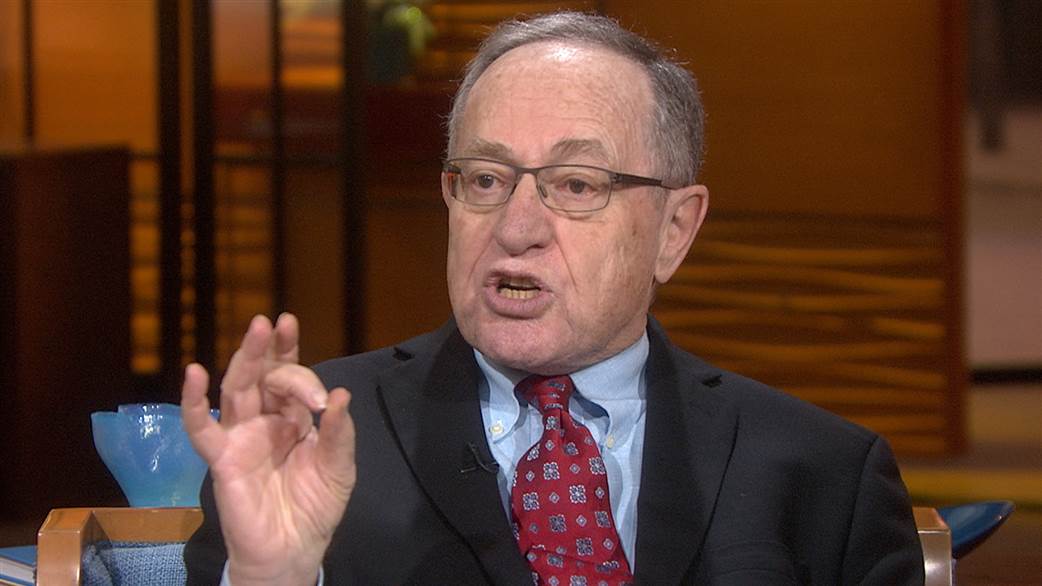 Evan Mandery has a fascinating cover feature in POLITICO Magazine asking, "What Happened to Alan Dershowitz?" It turns out, not a thing.
The setup:
If you wanted to feel the full force of the intellectual whirlpool that is American politics in 2018, the place to go on February 25 was the Village Underground, a nightclub beneath East 3rd Street, where Alan Dershowitz, the longtime Harvard Law professor and civil liberties lion, was debating the future of American democracy on the side of President Donald Trump.

Opposing him were a National Review writer and a former FBI agent, arguing that the special investigation into ties between Russia and Trump's presidential campaign is well within the bounds of American law. Dershowitz, along with a conservative columnist for the Washington Examiner, was making the case that the Mueller investigation is dangerous to our entire system. In the room, which is normally a comedy club, it was impossible to shake the feeling that something was off. Two years ago, it would've seemed far more natural for the quartet to swap partners and switch sides.

[…]

The woman behind us in line took her free book, turned to her husband and asked, "What happened to Alan Dershowitz?"

In certain circles—the legal academy, defense attorneys, Martha's Vineyard—it is the question. Dershowitz, an iconic civil libertarian and criminal defense lawyer, who circulates between the liberal redoubts of Miami, New York and the Vineyard, has emerged in the past year as the most distinguished legal defender of Trump. He's met Trump at Mar-a-Lago, and he dined with him at the White House the day after the FBI raid on Michael Cohen's office. He's a regular presence on TV, especially Fox News, where he's a reliable voice on the president's side against the investigation. In April, following the Cohen raid, Dershowitz appeared on "Hannity" nine times—including three days in a row. His message is clear: Mueller's investigation is a witch hunt, and although he doesn't think Trump should fire Mueller, the president would be within his rights to do it.

"People everywhere ask what happened to him," said Nancy Gertner, a former federal judge and lecturer at Harvard Law School who has known Dershowitz for years. "I get that from everyone who knows I know him."

[…]

Over this storied career, Dershowitz's public persona has remained more or less unchanged: loud, provocative, brilliant and principled, if also relentlessly self-promoting. And, until recently, his positions have been tolerated, if not always embraced, by the legal academy and universally acknowledged for their moral seriousness.

About a year ago, after Mueller's appointment on May 17, that started to change. Around then, Dershowitz—never one to overlook a celebrity being railroaded—started getting more TV airtime for his argument that a sitting president could not be guilty of obstruction of justice. The liberal intelligentsia recoiled. Dershowitz speaks openly of having been shunned by friends and condemned by relatives since then—even, he told me, at his family's recent Passover Seder, where his grandson and nephew urged him to dial down his public defense of the president. He's been harshly critiqued by former Harvard colleagues and within the small, tightly entwined community of civil libertarians. In late March, when legal analyst Jeffrey Toobin confronted him directly on Anderson Cooper 360—"I don't know what's going on with you … this is not who you used to be"—it felt like a moment of collective catharsis for liberals who see Trump as a threat to democracy.
The payoff:
But is Dershowitz really a turncoat? I spent two months interviewing leading civil libertarians and Dershowitz's former colleagues, reading through his life's work, and interviewing him twice. In one view, Dershowitz, at the end of his career, has finally crossed the line, defending a demagogue who rejects and threatens the very principles of liberty and fairness to which Dershowitz has dedicated his life. In another view, the people who've lost their way are the liberals and civil libertarians, blinded by their rage for Trump, who have dropped their principles in a moment of political threat and are taking out their anger on a man who has been their staunchest ally.

Maybe the question isn't what happened to Alan Dershowitz.

Maybe it's what happened to everyone else.

[…]

Dershowitz's conception of pure civil libertarianism resembles the "original position"—the thought experiment developed by the philosopher John Rawls, with whom Dershowitz was in a reading group at Harvard. Rawls, widely regarded as the most important political philosopher of the 20th century, suggested people should think about ethics as if they were operating behind a "veil of ignorance"—as if they were building a society without knowing what their race, gender and social standing would be, and were trying to develop rules that would work to everyone's benefit. It's an attempt to think about justice purely from the standpoint of fairness. In the contemporary context, the challenge might be to consider what you would think about, say, the Electoral College without knowing whether it would work to the benefit of your party or the opposition.

Rawls is ordinarily classified as a liberal philosopher, since "justice as fairness" requires equal rights, equal opportunity and, generally speaking, fair treatment of the powerless. But some of the neutral principles that would likely emerge from that approach—say, "every person should be entitled to the presumption of innocence and a vigorous legal defense"—benefit not only the powerless but also the rich and powerful, like, say, Donald Trump.

"I call it the shoe-on-the-other-foot test," Dershowitz told me. Several days after our first talk, the FBI raided Michael Cohen's offices, and he appeared on Fox News to say much the same thing. "You know, if this were the shoe on the other foot," Dershowitz told Hannity, "if this were Hillary Clinton being investigated and they went into her lawyer's office—the ACLU would be on every television station in America jumping up and down."

Dershowitz's supporters see his position on Trump as consistent with the rest of his career. "If you look objectively at what he's doing, he's applying neutral civil liberties principles to Trump, as he would to anyone else," said Harvey Silverglate, a civil rights lawyer in Boston and a longtime friend of Dershowitz's. Harvard professor Jack Goldsmith told me, similarly, "Alan has obviously throughout his entire career been a principled defender of civil liberties, especially for those under criminal investigation. His commentary in the last year is entirely consistent with that lifelong commitment."

In this telling, Dershowitz is a still point in a turning world, a zealot for neutral civil liberties so dedicated to his principles that he's willing to defend even people whose politics could undermine or destroy them. To Dershowitz's detractors, this is precisely the problem. They say Dershowitz has failed to recognize that we're in a new moment, when for the first time in our lives a president is flirting with authoritarianism in a way that, if unchecked, could bring down the very system that Dershowitz has spent his life defending.
There's a whole lot more to the piece and I commend it in its entirety. I find its argument quite compelling.
Having watched Dershowitz for decades, going back to the big hair days, he's always struck me as the same guy: a brilliant zealot. As my political ideology has evolved, in some ways closer to his, he's remained a fixed point. Dershowitz is in some ways an older version of Glenn Greenwald, who delighted the left and infuriated the right when he was going after the excesses of the Bush administration and whose opponents flipped sides as he continued applying those same standards to the Obama administration.
While I think some of Dershowitz' positions on the Trump investigation are extreme—he is, after all, a zealot—I'm sympathetic to his basic line of argument. I'm not, at the end of the day, a Rawlsian but I frequently apply the "shoe-on-the-other-foot test" test that Derschowitz applies. Fundamentally, I share his generic concern over the potential to abuse the state's virtually unlimited investistagotory power, especially when applied to a person the investigator is adamant is guilty of something. And that's even more the case when the investigation is playing out as a public spectacle, which not only doubles down on the pressure on the investigators to find something damning but also leaves a lot of wreckage along the way as lesser targets in the investigation are publicly squeezed to get to the bigger fish.
Given the general sleaziness of the people with whom Trump has surrounded himself, I'm not shedding a lot of tears over their fate. Given the shocking violations of legal norms by the President and the disgusting toadyism of the Congressional wing of the Republican Party, who refuse to stand up for principle, there was no obvious better alternative to appointing a special counsel. And Bob Mueller, who is by all credible accounts one of the most honorable men in public life, is as trustworthy as anyone with that power. But Dershowitz' broad concerns about the inherent potential for bad precedents are worth airing.