Alcohol Tax Weirdness
Taxes on wine, beer, and spirits vary wildly from state-to-state and even within each state.
The gang at the Tax Foundation have produced maps showing how each of the 50 states tax wine, beer, and spirits. There is no obvious rhyme or reason:
Not only do wine, beer, and liquor face different tax rates within each state, but there is also a large disparity in the tax rates between different states. These rates can range from $0.02 per gallon on beer in Wyoming, to $35.22 per gallon on distilled spirits in Washington. Some states (like Alabama) tax all alcoholic beverages with relatively higher rates than other states, but some states tax the three products very differently. For instance, Idaho 6th highest tax rate on distilled spirits and the 4th highest rate on wine, but it has only the 31st highest rate on beer.
My home state of Virginia, for example, has the third highest rate on spirits, a whopping $19.18 per gallon in the state-monopoly ABC stores.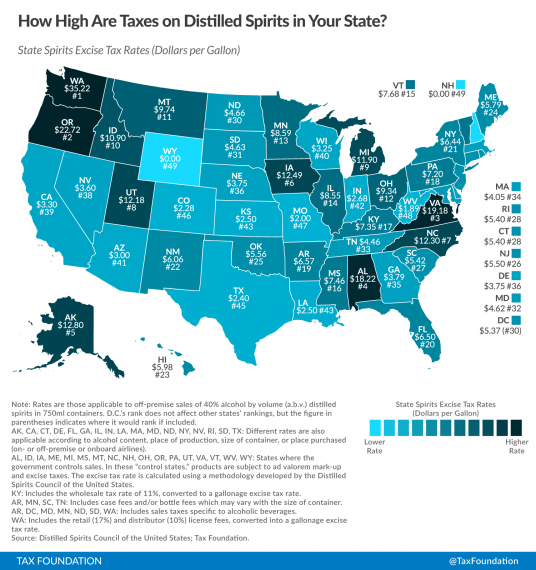 These calculations, they admit, are a bit challenging because of lack of transparency. But they use external sources.
Data for this map comes from the Distilled Spirits Council of the United States. To allow for comparability across states, they use a methodology that calculates implied excise tax rates in those states with government monopoly sales.

Washington has the highest spirit excise tax rate at $35.22 per gallon, followed by Oregon ($22.72), Virginia ($19.18), Alabama ($18.22), and Alaska ($12.80). Spirits are taxed the least in Wyoming and New Hampshire, where government-run stores have set prices low enough that they are comparable to having no taxes on spirits. Following Wyoming and New Hampshire are West Virginia ($1.89), Missouri ($2.00), Colorado ($2.28) and Texas ($2.40).

Like many excise taxes, the treatment of spirits varies widely across the states because of various factors. Spirit excise rates may include a wholesale tax rate converted to a gallonage excise tax rate; case and/or bottle fees, which can vary based on size of container; retail and distributer license fees, converted into a gallonage excise tax rate; as well as additional sales taxes (note that this measure does not include general sales tax, only those in excess of the general rate). Rates may also differ within states according to alcohol content, place of production, or place purchased (such as on- or off-premise or onboard airlines).
What's odd to me is that one would think that heavy producer states, such as Kentucky and Tennessee, would have the lowest taxes. They don't.  Nor, interestingly, do states who only allow spirits to be sold in state-run stores charge the highest rates.
Virginia comes in 7th in wine taxes, coming in at $1.51 a gallon.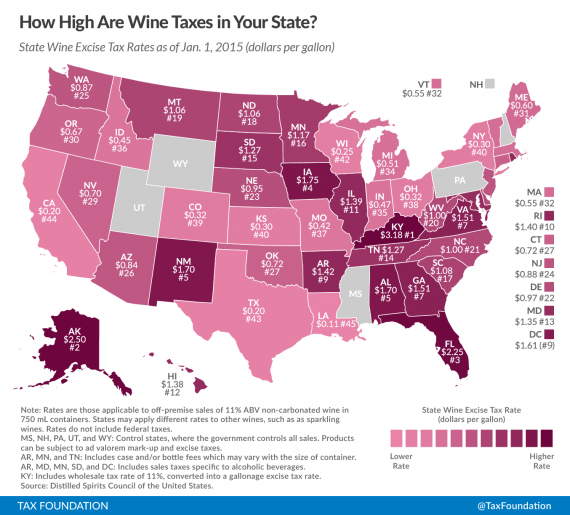 Again, the calculation is a bit muddy because of differences in the way the taxes operate:
Kentucky has the highest wine excise tax rate at $3.18 per gallon, followed by Alaska ($2.50), Florida ($2.25), Iowa ($1.75), and New Mexico ($1.70). The five states with the lowest wine excise rates are Louisiana ($0.11), California ($0.20), Texas ($0.20), Wisconsin ($0.25), and Kansas and New York (tied at $0.30). Notably, these rankings do not include states that control all sales.

Wine excise rates can include case or bottle fees dependent on the size of the container, as in states such as Arkansas, Minnesota and Tennessee. Additionally, rates may include sales taxes specific to alcoholic beverages and wholesale tax rates, as in Arkansas, Maryland, Minnesota, South Dakota, and the District of Columbia.

It should also be noted that many states apply varying rates based on wine type, and wines with a higher alcohol content are often subject to higher excise tax rates. Federal rates also differ by type and alcohol content, with wines up to 14 percent alcohol by volume (ABV) being taxed at $1.07 per gallon, wines between 14 and 21 percent ABV at $1.57 percent per gallon, and wines between 21 and 24 percent ABV at $3.15 per gallon. Sparkling wine gets its own category in the federal code, and is taxed at $3.40 per gallon regardless of alcohol content.
Virginia comes in middle of the pack in beer taxes, at a mere 26 cents a gallon, 24th in the nation.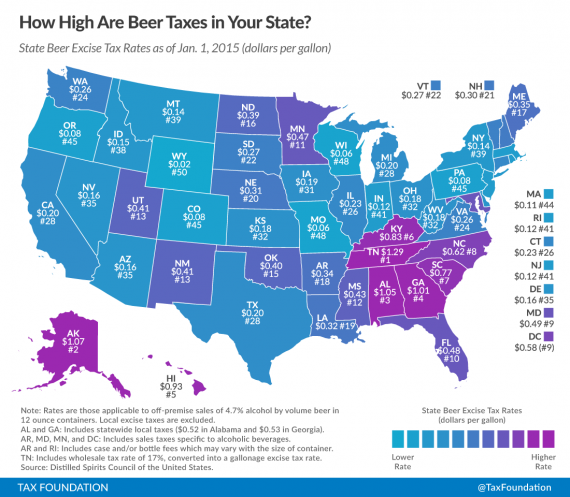 State and local governments use a variety of formulas to tax beer. The rates can include fixed per-volume taxes; wholesale taxes that are often a percentage of a product's wholesale price; distributor taxes (sometimes structured as license fees as a percentage of revenues); case or bottle fees (which can vary based on size of container); and additional sales taxes (note that this measure does not include general sales tax, only those in excess of the general rate).
They also cite a Beer Institute study claiming that "taxes are the single most expensive ingredient in beer, costing more than labor and raw materials combined" and that "if all the taxes levied on the production, distribution, and retailing of beer are added up, they amount to more than 40% of the retail price." Remarkable, if true.