Alvin Green, Senate Nominee, Accused Sex Felon
Amidst all the hubbub of yesterday's reporting on the results of the Tuesday primaries was the bizarre story of Alvin Green, a surprise winner of the Democratic nomination to face Jim DeMint this fall.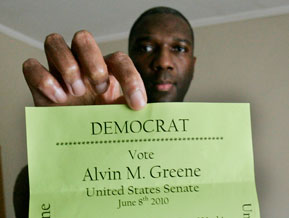 Mother Jones' asks Suzy Khimm, "Who Is Alvin Greene?"
An unemployed 32-year-old black Army veteran with no campaign funds, no signs, and no website shocked South Carolina on Tuesday night by winning the Democratic Senate primary to oppose Sen. Jim DeMint (R-SC). Alvin Greene, who currently lives in his family's home, defeated Vic Rawl, a former judge and state legislator who had a $186,000 campaign warchest and had already planned his next fundraising event. Despite the odds, Greene, who has been unemployed for the past nine months, said that he wasn't surprised by his victory. "I wasn't surprised, but not really. I mean, just a little, but not much. I knew I was on top of my campaign, and just stayed on top of everything, I just—I wasn't surprised that much, just a little. I knew that I worked hard and did," Greene said in an interview.

Greene insists that he paid the $10,400 filing fee and all other campaign expenses from his own personal funds. "It was 100 percent out of my pocket. I'm self-managed. It's hard work, and just getting my message to supporters. I funded my campaign 100 percent out of my pocket and self-managed," said Greene, who sounded anxious and unprepared to speak to the public. But despite his lack of election funds, Greene claims to have criss-crossed the state during his campaign—though he declined to specify any of the towns or places he visited or say how much money he spent while on the road.

[…]

The oddity of Greene's candidacy has already prompted speculation from local media about whether he might be a Republican plant. But Greene denies that Republicans or anyone else had approached him about running. "No, no—no one approached me. This is my decision," he said. A 13-year military veteran, he says he had originally gotten the idea in 2008 when he was serving in Korea. "I just saw the country was in bad shape two years ago…the country was declining," he says. "I wanted to make sure we continue to go up on the right track." But when asked whether there was a specific person or circumstance that precipitated his decision to jump into politics, Greene simply replied: "nothing in particular…it's just, uh, nothing in particular." South Carolina Democratic Party Chairwoman Carol Fowler speculated that Greene won because his name appeared first on the ballot, and voters unfamiliar with both candidates chose alphabetically.

Greene has yet to speak to any Democratic officials, either. After filing to run, his campaign went dark. According to this report, he didn't show up to the South Carolina Democratic Party convention in April and didn't file any of the required paperwork for candidates with the state or Federal Election Commission. When I spoke to him, the state's Democrats had yet to contact him after his victory was announced.
Well, that's odd . . . .
But it gets better.  Or, depending on your perspective, worse:
The Associated Press reported that Mr. Greene had been arrested on charges of showing a college student lewd Internet photographs and talking about visiting her dorm room. The Associated Press said court records showed that Mr. Greene faces a felony charge that carries a maximum of five years in prison for the offenses. Mr. Greene could not be reached for comment.

In a statement, the South Carolina Democratic Party chairwoman, Carol Fowler, called on Mr. Greene to withdraw from the race.  "I did not do this lightly, as I believe strongly that the Democratic voters of this state have the right to select our nominee," she said. "But this new information about Mr. Greene would certainly have affected the decisions of many of those voters."
Thus far, Greene intends to remain in the race.
South Carolina's newly-minted Democratic Senate nominee remained defiant Wednesday night, saying he wouldn't step aside even after charges surfaced that he had shown a college student obscene photos last fall.

State Democratic Party officials have called for Alvin Greene to withdraw from the race, but he told the Associated Press that "the people have spoken. We need to be pro-South Carolina, not anti-Greene," and that he would remain in the race."
Just what South Carolina needed:  Another sex scandal.
In the grand scheme of things, it really doesn't matter.  Barring his own trip down the Appalachian Trail, DeMint was going to win easily in November regardless of who his opponent was.   But, yeesh, this is a weird one.