America Ready for a Gay President?
It's a reasonable question but not the right one.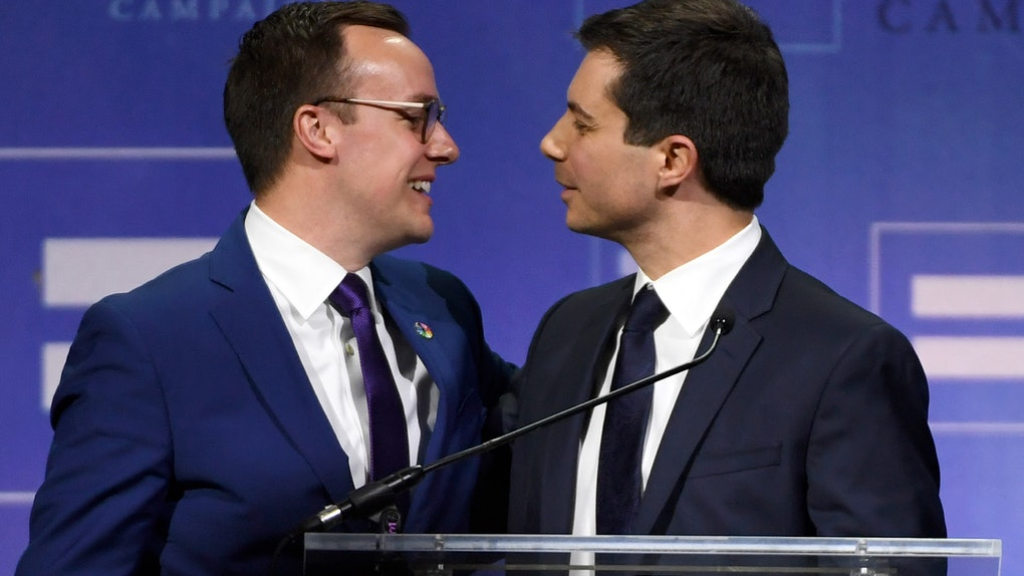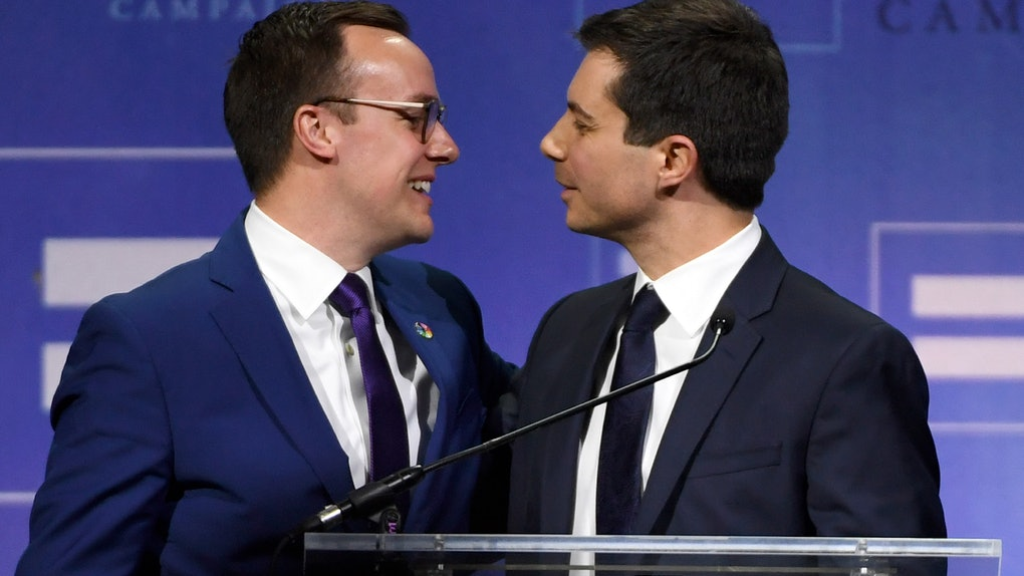 Rush Limbaugh is drawing criticism from Republicans and Democrats for his suggestion that Americans will reject former South Bend mayor Pete Buttigieg because of his homosexuality. AP's Alan Fram:
Conservative talk show host Rush Limbaugh drew bipartisan criticism Thursday for saying the country won't elect Pete Buttigieg president because he's been "kissing his husband" on stage after debates.

[…]

"They're saying, 'OK, how's this going to look?'" Limbaugh said Wednesday, imagining Democrats' thinking. "Thirty-seven-year-old gay guy kissing his husband on stage, next to Mr. Man, Donald Trump.'"

[…]

Limbaugh said he envisioned Democrats concluding that "despite all the great wokeness and despite all the great ground that's been covered, that America's still not ready to elect a gay guy kissing his husband on the debate stage president."

Former Vice President Joe Biden, who is challenging Buttigieg for the Democratic presidential nomination, assailed Limbaugh on ABC's "The View."

"I mean, my God," said Biden, who called it "part of the depravity of this administration." He added, "Pete and I are competitors, but this guy has honor, he has courage, he is smart as hell."

Trump, asked if Americans would vote for a gay man to be president, responded, "I think so."

Still, Trump added: "I think there would be some that wouldn't. I wouldn't be among that group, to be honest with you." Trump spoke during an interview with Geraldo Rivera on Cleveland's Newsradio WTAM.

[…]

"It's a miscalculation as to where the country is at," Sen. Lindsey Graham, R-S.C., a strong Trump supporter, told The Associated Press about Limbaugh's words. "I think the country is not going to disqualify somebody because of their sexual orientation."

[…]

Sen. Rob Portman, R-Ohio, said of Limbaugh, "He may disagree, as I do, with their policy positions, but the question is what their qualifications are, not other issues." Portman announced his support for gay marriage in 2013 as he revealed that his son Will is gay.

Sen. Lamar Alexander, R-Tenn., a moderate who is retiring in January, initially said he wasn't familiar with Limbaugh's remarks and declined to comment. His spokesman later emailed an Alexander statement that said: "There may be reasons not to vote for Mayor Buttigieg, but that's not one of them. This is a tolerant country."
Limbaugh's suggestion that Buttigieg is somehow less "manly" than Trump because of his sexuality is by definition homophobic. But it's hardly shocking to believe that some significant number of Americans will recoil from images of a man kissing another man.*
Clearly, Americans have become much more accepting of gays and lesbians during the period Limbaugh has been a national figure. Gallup has been asking several questions along those lines going back to 1987. That was the year after the Supreme Court's infamous ruling in Bowers v Hardwick that upheld a Georgia law making sex between two men a felony punishable by jail time.
In 1987, a whopping 57% of respondents believed gay relations—not marriage; relations—should be illegal. By 2019, that number had dropped to 26%, with 73% saying it should be legal.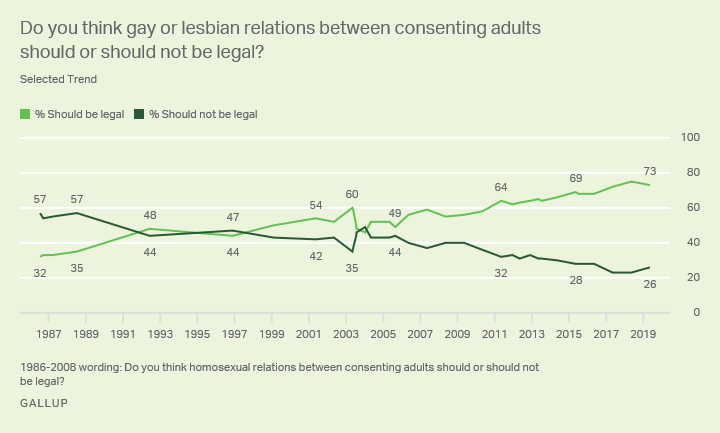 So, on the one hand, that's enormous progress in 30 years. On the other, a whopping quarter of the country is still willing to tell a stranger that they think it should be a crime for a man to have sex with another man.
We see similar trends on gay marriage: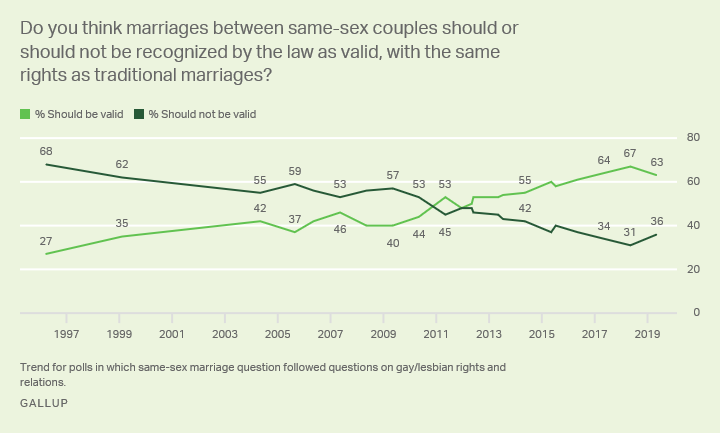 Notice that Gallup considered even the question absurd back in 1987; it would be another decade before they bothered asking. Regardless, we went from 68% opposed to gay marriage to 63% supporting it in a mere 22 years. Still, 36% of the country is still willing to tell a pollster that they think gay unions should be outlawed.
Naturally, these bigots are all Trump supporters, right? Not so much. Pew's numbers don't go back as far as Gallup's but they do break the results down by party, with leaners included:
Yes, those who lean Democratic are considerably more tolerant of gay marriage than their Republican counterparts. But there is still a sizable contingent—over a quarter—who don't think gays should be allowed to marry. And, oddly, if we look at the numbered breakdown rather than the trend graphic, we see that those who "lean Democrat" are actually more tolerant than those who self-identify with the party. One presumes that's because identifiers are more likely to be old and/or African-American.
Now, polls are a tricky thing on controversial issues like this. There has long been speculation of a Bradley/Wilder/Dinkins Effect, wherein people tell pollsters that they will vote for a black candidate, presumably believing that makes them seem more virtuous to the anonymous pollster, even though they really won't. In recent years, there has been some pushback on this theory.
But there's also a reverse phenomenon. Prejudice is a general phenomenon, not a particular one. It's quite possible to believe that blacks are less qualified than whites to be President and yet vote for Barack Obama over John McCain. Because, you know, Obama is one of the good ones. Similarly, one could find men kissing other men icky—hell, even find Pete kissing Chasten icky—and still think Pete is overall a good guy and he's super smart and was in the Navy after all and maybe isn't so bad and is probably better than Trump.
As Nathaniel Frank, the author of Awakening: How Gays and Lesbians Brought Marriage Equality to America, explains,
Subsequent research has repeatedly confirmed this gulf between what people say they will do and what they actually do when it comes to treatment of certain groups. In the 1970s, surveys suggested that military officers would resign if women were admitted to the service academies. Those who opposed the change used the data to fight women's inclusion, warning that the military would suffer a fatal blow. But when women were admitted anyway, virtually no one left as a result.

The same argument surfaced a generation later to oppose L.G.B.T. military service. In 2008, a Military Times survey noted that 24 percent of service members said they would not want to serve alongside gay or lesbian troops. Citing the poll, opponents of inclusive service warned of a mass exodus that could swell to half a million troops if President Barack Obama insisted on overturning a ban. Some said the policy change could "break the all-volunteer force."

Yet after the "don't ask, don't tell" policy ended in 2011, nothing of the kind took place. A study written by a panel of service academy professors the next year found that "retention was unaffected" by the reversal of the policy. "There was no mass exodus of military members as a result of repeal, and there were only two verifiable resignations linked to the policy change, both military chaplains," the report said.

An equally relevant example of the gap between attitudes and behavior comes from President Obama's politically risky decision to back same-sex marriage six months before the 2012 election. A Gallup poll conducted just after the announcement suggested that a quarter of voters were less likely to support the president in November because of his support for marriage equality. While it's impossible to know how many, if any, of those voters actually declined to vote for Mr. Obama because of his position, he handily won re-election.
The bottom line is that we really don't know whether Buttigieg's sexuality would be a major factor come November. Intuitively, a significant number of elderly and African American Democrats will be uncomfortable with him as the nominee. But the alternative, after all, is another four years of Trump.
Beyond that, as Dave Schuler observed earlier in the week,
If New Hampshire voters are concerned about making "the right choice", they should worry no longer. They will make the wrong choice. There is no right choice. There are likes and dislikes but there is no one right choice.
All of the plausible Democratic nominees have strengths and weaknesses. Many are too old. One is too young. Two are too far left for the country. The rest are too far right for many in the party. Some are charisma-challenged. One is too angry. One is too rich.
I think any of them could unite the party around them and beat Trump in November. But any of them could lose, too.
Buttigieg will lose some votes because he's gay. He might lose more because he's young and relatively inexperienced. But he may well gain more because he's smart and comes across as moderate and energetic.
So, Limbaugh's question is a reasonable one to ask, even if it was "asked" in a mean-spirited way. But it's really a mug's game. There are just too many candidates and too many variables to isolate any one of them.
______________
*Note that, while all of the polling is on "gays and lesbians," there's strong anecdotal evidence that there is far stronger antipathy to the former. In particular, there is far more violence directed at gay men by other men on the basis that they're gay.