America The Ignorant
Another survey shows that Americans don't know much about their own history, but does it really matter?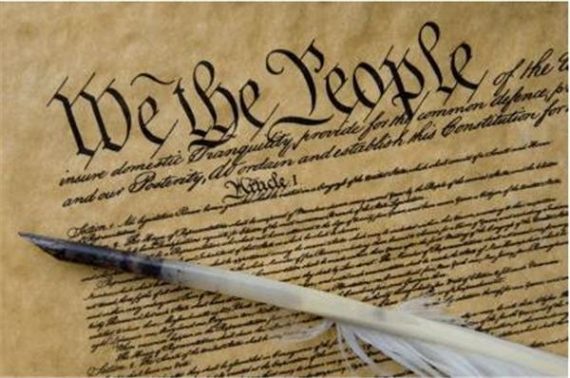 Newsweek is out with yet another survey establishing just how little Americans know about basic history and civics:
They're the sort of scores that drive high-school history teachers to drink. When NEWSWEEK recently asked 1,000 U.S. citizens to take America's official citizenship test, 29 percent couldn't name the vice president. Seventy-three percent couldn't correctly say why we fought the Cold War. Forty-four percent were unable to define the Bill of Rights. And 6 percent couldn't even circle Independence Day on a calendar.

Don't get us wrong: civic ignorance is nothing new. For as long as they've existed, Americans have been misunderstanding checks and balances and misidentifying their senators. And they've been lamenting the philistinism of their peers ever since pollsters started publishing these dispiriting surveys back in Harry Truman's day. (He was a president, by the way.) According to a study by Michael X. Delli Carpini, dean of the Annenberg School for Communication, the yearly shifts in civic knowledge since World War II have averaged out to "slightly under 1 percent."

But the world has changed. And unfortunately, it's becoming more and more inhospitable to incurious know-nothings—like us.
Just how bad is https://www.outsidethebeltway.com/wp-admin/post-new.phpit? Pretty bad:
33% of respondents couldn't identify the date on which the Declaration of Independence was adopted
65% of respondents couldn't identify what happened at the Constitutional Convention
88% of respondents couldn't identify one of the authors of The Federalist Papers
80% of respondents couldn't identify who was President during World War One
73% of respondents couldn't identify what the Cold War was about
59% of respondents couldn't identify what role Susan B. Anthony played in American history
61% of respondents couldn't identify how long a Senator's term of office is
29% of respondents couldn't identify the name of the current Vice-President
This isn't the first time we've seen results like this, of course. Back in June, I noted a study that found that Americans knowledge about the Revolutionary War and America's Founding Era was woefully incomplete, and that American's are largely mistaken in what they do know about their country. There was even a survey last year that established that two-thirds of Americans couldn't identify a single member of the Supreme Court.
All of this stands in start contrast with Europeans, who seem to do far better than Americans on these surveys:
In March 2009, the European Journal of Communication asked citizens of Britain, Denmark, Finland, and the U.S. to answer questions on international affairs. The Europeans clobbered us. Sixty-eight percent of Danes, 75 percent of Brits, and 76 percent of Finns could, for example, identify the Taliban, but only 58 percent of Americans managed to do the same—even though we've led the charge in Afghanistan. It was only the latest in a series of polls that have shown us lagging behind our First World peers.
One wonders, of course, how well Brits, Danes, or Finns would do on general knowledge survey about their own government and political system, but it probably isn't too far a stretch to say that they'd do comparatively better than Americans in that area as well. More importantly, though, ignorance can have a profound effect on the political system:
The current conflict over government spending illustrates the new dangers of ignorance. Every economist knows how to deal with the debt: cost-saving reforms to big-ticket entitlement programs; cuts to our bloated defense budget; and (if growth remains slow) tax reforms designed to refill our depleted revenue coffers. But poll after poll shows that voters have no clue what the budget actually looks like. A 2010 World Public Opinion survey found that Americans want to tackle deficits by cutting foreign aid from what they believe is the current level (27 percent of the budget) to a more prudent 13 percent. The real number is under 1 percent. A Jan. 25 CNN poll, meanwhile, discovered that even though 71 percent of voters want smaller government, vast majorities oppose cuts to Medicare (81 percent), Social Security (78 percent), and Medicaid (70 percent). Instead, they prefer to slash waste—a category that, in their fantasy world, seems to include 50 percent of spending, according to a 2009 Gallup poll.
This one in particular cannot be blamed on the American people alone, of course. Politicians, pundits, and interest groups regularly engage in disinformation and demagoguery on these issues to the point where it's nearly impossible for the casual observer of politics to know what the truth is. Moreover, people's opinions on these issues are motivated as much by self-interest as they are by what might be right policy choice. The reason there's resistance to reform to Social Security and Medicare is because people think they'll use it one day and they don't want to give that up. Ignorance plays a role, but it isn't the only factor.
Nonetheless, yes, it is distressing that such a large portion of the public doesn't know basic facts about the country they live in. As I noted back in June, though, this might not be as bad as some people make it out to be:
While it's yet another depressing reminder of the extent to which schools have failed to teach basic American history,  or more importantly to instill in people a desire to learn about history, it's not at all news. We've seen surveys like this before and I'm sure that we'll see them again. I'm not at all certain that this means much of anything for the political system, though, because the people who are unable to identify the basic facts of American history are also unlikely to be the ones lining up at the polling place at six in the morning to cast a ballot.

That's one of the reasons that I'm personally not bothered by issues like low voter turnout; there seems to me to be little positive value in encouraging the willfully ignorant to participate in a system they know nothing about.
Indeed.