American Public Mostly Ignoring War In Afghanistan
Eighteen years after it started, the American public seems to be mostly ignoring the war in Afghanistan. But that isn't an excuse for not bringing it to an end.
Next month we will mark the 18th anniversary of the beginning of the Afghanistan War, a conflict that began in response to the terrorist attacks unleashed on the nation 18 years ago last Wednesday by Osama bin Laden and his al Qaeda terrorist network. In the immediate aftermath of the attacks, it didn't take long for American intelligence to determine who was responsible for what remains the greatest act of mass murder in American history and, soon after, to determine that bin Laden and his al Qaeda network were being given refuge by the Taliban government in Afghanistan. That is why, after warning the Taliban that we intended to retaliate against al Qaeda and against anyone providing them refuge — something directly authorized by the Authorization for Use of Military Force passed overwhelmingly be Congress just weeks after the September 11th attacks.
That was in 2001, though, and much has changed since then. Al Qaeda has been chased from its mountain redoubts in Afghanistan and has largely been forced underground to the extent it still exists. Despite this, American troops remain in Afghanistan despite promises by Presidents Bush, Obama, and Trump that our commitment there would eventually be coming to an end. It's true that the size of the American and allied force in place in Afghanistan today is significantly smaller than it was at its height, but those forces remain. Additionally, while the original mission given to the United States military was a counter-terrorist operation aimed at al Qaeda, that mission changed to a counter-insurgency operation aimed at the Taliban and the civil war that has been going on in the country between the government in Kabul and anti-government forces, including the Taliban.
For the most part, the War in Afghanistan has been Ameria's forgotten war. To a significant degree that's because it doesn't get the kind of in-depth coverage that the Iraq War. Indeed, at this point, the only times Afghanistan is in the news is when there is a terrorist attack in Kabul or another major city, or when an American soldier dies. It is also likely why, according to a new Gallup poll, public opinion about the war is at best mixed:
WASHINGTON, D.C. — Peace negotiations between the U.S. and Taliban negotiators collapsed this past weekend. The cancellation of the talks leaves the future of the war in Afghanistan in question, as Americans' views of the war effort are holding steady from Gallup's last measure, conducted four years ago, with 43% currently saying it was a mistake to send troops there and 52% saying it was not a mistake.

These data come from Gallup's latest survey, conducted Aug. 15-30, as peace talks took place between U.S. and Taliban negotiators in Qatar. Gallup asked a similar question concerning the wisdom of the war in Afghanistan from November 2001 through May 2011 and found majority support for the war throughout the period. In November 2001, shortly after the U.S. sent troops to Afghanistan, 9% of Americans said the war was a mistake, while 89% believed it was not. By July 2004, the percentage expressing opposition to the war had increased to 25%; it reached 43% in August 2010. Since then, opinions have largely stabilized, including 39% of Americans saying the war was a mistake and 58% saying it was not shortly after the death of Osama bin Laden in May 2011.

In all but one post-2011 reading, the slight majority of Americans have continued to say the war was not a mistake, as they do today, while just over four in 10 have said it was a mistake. The lone exception came in 2014, after then-President Barack Obama announced a plan for the withdrawal of most U.S. forces.
As this chart shows, public opinion on the war has been roughly consistent for the past six years: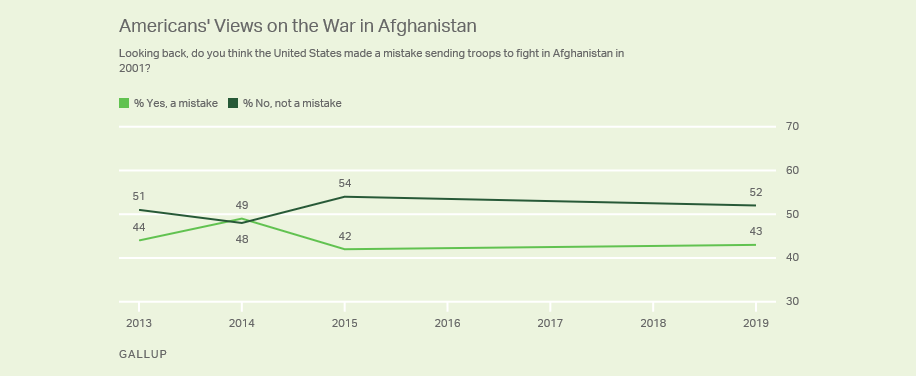 There is, however, a significant partisan divide on the question of whether or not the war was a mistake:
While a slight majority of Americans overall do not see the war in Afghanistan as a mistake, there are substantial partisan differences on the question. Currently, there is a 28-percentage-point gap between Democrats and Republicans who view the war as a mistake. This has been a consistent pattern since 2013, a period that covers the Obama and Donald Trump administrations. Throughout this time, Democrats have been about twice as likely as Republicans to say the war started by Republican President George W. Bush in 2001 after the 9/11 attacks was a mistake.

Among political independents, views that the war was a mistake have fluctuated from a low of 42% in 2013 to a high of 51% in 2014.
The evolution of that partisan divide over time can be seen in this second chart: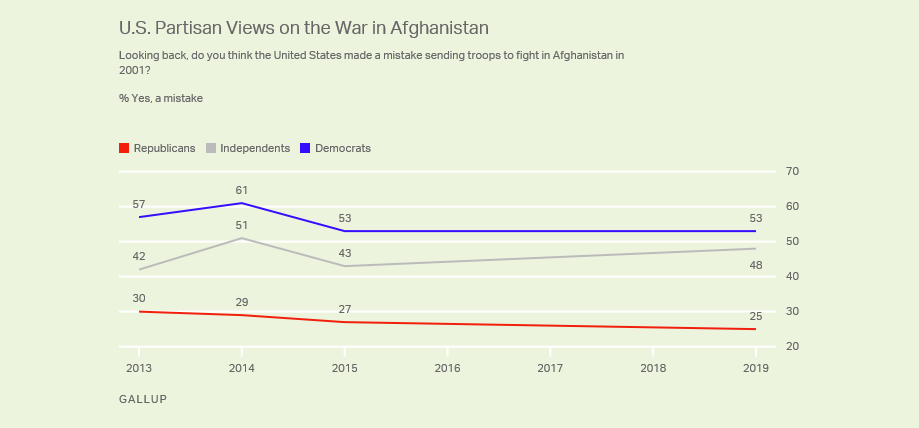 Gallup sums up the finding of its poll and what it means for future American policy:
During his campaign for the presidency, Trump was critical of the war in Afghanistan and promised to end the conflict. Despite this pledge, Trump committed to sending more troops to the country in 2017. However, from that point until Trump's cancellation of the negotiations, his administration had strongly pushed for a peace treaty with the Taliban to bring an end to U.S. involvement in the conflict. Concurrent with these talks, Taliban forces have continued their attacks throughout Afghanistan, and the government of the country has essentially been excluded from the negotiations.

Americans' views of the war in Afghanistan appear to have stabilized, remaining more positive than negative on balance. Should Trump or a future Democratic president move to fully end U.S. involvement in Afghanistan, this is unlikely to change.
Quite honestly, our current strategy, which I outlined as best I could back in December of last year, seems like a strategy that is guaranteed to fail. Yes, it's true that we have ongoing military commitments that have lasted far longer than our involvement in Afghanistan has, but that misses the point.
American forces have been in Europe, principally Germany, and the United Kingdom, since the end of World War Two, for example, but they haven't been involved in anything approaching active combat for seventy-two years now. The same goes for the American forces in Japan, although our bases there did serve in a support role during the Korean War and, to some extent, during the Vietnam War. We've had troops in South Korea since the armistice was signed in 1953, but again there hasn't been anything approaching a combat situation there in sixty-four years. The same is true about commitments elsewhere in the world for the most part.
American forces in Afghanistan, though, have been involved in combat in some form or another on a non-stop basis since October 2001, and that doesn't even count the activity that may have been engaged in by Special Forces or CIA assets during the Soviet occupation and the years leading up to the September 11th attacks. And it looks like this status will continue to be the case for the foreseeable future. Doesn't there come a time when we just have to tell the Afghans that we can't do this anymore and they're going to have to learn to either resolve their differences through negotiation or handle this civil war on their own?
It seems obvious to me that the answer to that question is yes, and that the time to tell the Afghans that their future is in their own hands is now. Any more American or allied deaths in Afghanistan are utterly unnecessary casualties in a war we should have concluded years ago.