Americans Basically Want Sarah Palin To Go Away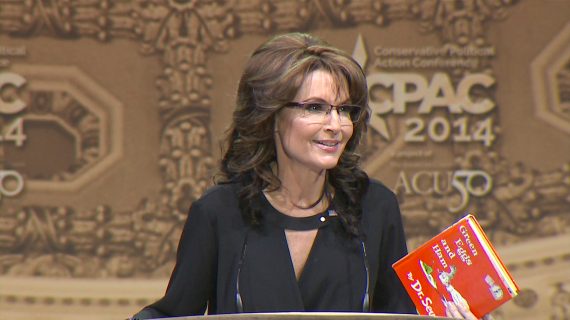 While Sarah Palin continues to pontificate about politics on a mostly regular basis, most recently calling for President Obama's impeachment, Sean Sullivan notes that most Americans have no desire to hear what she has to say:
More than half of voters say they have heard enough from Sarah Palin and would rather she not wade into political debates in her outspoken manner, according to a new NBC News/Wall Street Journal/Annenberg poll.

Fifty-four percent fall into that category. That includes a sizable chunk of Palin's Republican Party — nearly four in 10. A majority of Democrats and independents say they prefer to hear less from Palin.

"I hate to think that the Republican Party is going to be leaving me. I don't want to leave it. But if it leaves me and it keeps straying toward that liberal, failed agenda that the left, that Barack Obama just exudes, then yeah, I'm not going to hesitate" to leave, Palin said Tuesday on Fox News.

Palin holds no elected office nor is she a candidate, but the former Alaska governor and 2008 vice presidential nominee has campaigned for congressional candidates this cycle and regularly opines on big debates on her Facebook page. This week, she called for the impeachment of President Obama.
This won't mean much to Palin, of course, since her audience is not the American people as a whole but a very narrow ideological faction of the Republican Party, and they continue to love her unquestionably. As long as that continues, we'll continue to hear from Sarah Palin.