Sarah Palin Says It's Time To Impeach Obama
What could possibly go wrong?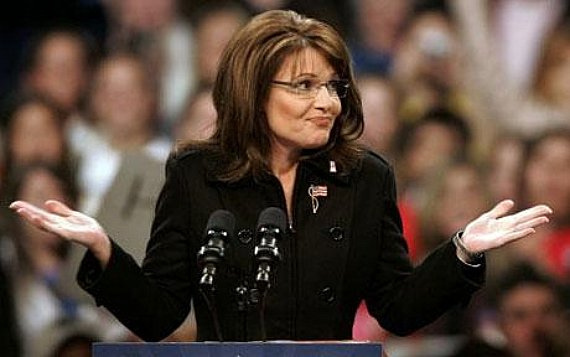 Sarah Palin has become the most prominent Republican polemicist to endorse the idea of impeaching President Obama:
Former vice presidential nominee Sarah Palin called for President Barack Obama's impeachment in her most direct language yet in a column Tuesday morning.

"It's time to impeach; and on behalf of American workers and legal immigrants of all backgrounds, we should vehemently oppose any politician on the left or right who would hesitate in voting for articles of impeachment," Palin wrote in a column published Tuesday on the conservative website Breitbart. "The many impeachable offenses of Barack Obama can no longer be ignored. If after all this he's not impeachable, then no one is."

The former Alaskan governor accused Obama of deliberately leaving the border open and allowing undocumented immigrants to come in at will, ignoring American laws and driving the country deeper into debt.

"His unsecured border crisis is the last straw that makes the battered wife say, 'no mas,'" she wrote. "President Obama's rewarding of lawlessness, including his own, is the foundational problem here."

Native-born citizens and legal immigrants, she said, are the ones "getting screwed" following the rules while undocumented immigrants are exempt.
I haven't written much about the issues going on at the southern border right now dealing with large numbers of mostly young Central American refugees, mostly because I don't feel like I've wrapped my brain around what's going on enough to common on it, but I have noticed that what Palin is saying here has become something of an article of faith among the hard right. Rather than accepting the idea that the crisis is due in large part to deteriorating social conditions in Central America combined with a law signed into law by President Bush that bars the U.S. from automatically deporting children arriving from nations other than Canada or Mexico have created this crisis, they believe that the crisis was deliberately created by President Obama. The motives for this supposed conspiracy depend on who you're talking to and include everything from forcing Congresses hand on immigration reform by creating a crisis on the border to overwhelming the resources of Republican states like Texas and Arizona. As with many things in politics, the fact that these conspiracy theories aren't true isn't nearly as important as the fact that it is widely believed among people on the right, and that it is motivating their actions.
As for Palin's decision to jump on the impeachment bandwagon, the wisest thing to do would seem to be to dismiss it as a ranting with about as much importance as that from any other conservative pundit or blogger. After all, it has now been a full five years since Palin quit her first term in office after serving just over two years in office and embarking on the media career that she has become known for. At least twice since then, for President in 2012 and then for Senate in Alaska this year, she has demurred on any effort to run for political office ever again, and nobody seriously expects her to be a candidate in 2016. Outside of the Tea Party wing, nobody takes her pontificating on Fox News or Facebook very seriously anymore.  She is, in other words, not nearly the political force she might have been had she stayed in office.
At the same time, Aaron Blake argues that Palin endorsing the idea of impeachment could place the GOP in a bind, principally because of the part of the party that she continues to appeal to:
Palin is hardly the first GOP politician to raise the issue of impeachment over the past couple years. Others include Sens. James Inhofe (R-Okla.), Tom Coburn (R-Okla.) and Tim Scott (R-S.C.), Reps. Blake Farenthold (R-Tex.), Kerry Bentivolio (R-Mich.), Michael Burgess (R-Tex.), Jason Chaffetz (R-Utah) and Tim Scott (R-S.C.), former congressmen Tom Tancredo (R-Colo.) and  Allen West (R-Fla.), and the South Dakota Republican Party. Not all of these folks called for Obama's impeachment directly, but all of them suggested that it is or should be on the table.

What none of these folks have, though, is a national following. That's where Palin comes in. She's the first Republican of any significant national stature to make this call. And she's the kind of figure who could potentially recruit others to the cause — people who will want to be heard. Palin surely doesn't carry the kind of weight she once did in the GOP, but she still has a significant tea party following and is highly popular among the conservative base.

If a significant pro-impeachment portion of the conservative base does materialize — and that's a big "if" — it will put Republican lawmakers in the unenviable position of responding to questions about whether they, too, agree with the idea of impeachment.

From there, there are three options:

1) Oppose impeachment and risk making yourself a target in the 2016 primary

2) Try to offer a non-response that doesn't really support or oppose impeachment

3) Support impeachment and, while likely saving your own hide from becoming a target, exacerbate the problem with the larger Republican Party.
Does Palin jumping on the impeachment bandwagon mean that it's inevitably going to happen? Of course not, and it also doesn't mean that the Republican leadership is definitely going to be pressured to act on this issue in the manner that Blake posits. However, when you start seeing people like Palin who have large followings on the right say things like this, even though it is quite obviously completely insane for reasons I don't think I need to get into here, it does make one wonder.  If Palin is joined by others, especially prominent conservatives like Mark Levin and others, then the pressure on the GOP to act could begin to increase, especially if the GOP captures the Senate in November. It's completely insane, it bears no logical relationship to the facts on the ground, and unlike the Impeachment of Bill Clinton it would carry with it the potential to do real harm to the GOP's political future. However under the right circumstances, and as Blake lays out, that's exactly how it could play out. And, in some sense, the GOP will have Sarah Palin to thank for it if it does.