America's Hereditary Celebrity Class
Chelsea Clinton's hiring as an NBC personality is another hit for the meritocracy myth.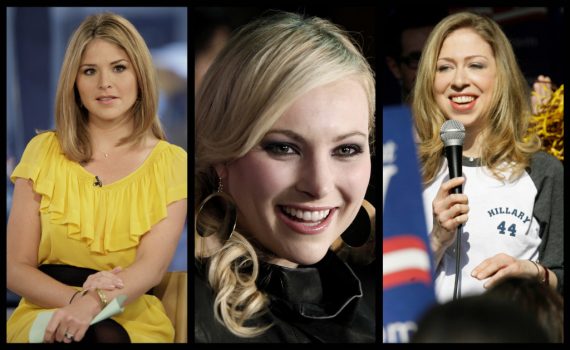 Glenn Reynolds links approvingly to Walter Russell Mead's posting on Chelsea Clinton's hiring by NBC News.
In another win for the famously blind meritocracy that rules American life, rewarding the ultra-talented and pushing the less brilliant and skilled into the outer darkness, Chelsea Clinton has landed a coveted position at NBC News. This was almost as much a surprise as her admission to Stanford; one can only marvel at the sheer guts and talent that have enabled her to overcome our society's fixed aversion to giving a chance to the relatives of the rich and the prominent.

On a more serious note, I know of no reason why the younger Ms Clinton should not have this or any job. But the increasing sense that this country is run by a hereditary celebrity class is one of the most corrosive and dangerous forces eating away at our common life.

The children of famous politicians could do our country an immense service if they sought out ways to serve that were more low profile.  This would be particularly true for the children of extremely rich politicians.
I fully agree with Mead but am surprised that Glenn does, given his complete dismissal of the Occupy movement. Whatever silliness might surround the protests, the sense that the game is rigged and that meritocracy is a fraud is central to the movement.
None of this is to say that Chelsea Clinton isn't a very bright young woman or that NBC's hiring of her is a bad business decision or some sort of unspeakable travesty. The fact of the matter is that television news has been moving in the direction of infotainment for the better part of three decades now and having famous people on helps draw an audience. Are there hundreds of people who are objectively more qualified, in terms of having paid their dues? Sure. It just doesn't matter. The business of news is business and hiring Chelsea Clinton probably makes sense. After all, the network has already blazed this trail with Jenna Bush and Meghan McCain.
It's actually more problematic, frankly, that Chelsea Clinton has a blank check for a career in elective politics if she so chooses than that she's a media celebrity. Like her mother before her–not to mention Al Gore, George W. Bush, and lots of Kennedys, Rockefellers, Daleys, and others–being related to a successful and prominent politician is an enormous head start.