America's Problems Solved, Congress Now Wants To Change The Redskins' Name
Apparently, our biggest problem in America is now the name of an NFL franchise.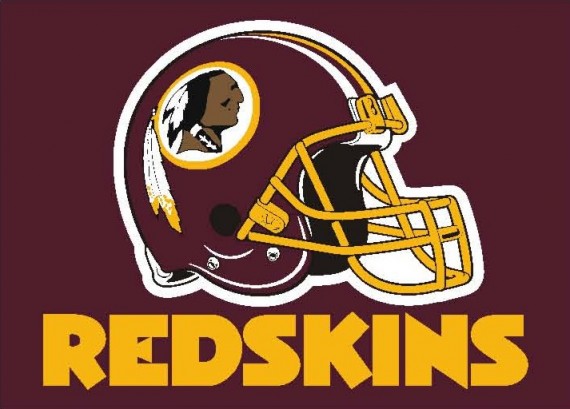 It seems as though every decade or so someone gets it in their heads the idea that the most important issue facing the nation is the fact that the football team associated with our nation's capital is the Redskins. The controversy will last for awhile, and then fade away once it becomes clear that the team's ownership, once the iconic Jack Kent Cooke and now the less-than-beloved Dan Snyder, makes it clear that the team's name will not change as long as they own the team. Most recently, one group of Native Americans attempted to make an end run around the owner's reticence by petitioning the Patent and Trademark Office to strip the team of its Trademark on the ground that the name was racially offensive. After a battle that lasted several years, they lost their petition and things seemed to quiet down yet again. Now, Members of Congress, apparently having solved every other problem facing the nation, have decided to get involved:
Ten members of Congress are urging the Washington Redskins to change their name because it is offensive to many Native Americans.

The representatives said Tuesday they've sent letters to Redskins owner Dan Snyder, NFL Commissioner Roger Goodell, Redskins sponsor FedEx and the other 31 NFL franchises.

The letter to Snyder says that "Native Americans throughout the country consider the 'R-word' a racial, derogatory slur akin to the 'N-word' among African Americans or the 'W-word' among Latinos."

Among the group sending the letters are the leaders of the Congressional Native American Caucus: Tom Cole (R-Okla.(, and Betty McCollum (D-Minn.).
Earlier this year, these same Members of Congress introduced a bill that would strip the team of their Trademark, however the bill has gone nowhere in Congress and is unlikely ever to see the light of day. Additionally, it's hard to see how such a bill would not be barred by the Constitution as a Bill Of Attainder. In any case, though, it's clear that these actions by Members of Congress have not intimidated Redskins' ownership:
Daniel Snyder is owner of the Washington pro football team he grew up adoring. Would he ever consider changing the team name that many American Indians and others believe is a racial slur?

"We will never change the name of the team," Snyder told USA TODAY Sports this week. "As a lifelong Redskins fan, and I think that the Redskins fans understand the great tradition and what it's all about and what it means, so we feel pretty fortunate to be just working on next season."

What if his football team loses an ongoing federal trademark lawsuit? Would he consider changing it then?

"We'll never change the name," he said. "It's that simple. NEVER — you can use caps."
It's easy to understand why Snyder would take this position.  As a team, the Redskins franchise is estimated to be worth some $1.56 billion with annual revenue estimated to be more than $350 million. It is the fourth most valuable sports franchise in the world, behind English soccer team Manchester United, the Dallas Cowboys and the New York Yankees. Additionally, public opinion seems to be clearly on Snyder's side in this issue. A poll released earlier this month showed that 79% of those polled support the idea of the Redskins keeping their name notwithstanding the complaints from some, but not all, Native American groups that it is offensive. The name "Washington Redskins" is a valuable commodity, and no team owner is ever going to give it up voluntarily, it's just that simple.
Over the years, some private organizations have tried to use pressure to force a name change. One local Washington, D.C. television station spent several years referring to "Washington's football team" during sports reports instead of using the name "Redskins." Eventually, their practice became so widely derided that they went back to using the teams actual name. Other media outlets have taken similar measures only to abandon them. These were obviously efforts to try to persuade Redskins fans to give up the name, and they failed spectacularly.
Now, I'm a New York Giants fan, so I've really got no dog in this fight and on some level I'm not all that dismayed by something that embarrasses one of my team's biggest rivals. At the same time, though, I have to wonder why this is something that Members of Congress need to be getting involved in, or why legislation is necessary to address something that is, in the end, a private business matter. The people who don't like the name are free to protest it. Dan Snyder and the rest of Redskins ownership are free to reject their pleas. If there ever comes a time when the public sympathizes with the protesters, then perhaps the team will feel the kind of economic pressure most likely to cause them to change positions, then we'll likely see a name change of some kind. Personally, I think the odds of that happening are pretty remote. The Redskins name has been in existence now since 1933 when the football version of the Boston Braves changed its name to Boston Redskins before moving to Washington, D.C. several years later. We're not that far away from the 100th anniversary of that name. It's going to be around for a long time to come, and I'm just fine with that.
Here's the letter that was sent to Redskins ownership:
Letter To Washington Redskins Owner Dan Snyder by dmataconis