America's Stupid Copyright Laws: 'I Have a Dream' Edition
One of the iconic speeches in American history is copyrighted.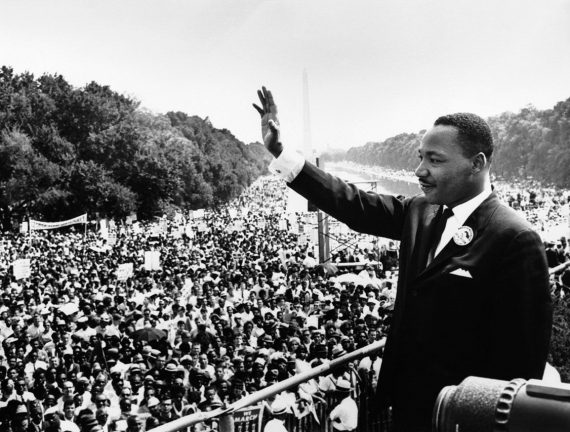 One of the iconic speeches in American history is copyrighted.
Dustin Volz ("Why Martin Luther King's 'Dream' Speech Is So Hard to Find Online"):
As Washington gears up to commemorate the 50th anniversary of Dr. Martin Luther King Jr.'s historic "I Have a Dream" speech later this month, one thing might be missing from the celebrations: the speech itself.

A full, unedited video clip of the speech is tougher to find than you might think, because of copyright disputes that date back almost as far as the speech itself.

"We were shocked to find that it was very difficult to find a full copy of Dr. King's speech on YouTube," said Evan Greer, a campaign manager at Fight for the Future, an Internet free-speech advocacy group. In January, the group posted the full-length speech on Vimeo in an act of "civil disobedience" coinciding with Martin Luther King Day. The video was promptly removed for violating Vimeo's terms of service, Greer said, but a version on YouTube has managed to avoid detection and remains up on the site, having accumulated more than 80,000 views.
The "version on YouTube" link doesn't go to YouTube at all but rather something called FightForThe Future.org, which illegally shares copyrighted videos out of principle.
On Internet Freedom Day we uploaded this video honoring MLK.
Within a few hours, it had been taken down because of copyright.

Copyright law says that sharing this video is illegal. Share it anyway.

Take part in a small act of civil disobedience against a broken copyright system that censors free speech.
Anyway, how in the world can a public speech given half a century ago on taxpayer property be copyrighted?
Months after the August 1963 March on Washington, King himself sued to prevent the unauthorized sale of his speech, purportedly in an effort to control proceeds and use them to support the civil-rights movement. In 1999, the King family sued CBS after the network produced a video documentary that "used, without authorization, portions of … King's 'I Have a Dream' speech." A divided Appellate Court, in reversing a lower court ruling, held that the speech was not a "general publication," despite its huge audience and subsequent historic importance. The speech instead qualified as a "limited publication," the court said, because "distribution to the news media, as opposed to the general public, for the purpose of enabling the reporting of a contemporary newsworthy event, is only a limited publication."

The ruling was narrow, and CBS and the King estate settled the case before the lower court could reconsider, leaving the copyright of the speech in a somewhat confusing legal situation. A CBS press release dated July 12, 2000, discusses the agreement that allowed the network to "retain the right to use its footage of the speeches" from the march and license it to others in exchange for an undisclosed contribution to the Martin Luther King, Jr., Center for Nonviolent Social Change.

In 2009, EMI Publishing cut a deal with the King estate to help ensure that the speech was "accorded the same protection and same right for compensation as other copyrights." EMI was sold in 2011 to a consortium headed by Sony. The King Center did not respond to requests for comment.
Now, I can understand a form of protection, common the various Creative Commons world, that would prohibit non-transformative, commercial use of the speech.  In the immediate aftermath of the speech, it seems reasonable that, if anyone is going to make money off the speech, it should be the person who wrote and delivered it. But it's absurd that said protections would attach decades after the creator was murdered and to non-commercial use.
And we have at least another quarter century to go:
The result is that viewing the whole speech online may remain difficult until 2038, when the current copyright expires, because of laws that protect intellectual property long after the author is deceased.
That's just crazy.
So will King's dream be heard the day of his anniversary? That depends on where you want to view it–and how much of it you want to see. Much of what is available shows only fragments of the speech. Some, like the History Channel, note that copyright prevents the presentation of a full version.

Networks and other news organizations can air segments of the speech under the doctrine of "fair use," because they can justify it as substantially newsworthy, Sunshine said. (CBS aired short excerpts this past weekend on its Sunday Morning news show.) But airing the entire speech–all 17 minutes–could blur those lines.

"The less you play, the easier it is to argue it's fair use, generally speaking," Sunshine said. And networks such as CBS are probably more inclined to pay the licensing fee than to shell out hundreds of thousands of dollars to test the waters on a fair-use claim. This creates a noticeable divide between television corporations that could afford to legally challenge the copyright protections (but may not want to, because they do not need to show the full speech) and others, who lack means to challenge that restriction, Sunshine said.
The ostensible purpose of copyright is to incentivize creation by ensuring creators can profit from their work. I'm perfectly happy that Elmore Leonard, who died this morning, was continuing to not only profit from his earlier works but motivated to create new ones right up until the end. For that matter, given that there's plenty of money being made to this day on movies and television shows based on his work, I don't mind his widow, ex wives, and children from getting their fair share of it; otherwise, someone else would get the money Leonard earned.
But King wasn't a novelist or actor. While he became reasonably wealthy from his fame, the purpose of "I have a dream" was political, not commercial. It escapes me what possible rationale exists in limiting the public's access to it.