An Appropriate Assessment of the Spicer Era
Don't cry for Spicer.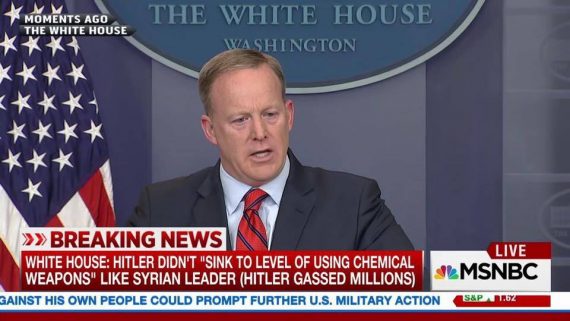 Jack Shafer's column in Politico Magazine asks:  Should You Feel Sorry for Sean Spicer?
The sub-title correctly answers:  Nope. Absolutely not.
The White House attracts all manner of toadies, suckups and flatterers seeking the president's favor, but never did any staffer demean, degrade and humble himself to the chief executive the way outgoing press secretary Sean Spicer did. Abandoning the arts of both persuasion and elision that have served previous prevaricating press secretaries so well, Spicer flung barb-tongued lies in the service of President Donald Trump.
Being Press Secretary is a hard job.  Invariably you have to go out in front of the press and try to answer questions without always actually answering them. There are often good reasons to behave in such a manner, as it is undesirable, for example, to talk about ongoing foreign policy actions.  And, quite frankly, negotiations and determinations about domestic policy can be ever-changing in a way that makes direct answers impossible or problematic.
I have watched Press Secretaries for decades knowing full well that they were often not being candid about all things (and, often, perhaps not even knowing the answers being sought).  I have seen them dissemble about presidential actions.  I have certainly heard responses that I was pretty sure weren't true (often by omission, dissembling, or word games).  What I do not recall is the volume of  believe, not your lying eyes type of behavior we saw from Spencer.  Understand, that is ultimately the President's fault, and it will not get better with Spicer's exit.  But Spicer, as a person, has to own what Shafer said in the paragraph quoted above–he sold his soul for that job.
Spicer wasn't born a liar. In an oddly predictive utterance, he volunteered in January as he boarded the Trump White House that he never liedbecause, among other things, lying destroyed credibility and rendered a spokesman useless. If he was being honest about not being a liar, his streak ended with that first press briefing, in which he took no questions and made his ridiculous claims about the inauguration crowd size.
The entire column is a list of the problematic statements and defense provided by Spicer to the press.
Of course, as noted above, this it ultimately about the President and it is likely to get worse because this White House does not respect the role of the press in our system.
On that last note, I know that many believe that the press is the "opposition" and that it is so rife with "liberal bias" that it can be seen as the "enemy," but this is a dangerous position to the very fabric of our governing system and to free civil society.  There is plenty of room for criticism of the press, and certainly of specific stories, reporters, and outlets.  But to denigrate the ability of the press to question the executive branch is a serious problem and is an authoritarian move, not a democratic one.
If one wants to criticize some member of the press, then bring the facts, don't make up alternative ones because that makes you feel better.  Ultimately this is about reality v. fantasy.