An Observation about the 1980 Election
Added historical context to ongoing conversations about American democracy.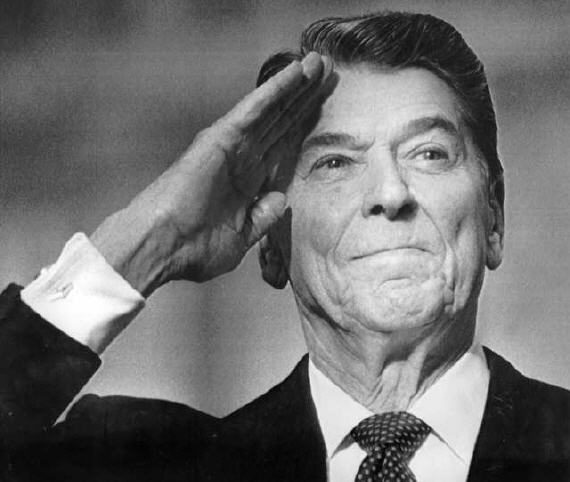 Over the weekend I observed, yet again, that since 2000 there has been only one Republican president to win the popular vote (Bush in 2004), yet there have been three Republican presidential terms over that timeframe. Further, the previous popular vote winner was George H. W. Bush in 1988. That's two popular vote wins since 1988, but four Republican terms and five Democratic ones.
A similar observation was made by political scientist Vasabjit Banerjee with an especially noteworthy elaboration by my friend and co-author, Matthew Shugart: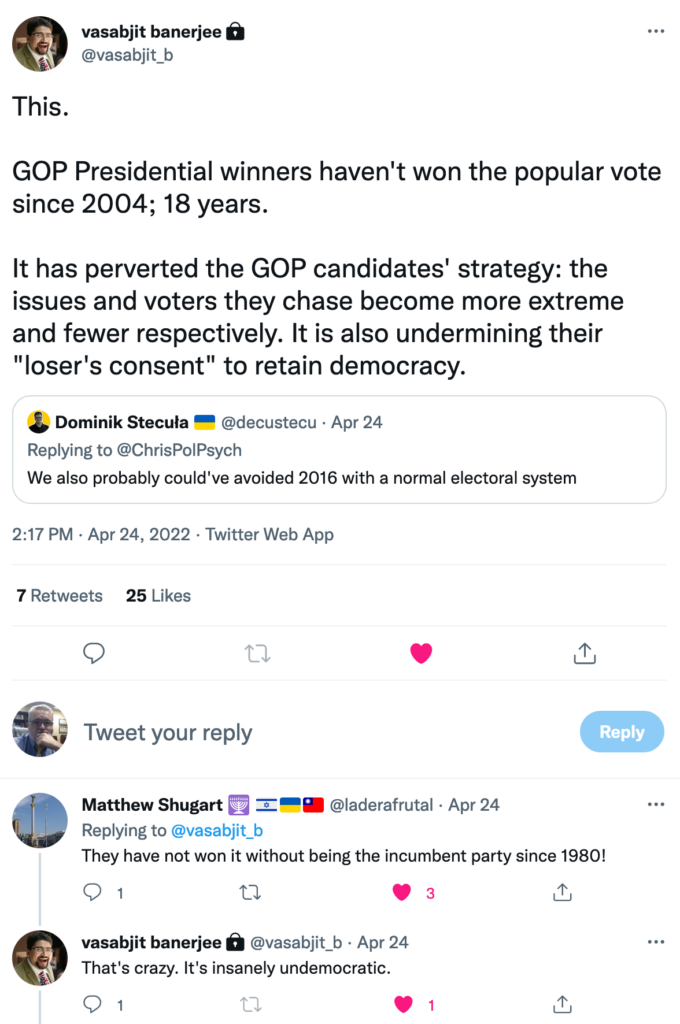 It really is crazy. The last time a Republican candidate for president won the popular vote in the context in which they were not the incumbent party in the White House was over forty years ago. Reagan won 50.75% of the vote in 1980, and then every subsequent popular vote victory (1984, 1988, and 2004) was in the context of being the incumbent party and two of those were also re-elections of an incumbent president, all of which is an electoral advantage.
In contrast, the Democrats have not only won the popular vote seven times since 1980 (the Republicans have only won it four times since then, three of those being 1980, 1984, and 1988), but they have won the presidency three times without being the incumbent party (1992, 2008, and, 2020). Again: the last time the GOP managed that feat was 1980.
To Banerjee's point in the top tweet: this means, as I have often noted myself, the GOP simply does not have to adjust its behavior to adapt to losses the way the Democrats have had to do. Setting aside which party one prefers and just consider the implication of a supposedly competitive system that does not force both sides to equally have to adapt to loss. As I know I have said many times: we expect far better of professional sports. Losing is supposed to spur change and innovation so that one can hopefully stop losing. But if one can win without having to, well, actually win, then there is no need to innovate and change.
As I have noted before, losing is an inherent part of democracy, including how a party responds to losing. It stands to reason, therefore, that a party that wins when it shouldn't damages that party and the system as a whole simply because it damages the basic feedback loop to the population.
All of these facts are largely at the tips of all of our brains, but I don't think we always give them enough thought. I have noted more than once that 2004 was an incumbency election in the past, but since I kept counting from the last previous popular vote win by the GOP (1988), so I didn't think back to 1980 and what it represents, historically.