Andrew Breitbart Offers $ 100,000 For JournoList Archives
If you know where the JournoList archive is, Andrew Breitbart has got some cash for you.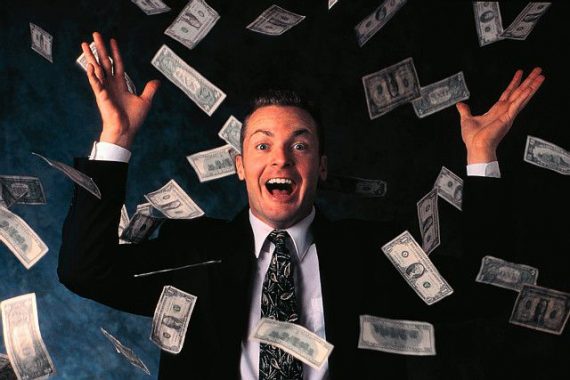 Andrew Breitbart is willing to throw away a lot of money to get his hands on the archives of the now-defunct JournoList:
I've had $100,000 burning in my pocket for the last three months and I'd really like to spend it on a worthy cause. So how about this: in the interests of journalistic transparency, and to offer the American public a unique insight in the workings of the Democrat-Media Complex, I'm offering $100,000 for the full "JournoList" archive, source fully protected. Now there's an offer somebody can't refuse.

(…)

The fact that 400 journalists did not recognize how wrong their collusion, however informal, was shows an enormous ethical blind spot toward the pretense of impartiality. As journalists actively participated in an online brainstorming session on how best to spin stories in favor of one party against another, they continued to cash their paychecks from their employers under the impression that they would report, not spin the agreed-upon "news" on behalf of their "JournoList" peers.

The American people, at least half of whom are the objects of scorn of this group of 400, deserve to know who was colluding against them so that in the future they can better understand how the once-objective media has come to be so corrupted and despised.

We want the list of journalists that comprised the 400 members of the "JournoList" and we want the contents of the listserv. Why should Weigel be the only person exposed and humiliated?

I therefore offer the sum of $100,000 to the person who provides the full "JournoList" archive. We will protect that person's privacy and identity forever. No one will ever know who became $100,000 richer – and did the right thing, morally and ethically — by shining the light of truth on this seamy underworld of the media.
Characterizing an email list shared among professional collegues as "collusions" against the American people is, to say the very least, just a little but over the top, but, then again, that's pretty much the definition of Andrew Breitbart.
Politico's Ben Smith finds the whole thing amusing:
This is a classic case in which secrecy produces wild imaginings. There aren't many good conspiracies involving 400 people, some of them ideologues, some columnists, some mainstream media types like me who enjoyed access to that conversation, as I sometimes enjoy access to private conservative conversations at venues like New York's off-record conservative Monday Meeting.

But that's also a lot of money for a working journalist. I called Breitbart just now with a modest proposal: I'd sell him my own 55 contributions to the list, many of them just copies of blog items, all fairly dull — for a mere $5,000.

He declined.

"You're a reporter not a salesman — you don't say your pieces ae boring and self-promotional and then put a high cost on them," he said.
Smith then includes a copy of one of his own emails to JournoList from 2007 which is probably fairly typical of what the list's traffic was like and, quite honestly, fairly innocuous.
Of course, based on Klein's goodbye message last week, it's doubtful that the object of Breitbart's desire actually exists:
In any case, Journolist is done now. I'll delete the group soon after this post goes live. That's not because Journolist was a bad idea, or anyone on it did anything wrong. It was a wonderful, chaotic, educational discussion. I'm proud of having started it, grateful to have participated in it, and I have no doubt that someone else will re-form it, with many of the same members, and keep it going. Hopefully, it will lose some of its mystique in the process, and be understood more for what it is: One of many e-mail lists where people talk about things they're interested in. But insofar as the current version of Journolist has seen its archives become a weapon, and insofar as people's careers are now at stake, it has to die.
So, unless, someone kept copies of every email that was exchanged between every participant, there's no archive for Breitbart to purchase apparently.