Andrew Sullivan: 18 Years To Get A Green Card
It took Andrew Sullivan 18 years to get his request for Permanent Resident status approved. That's just absurd.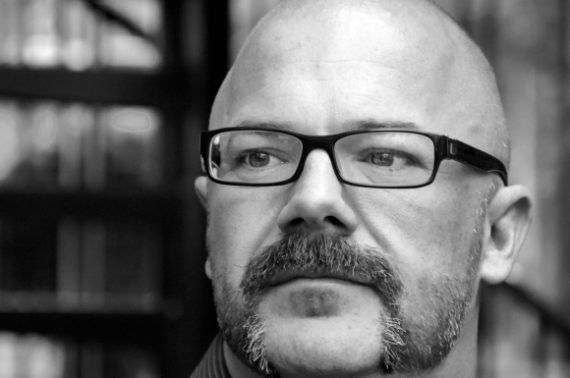 Andrew Sullivan writes today about a letter he got from his immigration attorney:
In my in-tray today was a simple email from my immigration lawyer with the content line saying simply "Congrats." I am still a little numb, reeling, unable to really think much, rapidly dialing my family and friends, listening to my husband open the letter over the phone and reading the words "Welcome to the United States." The "green card" was approved.

It has been a journey of 18 years – the promise of a new life and a new start for a jejune, precocious kid from England somehow always coming with an asterisk, the shame of my illness conflated with this crushing fear that I still did not belong and would probably never belong to the country I had fallen in love with.

Nothing scared me as much; nothing was able to get into my heart and soul with this level of anxiety and fear. Not HIV. This was deeper than HIV. It was a threat to the home from where I could fight the HIV.

Nothing in my future could confidently be planned; everything was a gamble that one day,  I could actually, simply, finally be secure in my own home with my own husband in a life that would have been so hard to rebuild from scratch somewhere else. That fear hanging over my head never left me from June 23 1993 to a few hours ago.

How do I explain it? So few understood, and so much had to be kept confidential. How do you express living a life rendered so provisional to friends or strangers who see you as totally secure and have no way to analogize the otherness that followed me around? How do you live somewhere for a majority of your existence and still not know if you could remain for another year, another month, as each visa was sent for adjudication and each trip abroad became full of foreboding. And as the time went by, as the stakes grew, as I put down deeper and deeper roots of work, of friends and of family, the fear actually intensified. How much more traumatic would the uprooting be, when I had reached so deep into the ground?

And then it lifts. And I do not know right now what to do or say. Except to express my love and gratitude for my family and friends and husband who lived through this with me; and to those who helped lift the HIV ban; and to my lawyer who was simply magnificent; and to those who did what they could – and they know who they are – to keep this show on the road.
The main reason it took so long for Sullivan to get Permanent Resident status is because, up until 2008, there was effectively a ban on anyone who is HIV positive from being given Permanent Resident status. The ban originated in the 1980s when public knowledge about HIV/AIDS was minimal at best and when being declared HIV positive was effectively a death sentence. In addition to the idea of not letting someone who has a deadly disease in the country (even though HIV is not easily transferred from one person to another), the other logic that supporters of the ban used was the idea that immigrants shouldn't burden the health care system with the cost of treating a disease like AIDS.
Today, of course, we know that most of what we thought we knew about HIV/AIDS in the 1980s isn't true. In some sense, with the emergence of the exotic drug cocktails that are prescribed, we are almost at the point where HIV/AIDS is a treatable chronic disease instead of a death sentence. After all, Magic Johnson was diagnosed as HIV positive almost twenty years ago. The idea that someone who is HIV positive poses a threat to the public health is largely seen as silly today.
Conor Friedersdorf points to Sullivan's case as an example of how the immigration system is broken:
Think about what his case says about our system as a whole. Here's a guy who was born in Britain, our closest ally in the world. He did his undergraduate work at Oxford University, and holds two post-graduate degrees from Harvard University. He speaks fluent English, and is better versed in American civics than the vast majority of US citizens. Tremendously successful in his career, he's a huge net plus for the federal treasury, and a small a financial risk as can be imagined: if his employer shuttered tomorrow, he could survive on donations from readers, or get a lucrative book contract without trying, or start doing more speaking engagements and survive on fees alone.

Finally, Andrew had an immigration lawyer – one imagines a very good one – helping him through this years long process. Despite all that, it took this man, an ideal immigrant as measured by the self-interest of the receiving country, 18 years just to get permission to stay permanently!

This is absurd, and as effective a disincentive to go through the legal process as can be imagined.
Indeed. Although someone like Sullivan could not have seriously gotten away with staying in the United States illegally rather than going through the system, it's easy to see why someone who just wants to live a better life would get fed up with a system that is rife with bureaucratic failure. Unfortunately, thanks to a GOP that has become dominated by an incredibly simplistic view of immigration policy, the possibility of comprehensive reform of the immigration laws and the system itself seems unlikely.
In any event, congratulations to Andrew on finally making it through the system. It's absurd that it took so long.