Ann Romney Says No To A Third Romney Run
Mitt Romney 2016? Not as far as his wife is concerned.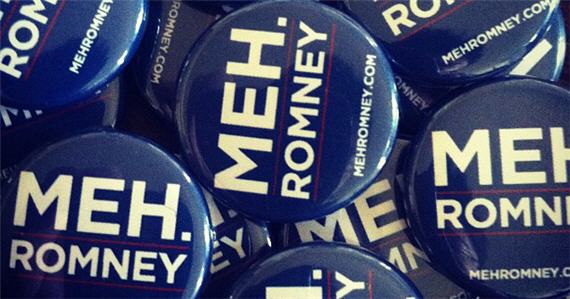 While there's been plenty of speculation about the possibility of Mitt Romney running for President a third time, his wife seems to already considered the matter and rejected it:
On another matter that has been the subject of much political babbling lately — a potential third run for president by her husband — Ann Romney was happy to wave off the possibility.

"Done," she said. "Completely. Not only Mitt and I are done, but the kids are done," she said, referring to her five sons. "Done. Done. Done."

Asked whether there were any circumstances under which she would encourage the former Massachusetts governor to attempt another run — or if she would support him if he wanted to run — she said she hadn't "been pushed to that point mentally," but that they would make the decision together.

She reeled off a long list of what she called "really interesting" potential Republican contenders, including former Florida Gov. Jeb Bush, Ohio Sen. Rob Portman and her husband's 2012 choice for vice president, Rep. Paul D. Ryan of Wisconsin.

"We're going to see a nice field shake out."
Much like Mitt Romney's own disclaimers of interest in a potential 2016 run, it's unlikely that these statements from Ann Romney are going to stop people from speculating about the possibility of her husband making another run for the Presidency. Part of the reason for that, of course, is the fact that Romney continues to act like someone who at least wants to keep his name relevant in the Republican Party, with the best example of that being the numerous endorsements and fundraising trips that he's made for Republican candidates for both the House and the Senate around the country this year, a schedule that he seems intent on keeping during the final weeks of the campaign. Additionally, many of the advisers and donors that were supporting Romney in 2008 and 2012 seem to be staying loyal to him, or at least staying on the sidelines, until Romney's intentions are clear.  As I noted when I last wrote about this, it's only natural for people to look at activity like that and think that, just maybe, Romney is keeping the door a little more open to the idea of running again under the right circumstances.
There was some discussion of those circumstances this morning on Morning Joe, and there were two points that were made that stick out to me. Firstly, it's increasingly beginning to look like Chris Christie may not run for President after all. Notwithstanding the fact that the so-called "Bridgegate" investigation has failed to find any evidence of wrongdoing by the Governor or any knowledge by him of what was going on, there's no question that the story has damaged him politically. Just today, a new Rutgers-Eagelton poll shows Christie with a negative favorability rating in New Jersey for the first time since 2011, for example. Additionally, Christie's standing in the polls of potential 2016 candidates for the GOP nomination has declined significantly from where it was when he won re-election last year. And, finally, Christie would face the same problems with the GOP base that he always would have  if he ran, but he will no longer benefit from the high favorability numbers he once had. In addition to Christie, there are also questions about Jeb Bush, who is facing having to decide if he will finally decide to run for an office he passed up twice before already. What Bush is thinking right now is a guessing game, of course, but there's as much reason to believe that he won't be running as there is to believe that he will. Even if he does run, though, Bush is not polling where you'd expect to see a strong candidate to poll in the early matchups, especially given what would think if his high level of name recognition. If neither Christie nor Bush prove viable, than the people who were behind Romney and the rest of the GOP "establishment" and business community is going to be looking for a candidate, and at that point the name Romney is likely to be on their minds. Whether he takes the bait will be up to him.