Mitt Romney 2016? Maybe More Likely Than We've Been Thinking
While it still seems unlikely that he'll run, Mitt Romney does seem to be leaving the door open to a third run at the White House.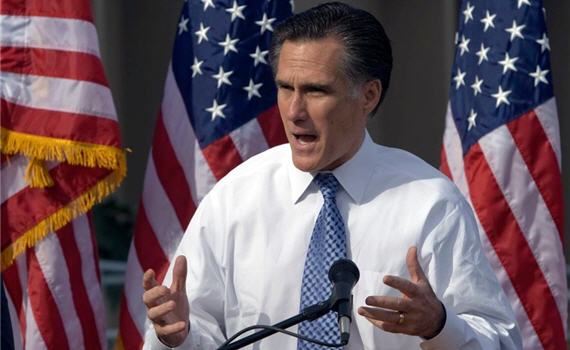 Washington Examiner's Byron York reports that Mitt Romney and many of his top advisers are not ruling out the idea of a third try at the White House:
Is Mitt Romney, who ran for the Republican presidential nomination and lost in 2008, ran again and won the nomination but lost the general election in 2012, really thinking about running yet again for president in 2016? Many Republicans have simply assumed not. Romney has seemed to discourage such talk in media appearances, and there has been a general belief that after losing as the party's nominee, the 67 year-old Romney would return to private life for good.

That belief is wrong. Romney is talking with advisers, consulting with his family, keeping a close eye on the emerging '16 Republican field, and carefully weighing the pluses and minuses of another run. That doesn't mean he will decide to do it, but it does mean that Mitt 2016 is a real possibility.

Nearly all of Romney's 2012 circle of advisers, finance people, and close aides remains intact. Many developed an extraordinary loyalty to Romney, who, in turn, has kept in close touch with them. Romney talks to some of them quite frequently in conversations that cover daily news, foreign and domestic policy, Hillary Clinton, the Republican field — everything that might touch on a 2016 campaign. "Virtually the entire advisory group that surrounded Mitt in 2012 are eager for him to run, almost to a man and a woman," says one plugged-in member of Romneyland.

A significant number of Romney's top financial supporters from 2012 have decided not to commit to any other 2016 candidate until they hear a definitive word from Romney. They believe they are doing it with the tacit approval of Romney himself. "Spencer Zwick has never said specifically to everyone to keep your powder dry," says the plugged-in supporter, referring to Romney's former finance chairman who remains very close to Romney. "But the body language, the intonation, and the nuance are absolutely there."

(…)

At the moment, Romney is doing the kind of things a candidate might do at this stage in a race. He is working closely with Sen. Rob Portman, vice chairman of the National Republican Senatorial Committee, to campaign for GOP candidates trying to win Senate control. He is appearing some — but not too much — on television. He is keeping his hand in things.

The key question for Romney, according to those who have talked to him, is whether former Florida Gov. Jeb Bush decides to run. Romney is said to believe that, other than himself, Bush is the only one of the current Republican field who could beat Hillary Clinton in a general election. If Bush jumps in the race, this line of thinking goes, Romney would not run. But if Bush stays out — well, Romney's wife Ann raised more hopes in Romneyland during a conversation this week with Fox News' Neil Cavuto:

CAVUTO: One scenario out there, Mrs. Romney, is that Jeb Bush doesn't run after all, and your husband will size up the landscape and that a lot of his supporters, past and present, said, you have the name recognition, you have the Reagan example of the third time was the charm for him, and that it's been done before.

ROMNEY: Mm-hmm.

CAVUTO: And — and that would be appealing.

ROMNEY: Well, we will see, won't we, Neil?

Ann Romney went on to say that she thinks Bush will end up running, and if he did, he "would draw on a very similar base that we would draw on." But Romney's supporters saw her remarks as just another indication Romney is seriously thinking about running. And even if Bush decides to run, some Romney supporters who would otherwise be inclined to go with Bush would still want the go-ahead from Romney first.
The idea of a third shot at the Presidency by Romney, something that would certainly be unprecedented in the modern era for anyone other than a crank candidate that never had a realistic shot at winning their parties nomination, much less the General Election, (i.e., Ron Paul). Thomas Dewey ran for, and won the Republican nomination in 1944 and 1948, and briefly tested the waters in 1952 before Dwight Eisenhower entered the race. Adalai Stevenson II won the Democratic nomination in 1952 and 1956 and made party insiders know that he would be open to a draft at the convention in 1960 even though he didn't actively campaign for the nomination. And, of course, most famously, Richard Nixon narrowly lost the 1960 Presidential election, and then the 1962 California Governor's Election, only to come back in 1968 and win the White House just four years after one of the GOP's worst Electoral College defeats in history. Dewey and Stevenson, of course, were running in an era before primaries became the means by which candidates won party nominations, so their ability to secure multiple nominations and still remain credible candidates for a third nod aren't entirely unsurprising. It's worth remembering, for example, that William Jennings Bryan secured the Democratic nomination for President three separate times between 1896 and 1908. Nixon's example is slightly different since he ran at a time when primaries were becoming a more important part of the party nomination process. However, as James Joyner pointed out in July, Mitt Romney is no Richard Nixon. For one thing, Nixon was a lifelong politician with a long resume of public service even when he was named Eisenhower's running mater in 1952, and even more so by the time he ran for President in 1960 and 1968. Outside of one four year term as Governor of Massachusetts, for which he did not stand for re-election in no small part because it was clear that he likely would have lost, Romney's only real political experience lies in running for President twice and losing.  That's not a very impressive resume, and it's not really a basis for believing that he would be able to do something that nobody has done in nearly fifty years, and even then it was under what were arguably highly unusual circumstances.
All that being said, York does seem to be correct that, notwithstanding denials, Romeny appears to be at least leaving the door open to another run at the White House, and his supporters and financial backers seem to be sitting on the sidelines waiting to see what he might end up doing. One major sign of this, of course, can be seen in the fact that Romney has been quite active in endorsing Republicans running for office in the year and a half since losing the 2012 election. This year alone, he's endorsed candidates in California, Michigan, Iowa, Oregon, West Virginia, New Hampshire (including in a Congressional race), New York, Colorado, Idaho, North Carolina, Arkansas, and Arizona. Those are just the endorsements that I was able to find via a quick Google search, and they do seem to amount to something more than just the actions of a man who is taking on the role of elder statesman in his party. Instead, they look like the actions of someone who at least sees the value in keeping his options open.
When I initially wrote about this idea of Romney running for the nomination again earlier this year, I largely dismissed the idea due in no small part to the fact that Romney had not struck me as someone who would be all that interested in running again. We learned after the 2012 campaign was over, for example, that Romney was initially opposed to the idea of running again after coming up short in 2008 and had to be talked into it by his family. Additionally, in the weeks after the 2012 campaign it was beginning to look as though Romney would have no real impact on the GOP's future course and no real role in shaping it. The fact that things have turned out quite a bit differently, and that Romney has remained active in the party rather than simply retiring as many, myself included, expected him to do after losing suggests that he hasn't entirely dismissed the idea of a political future that could include another bid for the White House, under the right circumstances.
All that being said, I don't expect to see Mitt Romney throwing his hat in the ring the way he did in 2012 or 2008. If he runs, it will happen because of the way things have unfolded in the race for the White House inside the Republican Party and because of the desire of party insiders and top-money donors to avoid handing the nomination to someone too closely associated with the Tea Party. I agree that Romney is unlikely to run if Jeb Bush does, or that at the very least the two men are likely to have a conversation at some point in the midterms are over to feel each other out about their intentions. Given the fact that both would appeal to largely the same sorts of voters, and the same sorts of donors, it wouldn't make much sense for both of them to run and one gets the impression from York's reporting that Romney would not want to stand in the way of Bush entering the race given the fact that he has already run twice. If Bush doesn't run, though, or if his campaign falters, it's not too hard to see how things could unfold in a way that lead to the return of Mitt Romney. In such a scenario, there would come an inevitable point during the 2016 election cycle (which basically will start the day after the 2014 midterms) when it will seem like every announced or potential GOP candidate is an utter failure. At that point, the Mitt Romney speculation will hit fever pitch. I would still say that it's more likely that he doesn't run than that he does, but I'm not willing to rule it completely out at this point either.