Mitt Romney is No Dick Nixon
Emil Henry makes "The Case for Mitt Romney in 2016."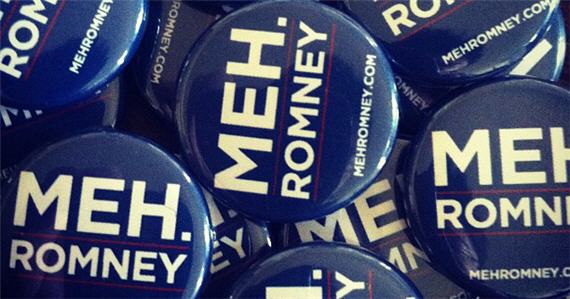 Emil Henry makes "The Case for Mitt Romney in 2016" at POLITICO rather than, as one might expect, Slate.*
His premise:
First, consider the similarities in their 1960 and 2012 presidential contests. Romney and Nixon were both mighty warriors, but they still lacked the natural ease of the best retail politicians. In person, they were warm, charming— even gentle. But on television it was different. When they debated their cool and telegenic opponents, they sometimes appeared square and old-fashioned in comparison. They just didn't connect the way successful presidential aspirants typically do.
So, when they lost the general election, many in the press quickly wrote their political obituaries. All conceded their brilliance, stamina and mastery of the facts—especially those of the troubles brewing overseas. But they were, by most accounts, finished.
This is an odd argument. Yes, like Nixon (and Bob Dole) before him, Romney's natural charm and decency didn't translate well to the campaign stage. And, yes, he came across as strangely square. But, unlike Nixon, Romney was perfectly telegenic. And, who, exactly, was extolling Romney's "brilliance, stamina and mastery of the facts—especially those of the troubles brewing overseas"?
Now, I supported Romney as the best electable* alternative in the 2012 Republican primaries and ultimately voted for him in the general election. I think he would have made a solid, if not excellent, president. Yes, he's bright. But I'm not sure he displayed any especial "mastery of the facts." Hell, he was positively awful on the healthcare reform issue, in particular—and that was his signature achievement as governor. He's a highly skilled manager and strategist but he's not a public policy wonk. And, unlike Nixon, who'd made his reputation in Congress and as Ike's vice president as a Cold Warrior, Romney was and is a foreign policy neophyte. To the extent he got talking points right, they were someone else's talking points. (That's typical for presidential candidates, including the last three winners; expertise in international affairs is not high on the list of things the American voter rewards.)
Henry's other arguments aren't so much a case for Romney but an indicator of how weak the Republican bench is.
1. Romney is re-emerging as the de facto leader of the Republican Party.

Nixon also emerged into this role, mainly due to his successful efforts to increase republican seats in Congress and governorships in the 1966 midterms. Romney is similarly engaged in this year's midterms, slowly re-earning goodwill from the partywith multiple successful endorsements, fundraising for Republican bright lights like Ed Gillespie and mobilizing his loyalists to support Sen. Rob Portman's efforts to re-take the Senate.
Henry rightly notes that others touted as potential 2016 contenders—Chris Christie, Jeb Bush, and Rand Paul—are either hobbled or off the radar screen and that party leaders in Congress are not "filling the void."
2. There is no natural 2016 GOP nominee and the field is highly fractured.

Nixon benefitted similarly in 1968. Barry Goldwater took himself out of contention after his 1964 loss, and Nelson Rockefeller never fully committed to the race. That left relative newcomers to presidential politics in Ronald Reagan and George Romney, creating an opening for Nixon to exploit with his latent campaign infrastructure.

Romney might find such an opening. When Republicans don't hold the presidency, they tend to nominate "the guy who last ran" (think Nixon '68, Reagan '80, Dole '96, McCain '08 and Romney '12) and reject newcomers not yet tested at the presidential level. If this formula were to repeat, then the mantle would likely pass to Romney's 2012 running mate Paul Ryan, but he isn't showing any leg for a presidential run. Newcomers like Jeb Bush and Rand Paul—or for that matter Marco Rubio, Rob Portman and Bobby Jindal—would have to overcome this historical pattern.

Should an opening emerge, Romney, like Nixon, will have a massive legacy infrastructure at his disposal to seize the opportunity.
Rick Santorum would seem to be the guy whose "turn" it is, coming in a distant second and winning eleven states. No other candidate besides him or Romney won more than three. He's a natural campaigner with appeal to the religious right and the Tea Party but he'll have a hard time getting Establishment support of finding big money backers.
3. All failed nominees other than Romney were career politicians.

Where Romney stands out versus every failed nominee of the last half century is that he, a lifelong businessman with just one successful four-year stint as governor of Massachusetts, is not a career politician. Why might this matter in 2016? Presidential elections are typically about a pendulum swing. A view among many at the conference (aptly titled "The Future of American Leadership") was the perception of too much rampant incompetence for too long—by both parties. Peggy Noonan echoed this sentiment in a recent column for the Wall Street Journal: "Americans hate incompetence"… and "they've seen it now from two administrations."
This, to use a bit of social science jargon, is utter horseshit. The only reason he's not a "career politician" is that he keeps losing election. He ran for the US Senate in 1994; he gave incumbent Teddy Kennedy the toughest race of his career but fell short. He ran for governor in 2002 and won. He didn't run for re-election, presumably because his "approval rating stood at 34 percent in November 2006, ranking 48th of the 50 U.S. governors." He immediately started running for the 2008 Republican presidential nomination, losing to John McCain. And, of course, after McCain's loss to President Obama, Romney started running for the 2012 nomination, winning it, before going on to lose to Obama.
I suppose it's possible Romney will become the first losing major party nominee in nearly a half century to get another shot. Again, the Republican field appears shockingly weak at this juncture. But, if this is the case for Romney, it's just as weak.
_________________
*For those not familiar with the #SlatePitches internet meme, the online magazine is notorious for its wildly counterintuitive articles.
**Jon Huntsman was my favorite. But he started with little name recognition and the baggage of having served as President Obama's ambassador to China. And he seemed to go out of his way to insult the Republican nominating electorate throughout the contest.