Another Disappointing Jobs Report
March's Jobs Report was nothing to write home about.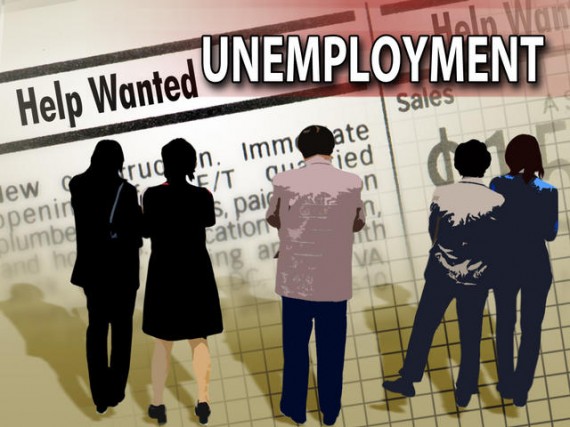 Going into today's release of the March Jobs report, most analysts expected that we'd see that the economy had added something between 150,000 and 190,000 jobs last month. Partly that was based upon the good-but-not-great job creation numbers we saw for January and February and the signs, from at least some sectors of the economy, that the economic conditions were improving albeit modestly. Surely, though, there were some signs of economic weakness, especially in the retail sector where companies like Wal-Mart reported significantly lower sales figures from a year beforehand. Then, there's the question of what impact, if any, the sequester, which didn't actually go into effect until March 1st and hasn't resulted in significant layoffs to date, would have on the economy. Those are questions that we still don't know the answer to, but today's report seems to indicate that the economy remains as generally anemic as it has been for pretty much the entirety of this so-called recovery:
Total nonfarm payroll employment edged up in March (+88,000). Over the prior 12 months, employment growth had averaged 169,000 per month. In March, employment increased in professional and business services and in health care, while retail trade employment declined. (See table B-1.)

Professional and business services added 51,000 jobs in March. Over the past 12 months, employment in this industry has grown by 533,000. Within professional and business services, accounting and bookkeeping services added 11,000 jobs over the month, and employment continued to trend up in temporary help services and in several other component industries.

Job growth in health care continued in March, with a gain of 23,000, similar to the prior 12-month average. Within health care, employment increased by 15,000 in ambulatory health care services, such as home health care, and by 8,000 in hospitals.

Construction employment continued to trend up in March (+18,000). Job growth in this industry picked up this past fall; since September, the industry has added 169,000 jobs. In March, employment continued to expand among specialty trade contractors (+23,000). Employment in specialty trade contractors has increased by 128,000 since September, with the gain about equally split between the residential and nonresidential components.25

Within leisure and hospitality, employment in food services and drinking places continued to trend up in March (+13,000). Over the past year, the industry added 262,000 jobs.

In March, retail trade employment declined by 24,000. The industry had added an average of 32,000 jobs per month over the prior 6 months. In March, job declines occurred in clothing and clothing accessories stores (-15,000), building material and garden supply stores (-10,000), and electronics and appliance stores (-6,000).

Within government, U.S. Postal Service employment fell by 12,000 in March. Employment in other major industries, including mining, manufacturing, wholesale trade, transportation and warehousing, information, financial activities, state government, and local government, showed little change over the month.

(…)

The change in total nonfarm payroll employment for January was revised from +119,000 to +148,000, and the change for February was revised from +236,000 to +268,000.
Despite the disappointing job growth numbers, the unemployment rate actually declined to 7.6%, but at least one reason for that is likely the fact that the Labor Force Participation Rate dropped to 63.3%, the lowest rate it's been at since 1979. If the participation rate were at the same level it was at in January 2009, the unemployment rate would be 10.98%. If it were at the same level that it was it just a year ago in March 2012, the unemployment rate would be 8.3%. Now, at least some portion of this decline in labor force participation can be attributed to an aging population and the fact that the Baby Boom Generation is continuing to retire, but that doesn't wholly account for the drop-off of some half a million people from the labor force in just one month as reflected in today's report. Clearly, we're still seeing people who are looking at a tremendously weak job market and just giving up. For that reason, the Unemployment Rate itself doesn't really give us a full picture of what's going on in the job market, we've got to look at job creation and, even with the revisions for January and February, that has been incredibly weak for quite some time now. Taking into account the revisions, job growth has averaged +169,000 per month for the past 12 months. Additionally, for the first three months of 2013, we've averaged +168.000 new jobs, whereas we averaged some +262,000 new jobs. As economists will tell you, we need a growth rate somewhere in the range of +250,000 just to keep up with population increases. So, in some sense, we're continuing to lose ground. At the current rate, it would take us until sometime in late 2024 to get back to where things were before the recession.
Since a picture is worth a thousand words, this chart from Calculated Risk provides yet again an apt demonstration of just how deep the jobs recession remains: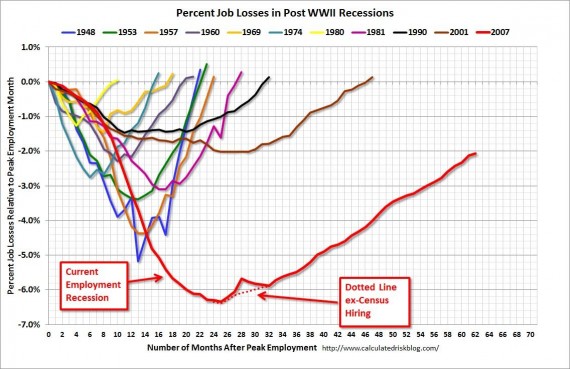 There will much debate about what's going on here. We've seen a Spring slowdown in hiring going on four years now, so it's possible that this is just a repetition of that somewhat odd cycle, but of course the chattering class will seek to find some political explanation for all of this. Within minutes after the report was released, former Obama adviser Austen Goolsbee, who is part of CNBC's regular panel on Jobs Report Day, attempted to pin blame for March's weak jobs report on the sequestration cuts. As I noted above, those cuts only went into effect on March 1st, and there have been few reports of actual job losses associated with those cuts at this point.  Instead, as Joe Weisenthal notes, it seems more likely that another political decision is playing a role here. Specifically, we're referring to the end of the Payroll Tax Cut which expired at the end of 2012 and, since January, has resulted in not-insignificant increases in the amount of money deducted from Americans' paychecks. When Wal-Mart noted its declining sales in February, it cited the payroll tax as one of the primary causes and, indeed, for the economic groups likely to shop at that store, even a small decrease in disposable income is likely to have an impact on spending.  Weisenthal suggests reinstating the Payroll Tax Cut, but I'm not so sure that's the answer. This cut was never meant to be permanent and, as long as it was  in place, the funds that it was supposed to be raising for SSI were being taken out of general revenues in a manner that was having a significant impact on the ability of Congress to put together real budget cuts. Besides, the tax cut was always meant to be temporary. Bringing it back now doesn't seem to me to be accomplishing anything other than kicking the can down the road.
Whatever the cause, though, it's clear that the labor market remains weak and it's becoming ever more likely that this is the new normal rather than something we're going to recover from any time soon.