Another Legal Victory For Marriage Equality
A 13 month string of legal victories for marriage equality reaches Oregon.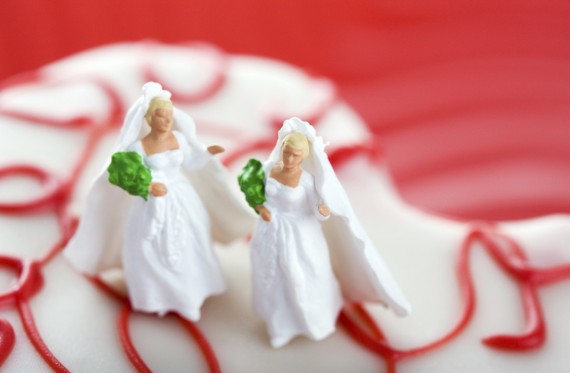 Earlier today a Federal Court in Oregon became the latest legal body to strike down a state ban on same-sex marriage:
Oregon's ban on same-sex marriages was struck down Monday by U.S. District Judge Michael McShane, who ruled that the prohibition violated the federal constitutional rights of gays and lesbians.

Jubilant couples who anticipated a favorable decision from the judge began the rush to officially wed at locations around the state. McShane ordered that his ruling take immediate effect.

"Because Oregon's marriage laws discriminate on the basis of sexual orientation without a rational relationship to any legitimate government interest," McShane wrote in his decision, "the laws violate the Equal Protection Clause of the Fourteenth Amendment to the United States Constitution."

Deanna Geiger and Janine Nelson, two of the plaintiffs in the case, were the first couple to marry in Multnomah County following the ruling.

Oregon becomes the seventh state where a federal judge has struck down a gay marriage ban since the U.S. Supreme Court last year invalidated key sections of the federal Defense of Marriage Act.

Unlike in the other states — Idaho, Utah, Michigan, Virginia, Oklahoma and Texas — there was no one with the immediate standing to appeal the decision.

(…)

IThe judge said gay and lesbian families and their children were harmed by Oregon's ban on same-sex marriage in "a myriad of ways," including adoption rights, tax laws and spousal benefits granted by employers.

McShane said that preserving the traditional definition of marriage was not a strong enough argument for Oregon's law to stand. If that were the case, he wrote, tradition could be used as a "rubber stamp condoning discrimination against longstanding, traditionally oppressed minority classes everywhere.

"Limiting civil marriage to opposite-gender couples based only on the traditional definition of marriage is simply not a legitimate purpose, he added.

McShane, one of only a few openly gay federal judges in the country, said during a hearing last week that he could rule without bias in the case and that he had no personal or political interest in the issue of same-sex marriage.

He ended his opinion by talking about how Americans of his generation — he is 53 — grew up "in a world in which homosexuality was believed to be a moral perversion, a mental disorder, or a mortal sin."

As a result, he said, it is not surprising that "many of us raised with such a world view" would seek to "enshrine in law those traditions we have come to value. But just as the Constitution protects the expression of these moral viewpoints, it equally protects the minority from being diminished by them."
Lyle Denniston summarizes Judge McShane's opinion:
Judge McShane ticked off the arguments in favor of maintaining marriage as available only to opposite-sex couples, and rejected each one of them.   He also declined to accept social science studies which found that children would be better off with opposite-sex parents.  "Same-gender couples make just as good parents as opposite-gender couples," he wrote.

"Expanding the embrace of civil marriage to gay and lesbian couples will not burden any legitimate state interest," he concluded.

His opinion closed with a number of personal observations, about an anti-gay game that was played in his youth and about how his son had recently looked at a sweater given him for Christmas and dismissed it, saying "Dad….that is so gay."   This, the judge said, is part of the legacy that has been handed down to today's generation from a "darker level" of gay bashing in the past.

Noting the heated debate that still surrounds issues of sexual orientation, the judge commented: "It is at times difficult to see past the shrillness of the debate."

But he closed on a more positive note: "Where will this all lead? I know that many suggest we are going down a slippery slope that will have no moral boundaries. To those who truly harbor such fears, I can only say this: Let us look less to the sky to see what might fall; rather, let us look to each other…and rise."
It now been less than thirteen months since the Supreme Court issued its decision in United States v. Windsor striking down Section Three of the Defense of Marriage Act, and today's decision from Judge McShane marks the seventeenth consecutive opinion from a Federal or State court trial judge striking down a state's ban on same-sex marriage in whole or in part. Each of those cases has relied, in at least some small part, on the Court's decision in Windsor, thus earning that case landmark status in a very short period of time. When the Court handed down its decisions in Windsor and the California Proposition 8 case, it obviously didn't intend to strike down every law against same-sex marriage across the country. Nonetheless, for all practical purposes, that is exactly where things are headed. The Court's reasoning in Windsor for striking down DOMA's Section Three was quite clearly applicable to general bans on same-sex marriage, as lawyers and judges quickly discovered. While it's not at all clear that Justice Kennedy and the remaining members of the majority intended to set off the legal firestorm that was lit last June, it's hard to believe that they didn't anticipate it would occur even if nobody could have foreseen how quickly the legal changes would have come.
The Volokh Conspiracy's Dale Carpenter lays out a likely future for these legal challenges:
It's probable that this long string of judicial victories for same-sex marriage will come to an end in the near future, perhaps in a circuit court. It's also likely that the issue will end up in the Supreme Court in the next couple of years. Same-sex marriage will come to that Court, when it does, with a momentum that could not have been imagined when it began in the United States ten years ago this month.
I tend to think that Carpenter may be correct that we're likely to see an adverse ruling in at least one of these cases at the Circuit Court of Appeals level in the coming months. On some level, the law of averages demands that it happen. When it does, the opponents of marriage equality will no doubt celebrate while supports will be discouraged. If it happens, though, I believe it will only be a temporary setback. In the end, the outcome of the marriage equality battle has already been decided, the only question is how much longer it's going to take before the rest of the United States catches up with reality. If the last 13 months are any indication, it isn't going to take long at all and, contra Carpenter, I suspect it will be much sooner than "the next couple of years" before the Supreme Court is left with no choice but to rule on the merits of this issue. Indeed, at the current pace of the legal proceedings, they could have as many as a half dozen appeals on the subject before them by the time they start their next term in October of this year. History is moving fast on this issue.
Here's the opinion: