Another Stagnant Jobs Report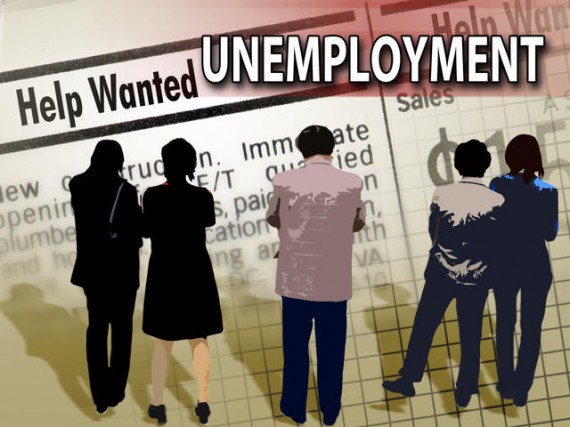 The monthly unemployment report doesn't have quite the political meaning it did during the election, but that can't hide the truth that it continues to show an economy that is, at best, struggling:
American employers added 155,000 jobs in December, about apace with job growth over the last year, the Labor Department reported on Friday.

The biggest gains were in health care, food services, construction and manufacturing, and the government sector showed modest job losses, the report said. The unemployment rate was 7.8 percent, the same as in November, whose rate was revised up from 7.7 percent.

"It's not a home-run report by any stretch, but it's constructive," said John Ryding, chief economist at RDQ Economics. "It's another month of fairly stable, solid, moderate job creation."

Over the course of 2012, the country added 1.8 million net jobs, despite continued job losses in the government sector and anxiety and uncertainty related to a looming fiscal tightening.

Economists are unsure of what the rest of the year holds for the American job market, but most are forecasting more of the same: hiring fast enough to stay just ahead of population growth, but still too slow to make a sizable dent in the 12.2-million-person backlog of unemployed workers.

A number of encouraging trends in the economy suggest that businesses have good reason to speed up hiring, including the housing recovery, looser credit for small businesses, a rebound in China and pent-up demand for new autos. Friday's jobs report also showed slightly faster wage growth and longer working hours in December, both of which bode well for hiring.

But Congress's last-minute deal to raise taxes earlier this week will offset some of these sources of growth, since higher taxes trim how much money consumers have available to spend each week.

"Job creation might firm a little bit, but it's still looking nothing like the typical recovery year we've had in deep recessions in the past," Mr. Ryding said. "There's nothing in the deal to do that and nothing in this latest jobs report to suggest that. We're a long way short of the 300,000 job growth that we need."
The BLS has the details:
The number of unemployed persons, at 12.2 million, was little changed in December. The unemployment rate held at 7.8 percent and has been at or near that level since September. (See table A-1.)

Among the major worker groups, the unemployment rates for adult women (7.3 percent) and blacks (14.0 percent) edged up in December, while the rates for adult men (7.2 percent), teenagers (23.5 percent),  whites (6.9 percent), and Hispanics (9.6 percent) showed little or no change. The jobless rate for Asians was 6.6 percent (not seasonally
adjusted), little changed from a year earlier. (See tables A-1, A-2, and A-3.)

In December, the number of long-term unemployed (those jobless for 27 weeks or more) was essentially unchanged at 4.8 million and accounted for 39.1 percent of the unemployed. (See table A-12.)

The civilian labor force participation rate held at 63.6 percent in December. The employment-population ratio, at 58.6 percent, was essentially unchanged over the month. (See table A-1.)

The number of persons employed part time for economic reasons (sometimes referred to as involuntary part-time workers), at 7.9 million, changed little in December. These individuals were working part time because their hours had been cut back or because they were unable to find a full-time job. (See table A-8.)

(…)

Total nonfarm payroll employment increased by 155,000 in December. In 2012, employment growth averaged 153,000 per month, the same as the average monthly gain for 2011. In December, employment increased in health care, food services and drinking places, construction, and manufacturing. (See table B-1.)

Health care employment continued to expand in December (+45,000). Job gains occurred in ambulatory health care services (+23,000), in hospitals (+12,000), and in nursing and residential care facilities (+10,000). In 2012, health care employment rose by 338,000.

In December, employment in food services and drinking places rose by 38,000. In 2012, the industry added an average of 24,000 jobs a month, essentially the same as in 2011.

Construction added 30,000 jobs in December, led by employment increases in construction of buildings (+13,000) and in residential specialty trade contractors (+12,000).

In December, manufacturing employment rose by 25,000, with small gains in a number of component industries. In 2012, factory employment increased by 180,000; most of the growth occurred during the first quarter.

Employment in retail trade changed little in December, after increasing by 143,000 over the prior 3 months. Within the industry, employment in clothing and accessories stores fell by 19,000, following gains that totaled 55,000 over the prior 3 months. Elsewhere in retail trade, employment in automobile dealers and in food and
beverage stores continued to trend up in December.

Employment in other major industries, including mining and logging, transportation and warehousing, financial activities, professional and businesses services, and government, showed little change over the month.boarnd about the same as 2010. These numbers are far below the levels needed to truly alleviate the unemployment problem that has existed since the start of the Great Recession. Indeed, if we continued to average 153,000 new jobs per month, we would not reach the employment levels we saw before the economy downturn until 2025.
At this point, it's difficult to know what's going to prime the jobs engine. At the very least, continued business uncertainty over what the heck Washington is going to do on issues ranging from the debt ceiling to the budget isn't helping the situation, but there seem to be other issues at play here. Despite the Obama Administration's promises, health care costs, and most importantly the cost of health care insurance for employers, continue to rise across the board. If that continues to occur, the marginal cost of each new employee rises and it becomes less advantageous for an employer to engage in new hiring than to use their existing work force to meet existing needs. It also appears that many employers are cutting back on full-time employment in favor of part-time labor. Again, motivated in no small part to the requirements of the new health care laws. Unless these and other incentives change, I don't see employers revving up the jobs engine any time soon.