Anthony Kennedy's Son Loaned Trump One Billlllllion Dollars
A really weird detail buried in a New York Times story about President Trump's efforts to get the Justice to retire.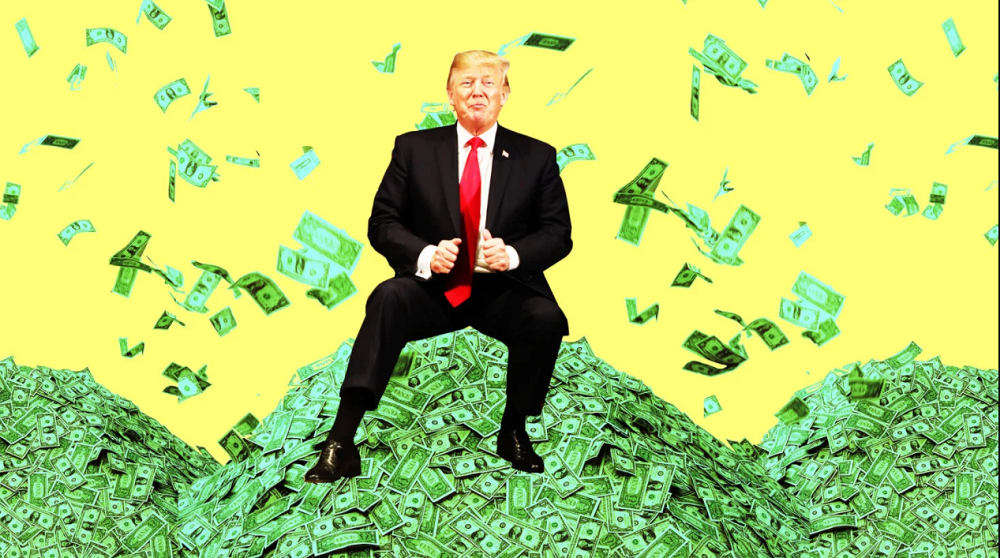 Adam Liptak and Maggie Haberman rather bury the lede in their NYT report "Inside the White House's Quiet Campaign to Create a Supreme Court Opening." It begins,
President Trump singled him out for praise even while attacking other members of the Supreme Court. The White House nominated people close to him to important judicial posts. And members of the Trump family forged personal connections.

Their goal was to assure Justice Anthony M. Kennedy that his judicial legacy would be in good hands should he step down at the end of the court's term that ended this week, as he was rumored to be considering. Allies of the White House were more blunt, warning the 81-year-old justice that time was of the essence. There was no telling, they said, what would happen if Democrats gained control of the Senate after the November elections and had the power to block the president's choice as his successor.

There were no direct efforts to pressure or lobby Justice Kennedy to announce his resignation on Wednesday, and it was hardly the first time a president had done his best to create a court opening. "In the past half-century, presidents have repeatedly been dying to take advantage of timely vacancies," said Laura Kalman, a historian at the University of California, Santa Barbara.

But in subtle and not so subtle ways, the White House waged a quiet campaign to ensure that Mr. Trump had a second opportunity in his administration's first 18 months to fulfill one of his most important campaign promises to his conservative followers — that he would change the complexion and direction of the Supreme Court.
There are several more paragraphs of detail, all of which are interesting enough but nothing particularly unusual. Presidents want to burnish their legacy by appointing Supreme Court Justices, who often serve decades after the man who appointed them has left the White House or even shuffled off this mortal coil. Trump went to unusual lengths to get an octogenarian Republican to retire but didn't cross anything that struck me as an ethical red line.
Several paragraphs down into the story, long after most would quit reading, we get this:
One person who knows both men remarked on the affinity between Mr. Trump and Justice Kennedy, which is not obvious at first glance. Justice Kennedy is bookish and abstract, while Mr. Trump is earthy and direct.

But they had a connection, one Mr. Trump was quick to note in the moments after his first address to Congress in February 2017. As he made his way out of the chamber, Mr. Trump paused to chat with the justice.

"Say hello to your boy," Mr. Trump said. "Special guy."

Mr. Trump was apparently referring to Justice Kennedy's son, Justin. The younger Mr. Kennedy spent more than a decade at Deutsche Bank, eventually rising to become the bank's global head of real estate capital markets, and he worked closely with Mr. Trump when he was a real estate developer, according to two people with knowledge of his role.

During Mr. Kennedy's tenure, Deutsche Bank became Mr. Trump's most important lender, dispensing well over $1 billion in loans to him for the renovation and construction of skyscrapers in New York and Chicago at a time other mainstream banks were wary of doing business with him because of his troubled business history.
This has, naturally, attracted the interest of Trump opponents. For example, Neera Tanden, president of the Center for American Progress, tweeted this:
Just to state this: Justice Kennedy's son gave a billion dollar loan to Trump when no one would give him a dime, and Justice Kennedy has been ruling in favor of the Trump Administration position for 2 years as the Court decides 5-4 case after 5-4 case.

— Neera Tanden (@neeratanden) June 29, 2018
TPM's Josh Marshall picked up on it as well and adds this bit of insight:
As many of you will remember, Deutsche Bank isn't just any bank. As I noted in the first post I wrote about Trump's ties to Russia and Vladimir Putin back on July 23rd, 2016, by the mid-90s, every major US bank had blackballed Donald Trump. as the Times put it in 2016, "Several bankers on Wall Street say they are simply not willing to take on what they almost uniformly referred to as 'Donald risk.'" None would do business with him. With one big exception: Deutsche Bank.

Deutsche Bank of course is not actually an American bank. But it has a major business in the US. And it was the bank's effort to gain a bigger foothold in the US that seems to have been behind the special relationship with Trump.

As The Financial Times put it last year, in the middle 1990s, Deutsche was looking for a foothold in the US and "the bank saw a niche in serving rich developers who had hit a few bumps along the way, such as Harry Macklowe and Ian Bruce Eichner, both celebrated owners and losers of New York real estate." Donald Trump fit the bill to a tee.

[…]

When I first read the Times story I wasn't sure whether the younger Kennedy, whose title was Managing Director and Global Head of Real Estate Capital Markets, would have been someone to actually make loans to someone like Trump as opposed to overseeing more complex or synthetic efforts like mortgage backed securities and such. But it turns out he definitely was. The FT says Kennedy was "one of Mr Trump's most trusted associates over a 12-year spell at Deutsche." A review of Kennedy's bio suggests those twelve years were 1997 through 2009 – key years for Trump.

Kennedy was one of the few bankers to accurately predict the 2007/08 mortgage backed securities meltdown and made an astonishing amount of money for Deutsche Bank by shorting mortgages starting in 2006. As Crain's New York put in 2010, "in just the first half of 2007, [Kennedy's group's] bet generated as much as $540 million in revenue for Deutsche Bank as subprime mortgages fell apart, according to Bloomberg News, and the wager proved even more lucrative as the rot spread."
New York's Margaret Hartmann makes another connection:
Trump also used his family to win over Kennedy. For once Don Jr. was a political asset; Kennedy's son Justin, Deutsche Bank's global head of real-estate capital markets, knows the younger Trump from his work as a real-estate developer.
POLITICO's Shane Goldmacker has a longer version of the Trump-Kennedy peres convo back in April:
After Donald Trump wrapped up his first speech to Congress and worked his way through the crowd, he lingered on his handshake with Anthony Kennedy, the 80-year-old Supreme Court justice.

The boom mics picked up their seemingly private conversation.

"Say hello to your boy," Trump said, "Special guy." "Your kids have been very nice to him," Kennedy replied. "Well," Trump said, "they love him, and they love him in New York."
There's no evidence here of any wrongdoing. Presumably, Justin Kennedy had no idea way back in 2009 that Trump would eventually become President and Anthony Kennedy had no reason to know of the loan, much less to press the loan. But it sure is odd.