Anti-Christian Terrorism: Blame Bush!?
Andrew Sullivan makes a rather bizarre charge offhandedly: "Who among the neocons would have thought that one of George W. Bush's final legacies would be bringing pogroms, bombings and genocide to Christians in his new zone of freedom?"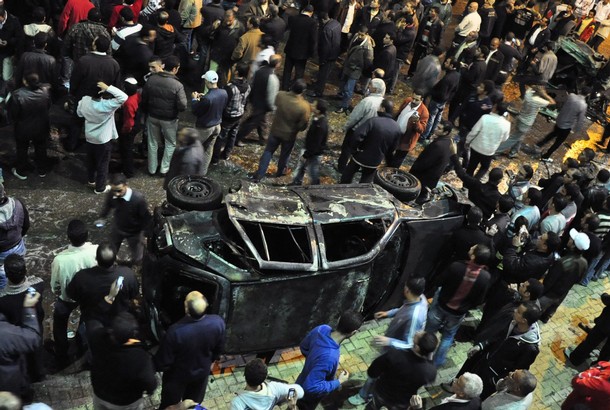 Jeffrey Goldberg laments how little coverage "the terrible attack early on New Year's Day on a Coptic church in Egypt, in which 21 Christians were killed, and 79 people, mostly Christian, were injured" received.
I can't really testify about it, since I really don't watch television news. It was on the front pages of Google News and YahooNews, so I presume that it got fairly wide coverage. It's true, though, that nobody wrote about it here at OTB. Most likely, this was a combination of it happening on a Saturday/major holiday and the fact that most of us treat violence in the Middle East as something akin to background noise.
But Andrew Sullivan makes a rather bizarre charge offhandedly:  "Who among the neocons would have thought that one of George W. Bush's final legacies would be bringing pogroms, bombings and genocide to Christians in his new zone of freedom?"  No other post on the blog adds explanation.
One presumes this is a snide allusion that the attacks were somehow an offshoot of the Iraq War or the Global War on Terror writ large. But that's simply nonsense.
Recall that Ayman al-Zawahiri, the number two man and co-founder of al Qaeda, was head of Egyptian Islamic Jihad from 1991 until merging it into Osama bin Laden's organization in 1998. Like most of the other groups that would come under the AQ umbrella, its goals were chiefly domestic.
Further, violence against Middle Eastern Christians hardly began with the invasion of Iraq. Nor, for that matter, have the Copts exactly lived in perfect harmony with Egypts Muslims over the years. Wikipedia:
Religious freedom in Egypt is hampered to varying degrees by discriminatory and restrictive government policies. Coptic Christians, being the largest religious minority in Egypt, are also negatively affected. Copts have faced increasing marginalization after the 1952 coup d'état led by Gamal Abdel Nasser. Until recently, Christians were required to obtain presidential approval for even minor repairs in churches. Although the law was eased in 2005 by handing down the authority of approval to the governors, Copts continue to face many obstacles and restrictions in building new churches. These restrictions do not apply for building mosques.[74][75]

The Coptic community has been targeted by hate crimes and physical assaults. The most significant was the 2000-2001 El Kosheh attacks, in which Muslims and Christians were involved in bloody inter-religious clashes following a dispute between a Muslim and a Christian. "Twenty Christians and one Muslim were killed after violence broke out in the town of el-Kosheh, 440 kilometres (275 miles) south of Cairo".[76] In 2006, one person who was claimed to be both drunk and mad, attacked three churches in Alexandria, left one dead and from 5 to 16 injured, although the attacker was not linked to any organisation.[77][78] In May 2010, The Wall Street Journal reported increasing "waves of mob assaults" by Muslims against Copts, forcing many Christians to flee their homes.[79] Despite frantic calls for help, the police typically arrived after the violence was over.[79] The police also coerced the Copts to accept "reconciliation" with their attackers to avoid prosecuting them, with no Muslims convicted for any of the attacks.[79] In Marsa Matrouh, a mob of 3,000 Muslims attacked the city's Coptic population, with 400 Copts having to barricade themselves in their church while the mob destroyed 18 homes, 23 shops and 16 cars.[79]

Members of U.S. Congress have expressed concern about "human trafficking" of Coptic women and girls who are victims of abductions, forced conversion to Islam, sexual exploitation and forced marriage to Muslim men.
Indeed, that effort is ongoing.
But all evidence is that the dispute is purely regional, rather than sparked by American policy. Borzou Daragahi and Amro Hassan for LAT:
The violence lately has taken an ominous turn. In November, the militant group Al Qaeda in Iraq announced that Coptic churches in Egypt would be targeted until two priests' wives who were allegedly locked up in Coptic monasteries after converting to Islam are freed. Al Qaeda militants in Iraq have also referred to the women in justifying attacks on once-vibrant Christian communities in Baghdad and around Mosul.

Most Middle Eastern countries outside the Arabian Peninsula have sizable Christian communities, including the Maronites in Lebanon, Armenians in Iran and the Orthodox in Syria. But their numbers have shrunk over the last century, experts say. Christians now account for less than 5% of the Middle East's population, down from 20%.

Authorities worry that Christian communities in relatively safe countries, such as Lebanon, Syria, Jordan and Iran, also are shrinking, though driven more by a search for economic opportunities that by fear of violence. They tend to be better educated and more Western-oriented than their Muslim compatriots and often utilize family or religious ties abroad to emigrate.
None of those things are Bush's fault.