Are You An Almost Alcoholic?
A new book would classify most of us who consume alcohol as "almost alcoholics."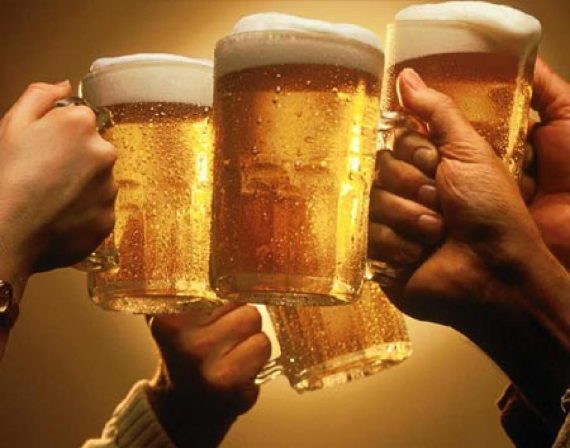 Clinical psychologists Joseph Nowinski and Robert Doyle are pitching a new book that would classify most of us who consume alcohol as "almost alcoholics." They preview their argument in The Atlantic.
[P]rofessionals have long viewed the problem of alcoholism and addiction in absolute terms: either you are addicted, or you are not. The official psychiatric diagnostic category — alcohol dependence — is what is commonly called alcoholism. The alcoholic must drink more or less continuously to maintain a level of alcohol in his or her body. If all the alcohol is metabolized the alcoholic goes into withdrawal and experiences severe, even life-threatening physical symptoms.

A second category that is used by mental health and other professionals to render a diagnosis – alcohol abuse — was added to the official Diagnostic and Statistical Manual (DSM) long after alcohol dependence. Alcohol abuse is the diagnosis used when an individual is not yet physically dependent on alcohol but has nevertheless experienced one or more severe consequences directly attributable to drinking. Examples of such consequences would be an arrest for driving under the influence or domestic violence, a severe illness such as diabetes, or the loss of a job due to poor performance.
The authors argue for a "paradigm shift" that would view alcoholism along a spectrum.
Here are a few signs that an individual may have moved out of the normal social drinking part of the spectrum and into the almost alcoholic zone:

You drink to relieve stress.
You often drink alone.
You look forward to drinking.
Your drinking may be related to one or more health problems.
You drink to relieve boredom or loneliness.
You sometimes drive after drinking.
You drink to maintain a "buzz."
Your performance at work is not what it used to be.
You aren't comfortable in social situations without drinking.
You find that drinking helps you overcome your shyness.

The almost alcoholic zone is actually quite large. The people who occupy it are not alcoholics. Rather, they are men and women whose drinking habits range from barely qualifying as almost alcoholics to those whose drinking borders on abuse. One thing we do know about them is that the more their drinking correlates with the above statements the more likely they are to drift further into the almost alcoholic zone.
Now, I support the baseline argument. Like most things, problem drinking likely exists on a continuity with varying degrees rather than being an all or nothing phenomenon. And I'm amenable to persuasion that answering Yes to a lot of the questions on the above list may be an indicator to problem drinking. But most of the questions in and of themselves is answerable as Yes by many if not most drinkers.
If we're honest with ourselves, most of us who consume alcohol do so at least partly to relieve stress. A nice cocktail or even a beer or glass of wine is a nice transition from the work day to the rest of the evening.
I often drink alone because I'm often alone. Or, at least, don't have other adults around. I like to drink. I like to be alone. So, quite often, I do them simultaneously.
For introverts, generally, drinking indeed acts as a "social lubricant" and in that regard helps overcome shyness.
It strikes me that these questions all need some indicator of degree. It's not "drinking" that's the issue but drunkenness.
Having come of age in the post-MADD era, I've never driven while intoxicated. But I've certainly driven after drinking. I enjoy having a beer or glass of wine with dinner. But I'm in excess of 200 pounds and metabolize alcohol quickly, so I can have a drink early in the meal and be well under the legal limit before getting behind the wheel. Similarly, I quit drinking well before leaving a bar or party if I'm going to be driving home.
Am I more relaxed after a drink or two? Absolutely. Do I need several drinks to function socially? No.
It would appear that–at least in the short form of their argument that appears in the article–Nowinski and Doyle fall prey to exactly the trap they're arguing against. That is, these indicators aren't Yes/No questions but should be evaluated along a spectrum.