Arizona Governor Jan Brewer Will Not Run For Re-Election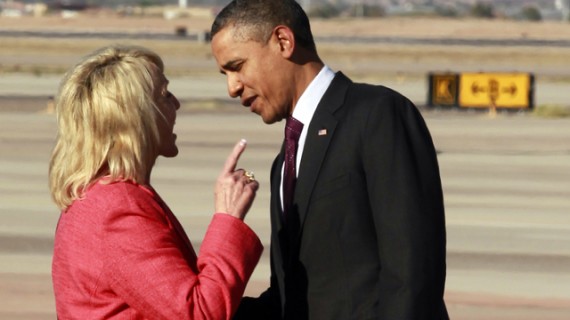 Jan Brewer, whose time as Arizona Governor has been marked by controversies over anti-immigrant legislation, gay rights, and the shooting of former Congresswoman Gabrielle Giffords, announced today that she won't be running for re-election:
"There does come a time to pass the torch of leadership. After completing this term in office, I will be doing just that," Brewer said in a speech at the school her children attended.

Brewer had left the door open to running for a third term even though Arizona law limits governors to two terms. She has argued that because she took over for Democrat Janet Napolitano more than halfway through Napolitano's term, she may be exempted.

Several Republicans have already lined up to run for Brewer's seat including Secretary of State Ken Bennett and state Treasurer Doug Ducey. Democrat Fred DuVal has the inside track on other side. Republicans are favored to hold the seat given Arizona's conservative tilt.
I doubt that this is the last we will hear from Brewer, though. There have been suggestions for some time now that she may be among those Republicans looking to challenge John McCain in 2016 if he decides to run for re-election. If McCain decides to retire, then it would seem almost certain that attention would shift to her as the most likely prominent Arizona Republican to jump into the race.