Arizona Senate Passes 'Birther' Bill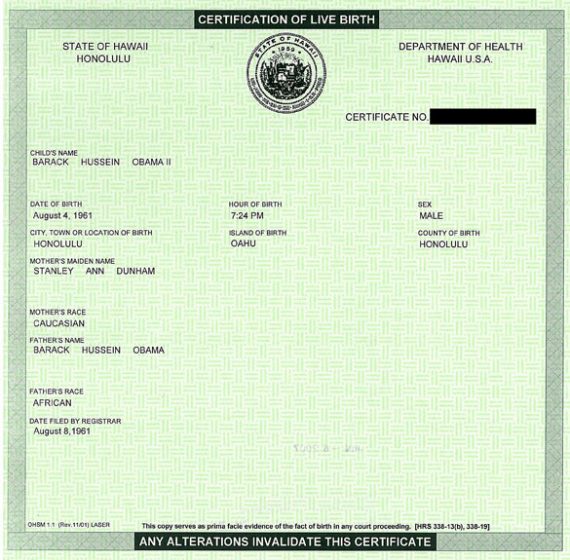 Arizona moved one step closer yesterday to becoming the first state to pass legislation inspired by those who believe the conspiracy theory that Barack Obama is not eligible to be President, despite the fact that it is most likely unconstitutional:
Arizona's state Senate approved a bill  Wednesday that will require presidential candidates to prove they are U.S. citizens before they can be included on a state ballot.

Prompted by challenges to President Barack Obama's citizenship and, therefore, eligibility for the job, the bill passed 20-9 in the Senate, and now moves to the state House for a final vote before heading to Republican Gov. Jan Brewer's desk.

The legislation, a revised version of an earlier bill that would have required each candidate to provide a "long-form" birth certificate, also gives candidates the option of instead providing two of the following documents: an early baptismal or circumcision certificate, a hospital birth record, a postpartum hospital record for the mother or an early census record.
A different version of the bill has already passed the Arizona House, so it seems likely that this bill will be sent to Governor Jan Brewer, who has yet to take a public position on this issue.
Dave Weigel explains the consequences if the bill becomes law:
That's for every candidate, so only Donald Trump can qualify for the ballot as of right now. This has been written so that Barack Obama's certificate of live birth, which does not include the name of the hospital and attending physician, does not count.
In other words, under this law, Barack Obama would be barred from appearing on the ballot in Arizona. Of course, he's not going to win Arizona anyway, but the Constitutional implications of such a development shouldn't be discounted. This what the birther nonsense has come to, and the idea that it might actually end up becoming law should, I think, concern everyone.