Joe Arpaio Returns To Birtherism
Joe Arpaio is saying he might reopen his "investigation" into former President Obama's birthplace if he's elected Senator.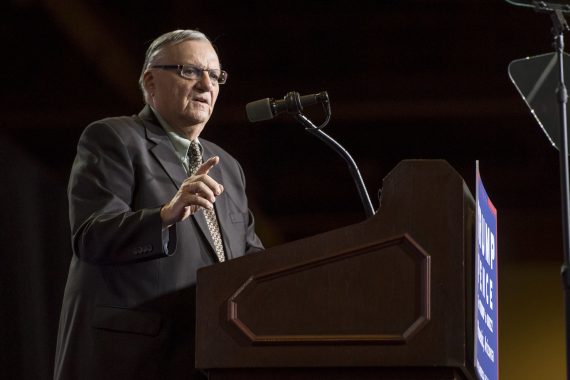 Joe Arpaio, the former Sheriff of Maricopa County, Arizona who was pardoned by President Trump after being convicted for contempt of court in connection with the operation of the Sheriff's Department and who earlier this year entered the race for the Republican nomination to succeed Jeff Flake in the Senate, is suggesting he might revive his birther investigation of former President Obama if he were elected to the Senate:
Republican Senate candidate and former Maricopa County sheriff Joe Arpaio suggested that he would revive the debunked claim that President Barack Obama's birth certificate is fraudulent if he's elected to the Senate.

At a conservative convention last week, Arpaio recalled introducing President Donald Trump at a campaign rally where the former sheriff mentioned illegal immigration and the "birther" theory — that Obama was not born in the US and therefore was ineligible to be president.

"I don't talk about it anymore, until I become the US senator … It has something to do with a document," Arpaio said at the Western Conservative Conference in Phoenix, according to a video posted to YouTube Saturday by Tru Conservative TV.

"If I asked you guys — I'm a nothing now, but if I were still the sheriff, I could ask for your birth certificate," he said. "So, I'm kind of dropping that right now."

Arpaio then claimed that he proved "100%" that Obama's birth certificate is a "fake document."

Obama was born in Hawaii in 1961 and released copies of his birth certificate in April 2011. Trump had publicly questioned Obama's citizenship for several years before saying in a news conference during the 2016 election that he believed the nation's first African-American president was born in the United States.

Arpaio has touted "birtherism" in the past, even launching a five-year long investigation into Obama's birth certificate he concluded in 2016 even after Trump backed down from the claim. Arpaio claimed that the certificate was forged and cited a lab in Italy and handwriting expert in Hawaii, according to the Los Angeles Times.

Back in January, a day after announcing he's running for Senate, Arpaio argued on CNN that Obama's birth certificate was a "phony document."

"No doubt about it, we have the evidence, I'm not going to go into all the details, yeah, it's a phony document," Arpaio told CNN's Chris Cuomo on "Cuomo Primetime."
Arpaio, of course, became one of the most prominent promotes of the utterly discredited birther argument around the same time that President Trump did in 2011, and he continued to push the idea long after the Obama White House produced the former President's Birth Certificate and after Trump himself had stopped talking about it. For several years afterward, for example, Arpaio used his office's resource to "investigate" the matter and to purport to examine the document that the White House had produced, although it's apparent that this examination involved very little more than examining photographs of the document that the White House had produced back in April 2011. At one point, Arpaio claimed that he had proven that the document that the White House was fraudulent, and continued to pursue those claims even after losing his last re-election bid in November 2016.
This is obviously an effort by Arpaio to appeal to his base and to the Tea Party voters that he is competing for the GOP primary against Arizona State Senator Kelli Ward. There hasn't been much in the way of polling in this race in nearly three months, but the last round that we saw in January showed Arpaio in a surprisingly strong second place at roughly 22% behind Congresswoman Martha McSally in the lead with roughly 33% and Ward trailing in third place with roughly 19% of the vote. The primary in this race doesn't take place until August, though, so it's far too early to say what direction this race might be taking. Suffice it to say, though, that we're likely to see Arpaio and Ward battle it out for the far-right/Tea Party vote while McSally tries to steer some sort of middle course that allows her to win a plurality. Since Arizona does not have a runoff election, that would be enough to get her the nomination and go on to the General Election against likely Democratic nominee Congresswoman Kyrsten Sinema.