Arlington Assholes Up Bullshit Fine For Swearing in Public
It could cost you $250 to say "F- Arlington" if you happen to be in Arlington when you say it.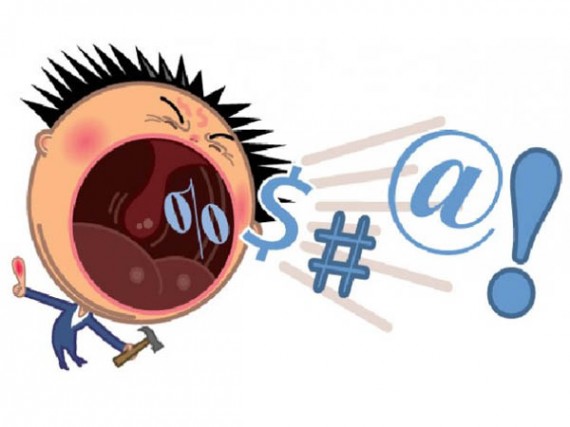 It could cost you $250 to say "F- Arlington" if you happen to be in Arlington, Virginia when you say it.
Washingtonian ("Arlington Cracks Down on Salty Language"):
Uttering some of the more expressive words in the English language will cost you up to $250 if you say them in Arlington, now that county officials have upped their fines on public uses of profanity. The Arlington County Board just approved a measure increasing penalties for public intoxication and blue language from $100 to $250.

Even if Arlington is sacrificing its reputation as an urbanist's dream community, its leaders have not given up their mission to clean up its residents sometimes-naughty antics. The code change adopted during Saturday's board meeting came after the Arlington Police Department reported making 664 arrests for public inebriation and foul-mouthed talk in 2014.
There are myriad problems with this.
First, while I suppose being inebriated makes people less mindful of their language, why on earth are public intoxication and profanity linked in the same ordinance? One drastically increases the likelihood of killing someone or getting killed while the other could possibly offend someone's delicate sensibilities.
Second, while it's no doubt irksome to some to hear foul language—especially in the presence of their wives or children—the fact of the matter is that words that were simply not uttered in mixed company a quarter century ago are now routinely heard in our pop culture and from the mouths of such personages as vice presidents of the United States and leaders of the United States Senate—sometimes at one another. (Indeed, I was mildly surprised to hear the F-word used at least twice during a movie preview while waiting for another flick to start this past weekend. Granted, it was an R-rated movie but previews have always been "rated for all audiences.")
Third, given how common the use of these swear words are nowadays, this is a recipe for selective enforcement.*
Fourth, the law doesn't specify which words are considered profane.
Oddly, however, the Arlington law comports with Virginia State Code, which makes these acts a Class 4 misdemeanor.
§ 18.2-388. Profane swearing and intoxication in public; penalty; transportation of public inebriates to detoxification center.

If any person profanely curses or swears or is intoxicated in public, whether such intoxication results from alcohol, narcotic drug or other intoxicant or drug of whatever nature, he shall be deemed guilty of a Class 4 misdemeanor. In any area in which there is located a court-approved detoxification center a law-enforcement officer may authorize the transportation, by police or otherwise, of public inebriates to such detoxification center in lieu of arrest; however, no person shall be involuntarily detained in such center.
Once upon a time, this would have seemed normal. Now, though, it seems plain crazy.
_______________
*UPDATE: The Atlantic's Brentin Mock expands on this nicely:
Arlington's new $250 fine comes after county police there reported making 664 arrests for public intoxication and profanity last year. The Virginia State Police report "2014 Crime in Virginia" lists 669 arrests throughout the county, the grand majority of them at colleges and universities.

Of the total number of drunkenness arrests, 28 percent were of African Americans, while 70 percent were of white offenders—this in a county where African Americans make up only 8.9 percent of residents while whites make up 77.3 percent, according to Census figures.

When it comes to disorderly conduct arrests, which could include abusive language, the arrest rates are even more obscenely lopsided: 2,283 arrests of African Americans, or 55 percent of all disorderly conduct arrests, compared to 1,832 arrests of whites, or 44 percent.
Now, I'm dubious of bimodal statistics and don't want to leap to conclusions here given that we don't know anything else about the incidents in question other than race. There may be a legitimate reason for the disparity in arrest rates. But, as Mock notes, there's a history here:
Arlington would benefit from creating fewer reasons for police to transact with its residents, especially its black residents. According to an analysis of police data by USA Today last year, Arlington's arrest rate for African Americans was 202.9 per 1,000 residents 2011-2012, compared to 30.6 per 1,000 residents for arrests of non-blacks. Misdemeanor arrests are no small deal, given that failureto pay the fines could lead to driver's license suspensions—which you don't want to happen in a state like Virginia where you need a photo ID to vote, or to be able to drive to and from a job.

It should be remembered that laws like these have a history of racism embedded in them. Petty crimes like swearing in public, or just talking too loud in public, were among a long list of offenses that under "black codes" and "pig laws" would earn African Americans stiffer punishments than whites who committed the same offenses in the late 19th century. When poor black southerners couldn't afford to pay the fines, they got sucked into the vortex of prison camps and convict leasing—which essentially placed them back in slavery.
Beyond that, as Scott Shackford notes at Reason, these statutes are likely unconstitutional:
A few years ago the American Civil Liberties Union (ACLU) of Pennsylvania successfully fought back against state troopers who were citing hundreds of people each year for profanity as violations of the First Amendment. They won an agreement from the police to stop.
Surely, there are better things for Arlington's leaders to do with their time?