Bachmann and John Quincy Adams
Bachmann doubles-down on a problematic historical claim.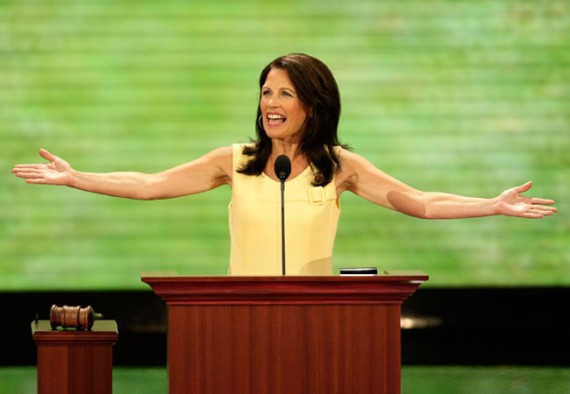 Via ABC News: John Quincy Adams a Founding Father? Michele Bachmann Says Yes:
Stephanopoulos: But that's not what you said. You said that the Founding Fathers worked tirelessly to end slavery.

Bachmann: Well if you look at one of our Founding Fathers, John Quincy Adams, that's absolutely true. He was a very young boy when he was with his father serving essentially as his father's secretary. He tirelessly worked throughout his life to make sure that we did in fact one day eradicate slavery….

Stephanopoulos: He wasn't one of the Founding Fathers – he was a president, he was a Secretary of State, he was a member of Congress, you're right he did work to end slavery decades later. But so you are standing by this comment that the Founding Fathers worked tirelessly to end slavery?

Bachmann: Well, John Quincy Adams most certainly was a part of the Revolutionary War era. He was a young boy but he was actively involved.
While it is true that JQA was alive during the Revolutionary War era, he was a child during the period, as he was born on Jul 11, 1767. As such, he was not quite nine years old when his father was helping draft the Declaration of Independence. He was in college during the drafting of the Constitution and really cannot be considered as being one of the "Founding Fathers." His significance as a US politician was clearly in the generation after the Founding.
Beyond all of that, Bachmann is really presenting a problematic view of US history to claim, let alone double-down on the notion, that the Founding Fathers worked to end slavery.
And really, if she needs an actual example of a true Founding Father who did try to fight to end slavery, she should go with Benjamin Franklin.
However, even if one can find anti-slavery advocates in the early days of our history, it is a gross distortion to pretend that, as a group, there was an effort to end slavery in those days by those founded the country/framed the Constitution. We need to be honest about our past.
For goodness' sake, three of the most significant Founders, Washington, Jefferson, and Madison were all slave owners.
Of course, part of the problem here is that we, as a nation, talk about our past a whole lot more in terms of myth than reality (and our politicians doubly and triply so). This is a shame, as while myth has its place, if we are actually going to learn and understand, we have to get beyond a faux understanding of our past.
Really, this rather reinforces, rather than diffuses, the notion that Chris Wallace was right to ask the "flake" question.