Bad News For Social Conservatives: Americans Don't Hate Gays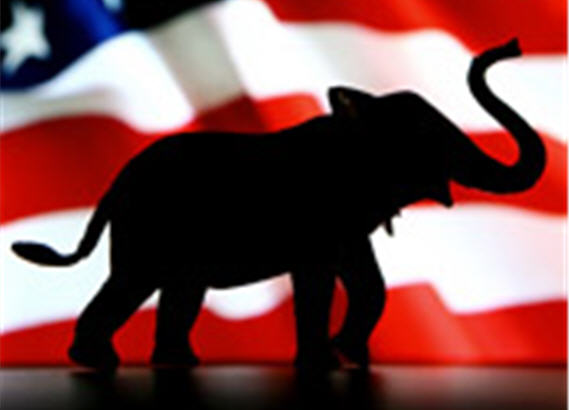 According to a new Gallup poll, public acceptance of gay and lesbian relationships continues to grow:
PRINCETON, NJ — Gallup finds 64% of Americans saying gay or lesbian relations between consenting adults should be legal, the highest since it first asked the question more than 30 years ago.

Americans' support for legal gay relations has been as low as 32%, in 1986, but increased to 47% by 1989 and went above the majority level in 2001 for the first time. After peaking at 60% in May 2003, public support dropped that same year, likely as a backlash against a U.S. Supreme Court ruling that struck down a Texas anti-sodomy law and gave gays and lesbians new legal protections in that state. By 2006, Americans returned to the more supportive level seen previously, and generally held there until the increase this year.
This is accompanied by a growing majority of Americans who reject the contention that homosexuality itself is somehow immoral: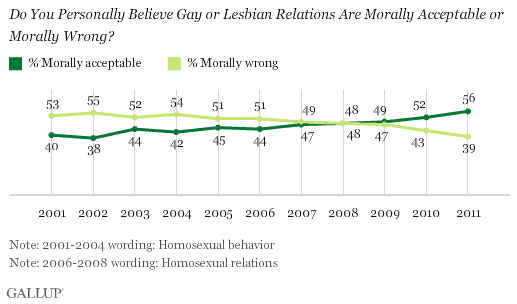 Although, not surprisingly, self-identified Republicans seem to be behind the times on that question: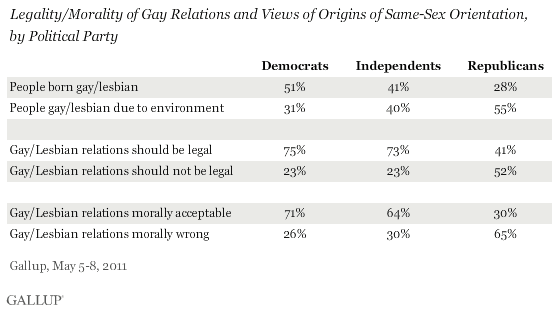 What this means politically, of course, is that same-sex marriage, and homosexuality in general, are unlikely to be the political wedge issues they once were, as I observed back in February:
It just doesn't make electoral sense for the GOP to concentrate so heavily on an issue like same-sex marriage when its clear that, no matter what stand it takes, it's going to be annoying at least 50% of the population. In the 2004 election, referendums to ban same-sex marriage helped bring socially conservative voters to the polls in 2004 and arguably helped George W. Bush defeat John Kerry in states like Ohio. Today, except in limited Congressional districts, it's hard to conceive that a similar campaign strategy would work. Voters are focused on the economy, and on the size and scope of government, appeals to divisive social issues just aren't working the same way they used to.

So, despite the strident demands of social conservatives, I don't expect the GOP to make a major push on same-sex marriage, not now and not during the 2012 campaign. Oh yes, there will be candidates who will push that button during the Presidential primaries. especially in states where the issue is still popular. Nationwide. however, and as a strategy for the General Election, the GOP will need to stay away from this issue if it wants to win in November
This is one reason why I thought the Mitch Daniels "social truce" was smart politics for any GOP candidate. Unfortunately for them, the conservative base seems to be rallying behind candidates intent on beating this dead horse into the ground.