Ben Carson Apparently Running For President. Because Why The Hell Not?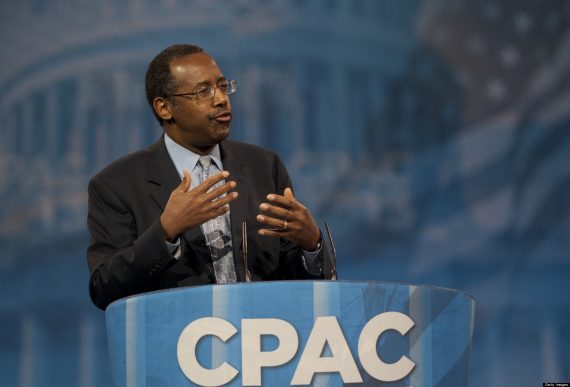 Ben Carson, a Johns Hopkins University pediatric neurosurgeon who has become something of a hero among the conservative base of the Republican Party for tough, quite often bizarre, comments about President Obama over the past several years, has become the first person to begin what is quite obviously the process of entering the 2016 Presidential race:
Yes, the 2016 race for the White House has already gotten started — and it looks like Dr. Ben Carson is first in the ring.

Carson, a famous pediatric neurosurgeon and conservative political star, will air a nearly 40 minute-long ad introducing himself to the American people this weekend, an aide to Carson confirms to ABC News.

The documentary titled "A Breath of Fresh Air: A New Prescription for America" will air in 22 states and Washington, DC. The paid video will detail some of his biography and family life, including his rise from being born to a single mother with a poor childhood in Detroit to director of pediatric neurosurgery at Johns Hopkins for almost 40 years, known for his work separating conjoined twins, to potential 2016 presidential candidate.

Carson first became a conservative star when last year he created a buzz at the National Prayer Breakfast when in front of an audience that included President Obama and Vice President Joe Biden spoke out about political correctness, health care and taxes.

He also called for a private health care savings plan and a flat tax in a speech that went viral and led to an editorial in the Wall Street Journal titled Ben Carson for President. He is known as a fierce opponent of the president's health care law known as Obamacare.

In an ABC News/Washington Post poll from last month of the potential 2016 presidential candidates showed Carson in seventh place garnering seven percent of the vote after other notables including Jeb Bush, Mike Huckabee, Chris Christie, and Marco Rubio.

Carson has a grassroots effort to draft him for a 2016 presidential run that has raised millions for the effort. In an interview last month with Jorge Ramos on our sister network, Fusion he said he's considering a White House run.

"No, I don't want to be president. Why would any sane person want to do that?" Carson said, acknowledging he has noticed the support. "I think I have to consider that, with so many clamoring for me to do it."
This isn't an official announcement, of course, but it seems quite obvious where Carson is headed here and, indeed, he is to some extent following the same path as other gadfly Republican candidates in the recent past such as Herman Cain, who have used Internet videos and other methods to "introduce" themselves to the conservative activists that he obviously hopes will be the core of his supporters going forward. It won't be hard to find that support either. While Carson has not fared well in traditional polling, in no small part because very few people outside of activist conservatism seems to know who he is, he has done quite well in straw polls at various conservative gatherings and frequently gets a lot of positive attention in the conservative blogosphere. That's not surprising considering that the good doctor has given conservatives plenty of red meat to chew on. At various times, he has equated the Affordable Care Act to the September 11th attacks, made frequent use of Nazi analogies to criticize the President, and said that "progressives" want to turn the United States into Nazi Germany, compared abortion to human sacrifices by civilizations of the past.
In other words, while there seems to be no question that Carson is a skilled neurosurgeon who has helped many people, he has chosen for whatever reason to assume in his apparent retirement from medicine the role of political gadfly by pandering to the extreme right wing of the Republican Party. There's obviously good money in it, as Herman Cain, who is now a radio talk show host, can attest, and the pay day will likely be enhanced by a Presidential campaign. Like Cain, though, Carson is not a serious candidate, and despite that he is likely to receive an inordinate amount of press attention precisely because he will be one of the guys on the stage at Republican debates and rallies saying the stuff that makes for good television. Like Cain, he may even have a brief period of time where polls show him beating the serious candidates in the race. He's not going come anywhere close to winning, though, and he's not going to be the nominee. So, except for the entertainment value he may bring to the race — although I have to wonder how he can top Herman Cain's ode to pizza and one of the most bizarre Presidential campaign commercials of all time — Ben Carson will not be a person worth taking seriously. Too bad the media won't realize that fact.