Ben Carson: 'Strong Likelihood' I'll Run For President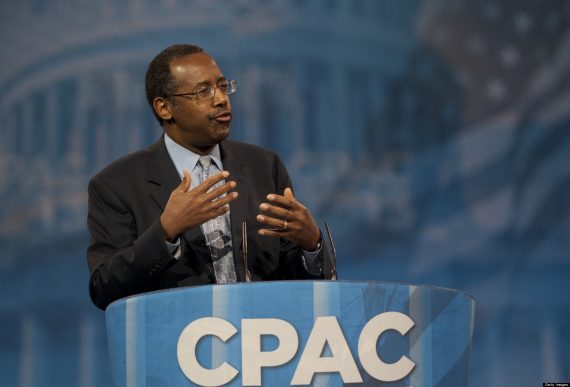 Ben Carson, the now apparently neurosurgeon who has become something of a celebrity on the right thanks to his outspoken, and often outrageous, comments about President Obama, says that he's likely to run for President in 2016:
Former Johns Hopkins neurosurgeon and conservative activist Ben Carson said there is a "strong" likelihood that you will see his name in the presidential primaries come 2016.

"Unless the American people indicate in November that they like Big Government intervention in every part of their lives, I think the likelihood is strong," Carson said Monday night on "The Hugh Hewitt Show," according to a show transcript, when asked about the chances of a presidential run.

Carson, who was given the Presidential Medal of Freedom by former President George W. Bush, said that he will be waiting for "a few more months" before making any definite decisions, and predicted that he will make a formal announcement in May of next year.

"I think the chances are reasonably good of that happening," Carson said. "I want to make sure that it's clearly something my fellow Americans want me to do. And I'm also waiting to see what the results are in November, because if the people indicate that they truly do want a nation that is for, of and by the people, then I, along with I hope many other people, would be willing to give it everything we possibly have."

The 2016 GOP presidential primary is predicted to be a crowded race, but while Carson said he will "never be a politician," he did offer insight into who his voting base would be.

"I hope it's going to be that individual who loves America, who understands that we should place the Constitution on the top shelf, that we should not pick and choose who the winners and losers are in our society, and that we shouldn't pick and choose which laws we want to enforce, and those people who understand that the person who has the most to do with what happens to you in life is you," Carson said.
Carson has won conservative accolades for his comments about the Affordable Care Act and Obama's Presidency, but he has also drawn controversy to himself with many of his comments. In the past, he's equated the PPACA to the September 11th attacks, called the law the worst thing since slavery, and said that "progressives" are going to turn America into Nazi Germany. On the other side of the ledger, though, he has also said things that would seemingly cause conservatives to dislike him, such as when he said that he didn't believe that people had a "right" to own semi-automatic weapons in large cities. Despite departures from orthodoxy like that, though, Carson remains popular on the right and has scored well in various straw polls that have been conducted this year at gatherings such as CPAC, so it's likely that he'll have some kind of following if he does indeed decide to run for President. He won't be a serious candidate, of course, any more than Herman Cain or Michele Bachmann were. Like those two candidates, though, he will tap in to a segment of the GOP base that will love his rhetoric, and he would likely say many things on the campaign trail that will require other candidate to distance themselves from him. Just like Cain and Bachmann, though, this wouldn't be a serious run for office, it would be an audition for the paid speaking circuit that has developed on the right and an effort to raise his speaking fees. Nice work if you can get it, I suppose.