Biden: America Will Defend Taiwan
The President continues his recent penchant for saying the quiet part out loud.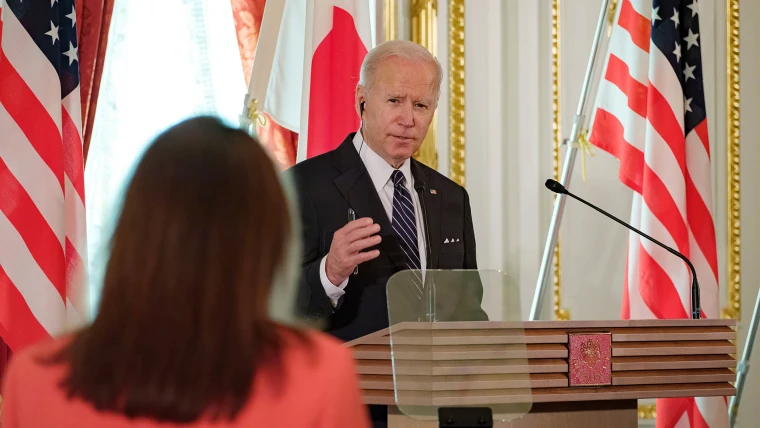 WSJ ("Biden Says U.S. Would Intervene Militarily if China Invaded Taiwan"):
President Biden said the U.S. would respond militarily to defend Taiwan if China tries to take it by force, sparking uncertainty over whether the U.S. was moving away from its longstanding policy of strategic ambiguity and prompting a clarification from the White House.

Mr. Biden's comments were met with anger from Beijing and praise from Taipei. They were also part of a pattern: In August and October of last year, the president answered questions on Taiwan by suggesting a break in U.S. policy toward the democratically self-ruled island, only to have aides jump in to say nothing had changed.

This time, he chose a venue much closer to Beijing. Mr. Biden spoke Monday alongside the Japanese prime minister in Tokyo during his first trip to Asia as commander-in-chief.

The president was asked if the U.S. would get involved militarily in response to a Chinese invasion of Taiwan after declining to send American troops to Ukraine to fight Russia's invasion.

"Yes. That's the commitment we made," he said.

Chinese Foreign Ministry spokesman Wang Wenbin raised his voice when asked at a regular briefing about Mr. Biden's remarks and said Beijing was strongly dissatisfied by them.

China "has no room for compromise and concession" on core concerns like Taiwan and "will take firm action to safeguard its sovereignty and security interests," Mr. Wang said. "We do what we say."

Mr. Biden, in his Monday remarks, stressed that the U.S. remains committed to the bedrock "One China policy," which recognizes the present rulers as the only legitimate government and acknowledges—but doesn't endorse—Beijing's claim that Taiwan is a part of the nation. But the president said that policy doesn't give China the right to forcefully take over the island.

"We agree with the One China policy and all the attendant agreements we made. But the idea that it can be taken by force, just taken by force, would just not be appropriate," Mr. Biden said. "It would dislocate the entire region and be another action similar to what happened in Ukraine. So, it's a burden that is even stronger."

He also played down the possibility that China would try to take Taiwan.

"My expectation is that it will not happen, it will not be attempted," Mr. Biden said, adding that it is important for world leaders to send a strong message that there will be consequences if Beijing takes such action.

Taiwan is thankful to the U.S. for its "rock solid" commitment, foreign ministry spokeswoman Joanne Ou said.

"Our government's determination to firmly defend Taiwan's freedom, democracy and security has never changed, and we will continue to improve self-defense capabilities," she said in a written statement.

Responding to Mr. Biden's comment, a White House official underscored the president's assertion that American policy toward Taiwan hasn't changed. The official said Mr. Biden was referring to the U.S. obligation to bolster Taipei's ability to defend itself, which is enshrined in the Taiwan Relations Act.

The act, passed in 1979, portrays any attempt to determine Taiwan's political future through anything other than peaceful means as a threat to American interests. Congress is committed to selling defensive weapons to Taiwan, but Washington has previously avoided saying whether it would intervene directly in the event of an invasion.
As has happened so many times in recent months, the President is speaking the blunt truth in departure from longstanding practice. For complicated reasons, the United States maintained that the rump government that fled the mainland for Formosa/Taiwan was the legitimate government of China when Mao and the Communists took over in 1949. That softened in 1972 when President Nixon did that thing that only he could do and changed altogether when President Carter formally recognized the PRC on January 1, 1979.
As part of that opening, the United States formally ended the Sino-American Mutual Defense Treaty, which committed us to the defense of Taiwan, and agreed to pretend that there was but One China. Nearly simultaneously, though, the Taiwan Relations Act went into effect, essentially stating that, while the United States would have no formal diplomatic relations with the "governing authorities on Taiwan," it would have unofficial official relations.
For all intent and purposes, we treat Taiwan as an independent country. While we have maintained a policy of "strategic ambiguity" on the matter, we have also long been unofficially committed to the defense of Taiwan from a Chinese invasion as though they were still a treaty ally.
This is all manifestly silly. A series of legal fictions. And China is fully aware of all of this and has been since the beginning. But, oftentimes in diplomatic relations, fictions are enough. China gets to pretend that the United States recognizes that there is but One China and that they have the right to take Taiwan back, by force if necessary, any time they choose. And the United States pretends that World War III wouldn't thereby ensue because they know China is well aware that it would.
Joe Biden has been doing foreign policy a long time. It's therefore entirely possible that he knows something I don't here. But saying the quiet part out loud serves no obvious strategic purpose and seems needlessly to poke the panda at a time when its relationship with our adversary Russia is strained. Why now?
Making matters worse, frankly, is that every time the President does this, his staff tries to walk it back—giving the impression that the Commander-in-Chief isn't thinking before shooting off his mouth.
FT ("Joe Biden pledges to defend Taiwan militarily if China invades"):
A Japanese government official said it was unclear whether Biden's comments were intentional or not, but they were seen positively by Tokyo as a message that would serve as deterrence against China.

Washington's policy of "strategic ambiguity" was designed to discourage Taipei from formalising its independence — which would almost certainly spark a Chinese attack — while deterring Beijing from using military force to press its claim to sovereignty over the island.

Over the past few years, Washington has emphasised its support for Taipei, for example by declassifying documents that make clear it does not take a position regarding sovereignty over Taiwan, and that the "one China" policy is conditional on Beijing resolving the dispute peacefully.

Shortly after Biden spoke in Tokyo, the White House insisted US policy was unchanged. "He reiterated our 'one China policy' and our commitment to peace and stability across the Taiwan Strait," said a White House official. "He also reiterated our commitment under the Taiwan Relations Act to provide Taiwan with the military means to defend itself."

But the president's remarks caused some confusion in the region. "What he said reflected his attitude, but we have to wait to see what he will actually do," said Lo Chih-cheng, chair of the foreign affairs and defence committee in Taiwan's parliament. Alexander Huang, representative to the US for Taiwan's opposition Kuomintang, said that while Biden's remarks conveyed his sincere commitment to Taiwan's security, it was unlikely the US would announce a change in policy in response to a reporter's question.

Matthew Kroenig, a security expert at the Atlantic Council think-tank, said: "Some say it's a carefully co-ordinated campaign of ambiguity. Others say that Biden is senile and misspoke. I would argue that at this point the reason doesn't really matter. "In the event of a war, it would always be up to the president to decide whether to intervene or not regardless of the formal policy. We now have a clear window into Biden's instincts on the matter and what his decision would be."

Last May, Kurt Campbell, the top White House Indo-Pacific official, warned that any US declaration that it would defend Taiwan from a Chinese attack would carry "significant downsides". Other top US officials privately argued that shifting to "strategic clarity" would provoke a Chinese attack on Taiwan.
Again, I really hope the President is making calculated decisions here rather than just spouting off.