Pelosi's Ill-Advised Taiwan Visit
The Speaker's trip was reckless, needlessly escalating an already tense situation.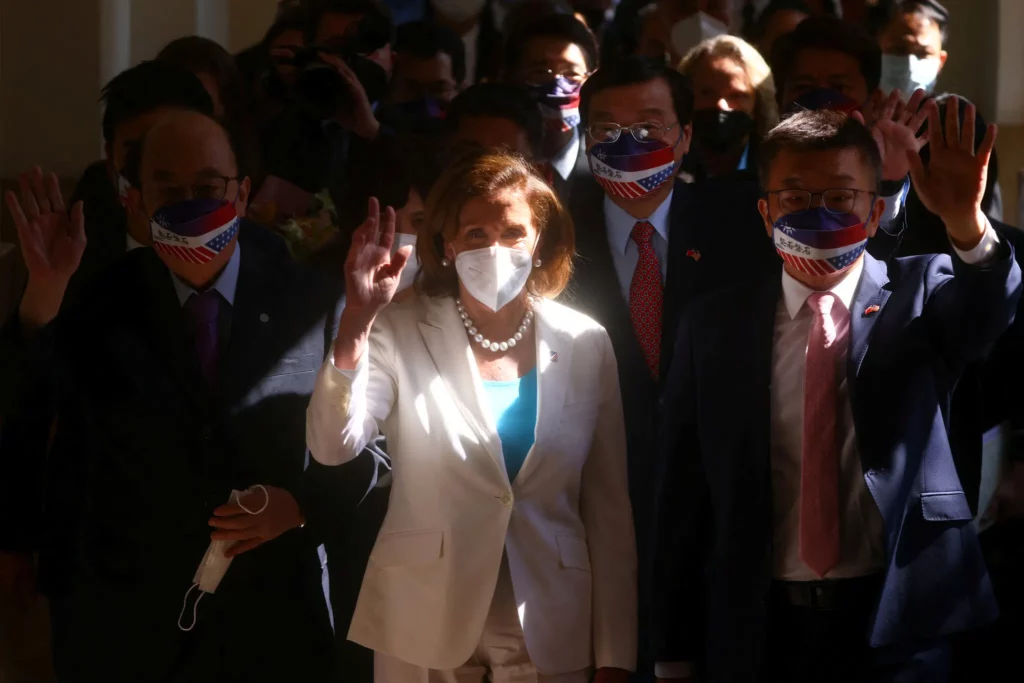 NYT ("Welcomed by Taiwan, Pelosi Leaves Rising Tensions With China in Her Wake"):
After weeks of silence ahead of a high-stakes visit to Taiwan, Speaker Nancy Pelosi was anything but understated on Wednesday during a day of high-profile meetings in which she offered support for Taiwan and irked China.

Ms. Pelosi met with Taiwanese lawmakers and then with Taiwan's president, Tsai Ing-wen, offering full-throated assurances of U.S. support for the island democracy that China claims as its own. In the whirlwind day of events, she was welcomed by crowds of supporters waving banners and followed by media and protesters, her closely tracked meetings and movements streamed partially online.

In her wake, she set the stage for new brinkmanship between China and the United States over power and influence in Asia. Taiwan is now bracing for Beijing to begin live-fire military drills on Thursday — an escalation without recent historical precedent — that could encircle the island and drop missiles into seas only 10 miles from its coast.

"Today the world faces a choice between democracy and autocracy," Ms. Pelosi said during a meeting with the Taiwanese president. "America's determination to preserve democracy here in Taiwan and around the world remains ironclad."

The meetings, though light on substance, were widely welcomed in Taiwan as a symbolic victory. Ms. Pelosi's trip was a rare moment when a major foreign power publicly showed support for the island in the face of vehement opposition from China. Ms. Pelosi made the trip despite discouragement from President Biden, and was the highest-ranking member of the United States government to visit the island in 25 years.

The events presented an affront to China and its leader, Xi Jinping.

Mr. Xi has made unifying Taiwan with China a primary goal of his rule, and his defense minister warned in June that Beijing would not hesitate to fight for the island. The Chinese government filed a formal protest with the U.S. State Department over Ms. Pelosi's visit.

Ms. Pelosi, who headed to South Korea late Wednesday afternoon, offered praise for Taiwan's leaders and met with human rights activists. At every moment she was conveying an unmistakable message: Beijing can isolate Taiwan, but it cannot stop American leaders from traveling there.
Reuters ("China fires missiles into waters off Taiwan in largest ever drills") follows up on the show of force:
China fired multiple missiles around Taiwan on Thursday, launching unprecedented military drills a day after a visit by U.S. House of Representatives Speaker Nancy Pelosi to the self-ruled island that Beijing regards as its sovereign territory.

The exercises, China's largest ever in the Taiwan Strait, began as scheduled at midday and included live-firing in the waters to the north, south and east of Taiwan, bringing tensions in the area to their highest in a quarter century.

China's Eastern Theatre Command said at around 3:30 p.m. (0730 GMT) it had completed multiple firings of conventional missiles in waters off the eastern coast of Taiwan as part of planned exercises in six different zones that Beijing has said will run until noon on Sunday.

Taiwan's defence ministry said 11 Chinese Dongfeng ballistic missiles had been fired in waters around the island. The last time China fired missiles into waters around Taiwan was in 1996.
The Economist ("Nancy Pelosi has left Taiwan. The real crisis may be just beginning"):
For more than a decade, first as vice-president and now as president, Joe Biden has told the Chinese that the only thing worse than an intended conflict is an unintended one. The accident he feared may now be materialising. A visit by Nancy Pelosi, the speaker of the House of Representatives, to the self-governing island of Taiwan has enraged the rulers of mainland China, who claim it, and wrong-footed the Biden administration. Some are already speaking of the "Fourth Taiwan Strait crisis", which is liable to be worse than the third confrontation of 1995-96.
The rest, alas, is paywalled and I'm not a subscriber.
So, what was she thinking? She published an op-ed in WaPo ("Nancy Pelosi: Why I'm leading a congressional delegation to Taiwan") just ahead of her trip.
Some 43 years ago, the United States Congress overwhelmingly passed — and President Jimmy Carter signed into law — the Taiwan Relations Act, one of the most important pillars of U.S. foreign policy in the Asia Pacific.

The Taiwan Relations Act set out America's commitment to a democratic Taiwan, providing the framework for an economic and diplomatic relationship that would quickly flourish into a key partnership. It fostered a deep friendship rooted in shared interests and values: self-determination and self-government, democracy and freedom, human dignity and human rights.

And it made a solemn vow by the United States to support the defense of Taiwan: "to consider any effort to determine the future of Taiwan by other than peaceful means … a threat to the peace and security of the Western Pacific area and of grave concern to the United States."

Today, America must remember that vow. We must stand by Taiwan, which is an island of resilience. Taiwan is a leader in governance: currently, in addressing the covid-19 pandemic and championing environmental conservation and climate action. It is a leader in peace, security and economic dynamism: with an entrepreneurial spirit, culture of innovation and technological prowess that are envies of the world.

Yet, disturbingly, this vibrant, robust democracy — named one of the freest in the world by Freedom House and proudly led by a woman, President Tsai Ing-wen — is under threat.

In recent years, Beijing has dramatically intensified tensions with Taiwan. The People's Republic of China (PRC) has ramped up patrols of bombers, fighter jets and surveillance aircraft near and even over Taiwan's air defense zone, leading the U.S. Defense Department to conclude that China's army is "likely preparing for a contingency to unify Taiwan with the PRC by force."
So, in principle, I agree with her. But the trip was a needless provocation and, frankly, stupid.
The essence of our relationships with China and Taiwan is a bizarre but necessary legal fiction, the One China policy. We treat Taiwan as an independent country and have pledged to defend it from an attack by China. At the same time, to allow China to save face, we agree to pretend that China and Taiwan, collectively, are "China" and do not have formal diplomatic relations with Taiwan. So, we don't have an embassy in Taipei; we have an Institute. It's all a complete sham and everyone knows it. But it allows Beijing to pretend that Taiwan is considered part of their country, which they consider existential. They simply have to go to war if Taiwan declares itself independent.
This has been a decades-long passion project for Pelosi. And, again, she's not wrong in principle. But the President of the United States, not the Speaker of the House, is our top diplomat. The President, not the Speaker, decides which countries we recognize. It simply can't be any other way.