Maxine Waters Under Fire
The latest variant of the "No Justice, No Peace" threat is unhelpful.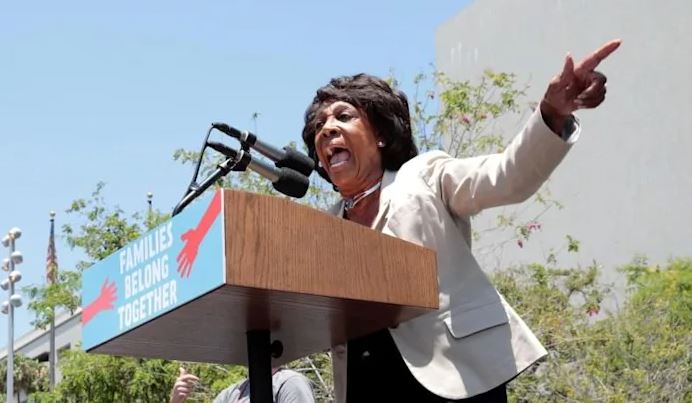 The longtime South Los Angeles Representative is being criticized for inflammatory remarks at a protest outside the Derek Chauvin trial. While most of the reporting is in the right-wing press, the story came to my attention from a report in The Hill ("Marjorie Taylor Greene to introduce resolution to expel Maxine Waters"). Because Greene is a whackjob, I initially dismissed it but was nonetheless curious.
GOP Rep. Marjorie Taylor Greene (Ga.) announced on Sunday that she plans to introduce a resolution to expel Democratic Rep. Maxine Waters (Calif.) from Congress. Greene in a statement on Sunday said that she will "be introducing a resolution to expel Rep. Maxine Waters from Congress for her continual incitement of violence."

The Republican lawmaker specifically targeted Waters for speaking to protesters at a demonstration in Brooklyn Center, Minn., on Saturday. Protests broke out in the city last week after police fatally shot 20-year-old Daunte Wright during a traffic stop on April 11.  Waters told reporters on Saturday that she is "going to fight with all of the people who stand for justice," adding, "We've got to get justice in this country, and we cannot allow these killings to continue," Fox News reported.

The killing of Daunte Wright comes as former Minneapolis police officer Derek Chauvin is on trial on murder charges in the death of George Floyd last year. Floyd died after Chauvin knelt on his neck for several minutes during an arrest.

Asked about Chauvin's trial, Waters told reporters that if Chauvin is not found guilty, "we've got to stay on the street, and we've got to get more active. We've got to get more confrontational. We've got to make sure that they know that we mean business," according to Fox News, in addition to making other comments on the trial and police brutality in the U.S.

Greene on Sunday claimed that Waters's comments "led to more violence and a drive by shooting on National Guardsmen in Minnesota early this morning."

Two guardsman were injured early Sunday morning when a gunman fired at a Minnesota National Guard and Minneapolis Police Department neighborhood security team, the Minnesota National Guard said. However, National Guard officials did not provide any immediate evidence of who fired at the law enforcement officials or a connection to Waters's comments. 
Obviously, Waters isn't going to be expelled from Congress but others are joining in the criticism. Business Insider ("Sen. Ted Cruz accused Rep. Maxine Waters of 'actively encouraging riots and violence' after she protested the police killing of Daunte Wright"):
Sen. Ted Cruz on Sunday suggested that Rep. Maxine Waters was inciting violence by encouraging demonstrators in Minnesota to continue protesting against police brutality. 

Waters, a California Democrat, attended on Sunday one of the protests against the police killing of 20-year-old Daunte Wright.

[…]

At the protest, Waters said she and the crowd are "looking for a guilty verdict" for Chauvin. "We've got to stay in the streets, and we've got to demand justice," she said, according to a video posted on Twitter from the event.  "I am hopeful that we will get a verdict that says, 'guilty, guilty, guilty,' and if we don't, we cannot go away," she added. "We've got to get more confrontational."

Cruz, a Republican from Texas, blasted those remarks from Waters.  "Democrats actively encouraging riots & violence," he tweeted in response, along with a Daily Mail article reporting Waters' comments.
Waters' remarks have all but been ignored outside outlets like Fox News ("Maxine Waters urges Minnesota protesters to 'stay on the street' if Chauvin acquitted in Floyd case") and the Washington Examiner ("Maxine Waters demands Derek Chauvin be found 'guilty, guilty, guilty' or 'we've got to get more confrontational'"). Looking for a neutral report through a Google News search, I found a YahooNews report headlined "Maxine Waters Tells Protesters to 'Stay in the Street,' Be 'More Confrontational' If Chauvin Acquitted" but, alas, it turned out to be a syndication of a National Review report. Similarly, the MSN headline "Maxine Waters tells BLM protesters 'get more confrontational'" turned out to be the Daily Mail report cited by Cruz.
I finally found another YahooNews report ("Rep Maxine Waters Calls for Action at Daunte Wright Protest in Brooklyn Center"), syndicated from something called Storyful, that seemed like a neutral take.
Congresswoman Maxine Waters told reporters protesters have to "get more active" and "more confrontational" during an appearance at a protest for Daunte Wright in Brooklyn Center, Minnesota, on April 17.

"This is a very difficult time in the history of this country," Waters said at the protest. "We have to persist in calling for justice. We have to let people know we're not going to be satisfied unless we get justice in these cases."

In response to a question from reporters regarding her advice for protesters Waters said, "We've got to stay on the streets and we've got to get more active. We've got to get more confrontational. We've got to make sure that they know we mean business."

Waters said she did not hear the original question, which asked what protesters should do if Derek Chauvin is acquitted in the death of George Floyd, and asked for it to be repeated. The question was shortened to "What should protesters do?"

According to local and state officials, approximately 100 protesters remained on site at 11:30 pm, 30 minutes after the curfew was in effect on Saturday.

"I don't know what curfew means," Waters said in response to the city's curfew. "Curfew means that I want you all to stop talking, I want you to stop leading. I'm hopeful that the protest will continue."
Waters came to my attention in 1992 during the LA riots, when she defended the spree of murder and looting that followed the acquittal of police in the beating of Rodney King. While I'm more sympathetic to her position now than I was then, having a better understanding of the context of the decades of racial injustice that came before (and has continued since) I've judged her since in the context of that initial impression. That she went on to defend nonsense conspiracy theories like the crack epidemic being a CIA plot didn't help.
In the context of protests that had already devolved into rioting, it's hard to see calls to get "more confrontational" as anything other than threats of violence. And an 11pm curfew is a perfectly reasonable time, place, and manner restriction on protest that in no way infringes on the expression of ideas. It's simply irresponsible for an elected official to say otherwise, much less encourage law-breaking.
Still, Waters is now 82 years old. She got a late start but has been in politics in one form or fashion since 1973 and been fighting this fight ever since. While things are indisputably better in all manner of ways now than they were then, the fact that young black men are still afraid of the police and that the community has no confidence in the criminal justice system to right these wrongs is beyond frustrating at this point.
At the same time, I don't think we can countenance mob rule. As awful a video of Chauvin with his knee on Floyd's neck for eight minutes, forty-six seconds is, he's entitled to a fair trial. An angry mob outside the courtroom threatening violence if the jury—which has not been sequestered—doesn't vote the right way is anything but. And Waters is not the only one egging them on.
Forbes ("Black Leaders Warn Of Fallout If Derek Chauvin Acquitted: 'We Will Not Go Away'"):
As a verdict nears in the trial of Derek Chauvin amid renewed outrage over police killings, multiple Black leaders involved in calls for reformare emphasizing the necessity that the former Minneapolis Police officer be convicted for George Floyd's death—and warning of the fallout if he is not. 

Civil rights attorney Benjamin Crump, who is representing the families of Floyd and Daunte Wright, the 20-year-old fatally shot by Minnesota police last week, told ABC News's "This Week" the American legal system will have "once again … broken our hearts" if Chauvin is acquitted on murder and manslaughter charges. 

"We cannot condone this inhumanity America, we cannot condone this evil that we saw on that video [of Floyd's arrest]," Crump said during the Sunday morning interview, warning that if the trial's outcome doesn't set a new precedent, "people are going to continue having these emotional protests." 

Also speaking during a Sunday appearance on CNN's "State of the Union," Rep. Karen Bass (D-Calif.), who has been working on a bipartisan policing reform bill, said she's anticipating outrage if Chauvin is acquitted on all three counts, adding: "We've seen people get off with minimal sentences" in "too many of these cases." 

"I don't think anyone in Minneapolis, frankly anyone in the U.S., and over a good part of the world, would understand any verdict other than guilty," Bass said. 

This comes after fellow Calif. Rep. Maxine Waters (D), speaking at a Saturday night rally in Brooklyn Center, where Wright's shooting has sparked nearly a week of protests, urged demonstrators to "get more active" and "more confrontational" if Chauvin isn't found guilty of murder. 
And that's to say nothing of apparent attempts at witness intimidation.
The bottom line is that the state has the high burden of proving the charges against him beyond a reasonable doubt. That's a very, very high standard in a case involving a police officer in the performance of his duties. Juries are incredibly reluctant to convict in these cases.
And ironically, if they do so in this case—as I believe they should—Waters, Bass, a company have given Chauvin's attorneys excellent grounds for appeal.