'Justice' Difficult in Chauvin Trial
A criminal trial is a poor venue for solving society's problems.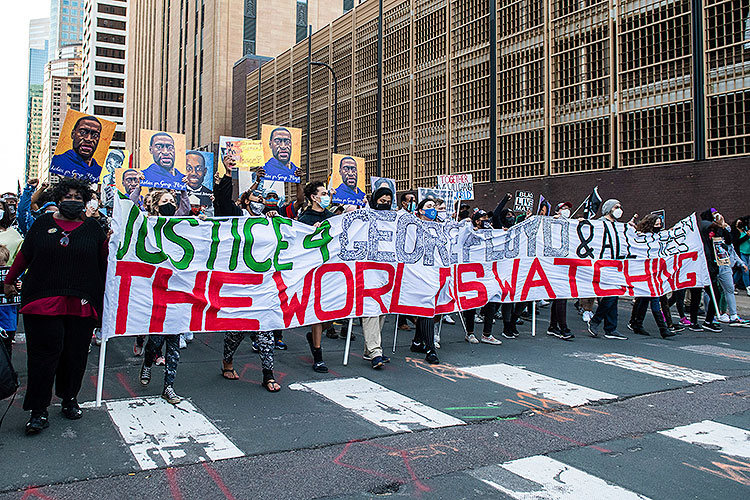 That Derek Chauvin is being tried on murder charges stemming from the death of George Floyd is itself a rarity. Despite gruesome video evidence, convicting him won't be easy. And, no, irresponsible claims by congresswomen notwithstanding, that's not necessarily a miscarriage of justice.
As WaPo's Mark Berman reminds us, "When police kill people, they are rarely prosecuted and hard to convict."
Between 2005 and 2015, more than 1,400 officers were arrested for a violence-related crime committed on duty, according to data tracked by Philip M. Stinson, a criminologist at Bowling Green State University. In 187 of those cases, victims were fatally injured in shootings or from other causes. The officers charged represent a fraction of the hundreds of thousands of police officers working for about 18,000 departments nationwide.

Police charged with committing violent crimes while on duty were convicted more than half the time during that period. In the most serious cases — those involving murder or manslaughter — the conviction rate was lower, hovering around 50 percent.
So, that's actually better than I would have guessed. But my strong guess is that it's a matter of selection effects. That is, prosecutors are far, far more reluctant (for a whole variety of reasons) to charge a police officer to begin with and likely do so only when they believe a conviction to be a slam-dunk (or the public pressure to do so is intense).
Chauvin's case is different from many of the most high-profile police prosecutions in recent memory, in part because it centers on an officer who never fired his gun, experts say.

There are a few reasons it is hard to convict a police officer, according to legal experts and attorneys who have worked on such trials: Police have considerable leeway to use force, can cite their training and are typically trusted by juries and judges.

"The law favors the police, the law as it exists," said David Harris, a law professor at the University of Pittsburgh and an expert in policing.

"Most people, I think, believe that it's a slam dunk," Harris said of the case against Chauvin. But he said, "the reality of the law and the legal system is, it's just not."
In the American system, defendants are presumed innocent, with the state required to prove guilt beyond a reasonable doubt. If even one of the dozen jurors believes the state has not met that burden, there is no conviction. And the burden is higher still for a police officer acting in the performance of his duties. While it might logically seem otherwise, since they're ostensibly trained professionals, they have much more authority to use force than an ordinary citizen.
A key element that experts say factors into many of the cases is the Supreme Court's 1989 Graham v. Connor decision, which found that an officer's actions must be judged against what a reasonable officer would do in the same situation.

"A police officer can use force, but it has to be justifiable," Bruntrager said. "And what the Supreme Court has told us is we have to see it through the eyes of the police."

Police shoot and kill about 1,000 people a year, according to The Washington Post's database tracking such cases. Most of these people are armed and most of the shootings are deemed justified.
Now, counterintuitively, the fact that this was not a shooting actually hurts Chauvin's defense:
Chauvin's case is unlike thosein key ways, experts say. "It'll be much harder … for Mr. Chauvin to claim the usual justification of self-defense than it is when there are shooting deaths," said Kate Levine, a professor at Cardozo Law. "It's very hard for him to say, 'I was in fear for my life when I knelt on this man's neck.'"

When police shoot and kill someone, the officers' descriptions of what they saw and felt — and accounts of the danger facing them or someone else — can be a major part of the defense, experts say.

"In many of the shooting cases, the officer will say, 'I perceived a threat in the form of reaching for a gun, or an aggressive move towards me,' " said Rachel Harmon, a law professor at the University of Virginia. "It is difficult for the state to disprove the perception of that threat."

In this case, Harmon said, "there's not the same kind of ability to claim a perception of a threat."
Also counterintuitively, though, there's a good case to be made that Chauvin's actions weren't even the cause of death:
Chauvin's attorney argued in his opening statement that the officers charged in Floyd's death felt the "growing crowd" at the scene was threatening. But Chauvin's core defense, as presented in legal filings and his attorney's remarks in court, appears focused on something else: making a case that he didn't actually kill Floyd.

In court filings, Chauvin's attorneys pointed to Floyd's health issues and said he "most likely died from an opioid overdose," trying to break the chain of causation between Chauvin's knee and Floyd's death. Medical experts have said say they disagree with the defense's argument.
But medical experts aren't on the jury. Jurors might find it quite plausible that Floyd's use of illegal drugs contributed to his death, in which case Chauvin isn't guilty of murder. A Financial Times report ("Derek Chauvin trial: the 'clear challenges' prosecutors face in police cases") reinforces this point:
The Hennepin County Medical Examiner's autopsy last year put the cause of Floyd's death as "cardiopulmonary arrest complicating law enforcement subdual, restraint and neck compression" and found evidence of fentanyl and methamphetamine in his body. An independent autopsy commissioned by Floyd's family cited the cause of death as asphyxiation.

Judge Peter Cahill also has allowed Chauvin's defence team to tell the jury about some parts of a May 6 2019 traffic stop, where there was evidence Floyd swallowed drugs after police approached him.
That said, the thing that has always helped police officers in these cases—the presumption that they're the good guys, a thin blue line protecting society from evil—may well have changed partially because of the notoriety of this case. Back to Berman/WaPo:
Juries have typically been inclined to trust officers, who come to court with no criminal record and experience testifying, experts and attorneys said. But, they said, recent years might have chipped away at that, due to repeated viral videos of police shootings and other uses of force.

The wave of protests that followed Floyd's death last year was accompanied by a decline in public approval of police, and last fall voters in several places approved more scrutiny and oversight for police in their communities.
Oddly, as the FT report notes, public attitudes on this case have changed in Chauvin's favor:
Public polling has suggested that there are deep divisions over how Floyd's death is perceived, and how those views have evolved since last summer. A USAToday/Ipsos poll last June showed 60 per cent of Americans viewed Floyd's death as murder, but that fell to just 36 per cent earlier this month. Divisions along racial lines were stark: 64 per cent of black respondents thought it was murder, versus just 28 per cent of whites, who were more likely than blacks to see Chauvin's actions as negligence.
I'm actually puzzled by the trend. The racial disparity doesn't shock me but the radical decline in those who believe the actions constitute murder does. Granting that I've not paid as much attention to the case per se as the larger movement and social context, I'm not aware of any major new evidence that helps Chauvin. One might think that the violence associated with the Black Lives Matter protests has backfired, as I feared it might. But support for the movement was at its highest last June, when the protests were at their apex, and has waned since.
An interview with Berkley law professor Jonathan Simon ("Despite damning video, complex legal issues make Chauvin trial unpredictable") conducted just before the start of the trial reinforces some of these points. Indeed, he believed acquittal was the most likely outcome.
The most serious charge, second-degree murder, requires showing the death was caused during another felony — here, assault in the third degree. The prosecution is also arguing for third-degree murder, which means causing the death in the course of conduct that poses an extreme risk to human life and in an unlawful manner, such as to exhibit indifference to human life.

Finally, the least serious charge is second-degree manslaughter, which is causing the death in the course of doing something unreasonably dangerous to the lives of other people. It usually has to be with a degree of negligence or carelessness, of ignoring potential danger, whether you saw the danger or not.
The elements are difficult to prove, especially in the case of a sworn officer authorized to use force to subdue an uncooperative suspect.
The problem is we've got this whole legal focus now in these cases that give the police a kind of epistemological advantage. The fact-finder, the jury, has to put themselves in the position of a reasonable police officer in that situation. And that immediately brings to bear, for instance, how are the police trained to deal with resistant arrestees in this position?

This kind of knee-on-neck hold is obviously permitted in some situations, and that's going to be focused on. So there is arguably a point at which Chauvin went beyond what the training advised. Maybe after five minutes, with George Floyd's resistance quieting, Chauvin should have understood that he was no longer sanctioned by the rules and the training to continue using that hold.

And from then on, it's showing that he's indifferent to human life. But how many minutes have to go by to prove that? It's not nine anymore. It's like four to five, maybe three.

So I think that's where it's going to get down into the kind of nitty-gritty, which makes it easier to raise reasonable doubt. Again, you don't have to believe that the person is innocent. The question is whether you think there's no reasonable basis on which he could be innocent or on which he could not be responsible.
Simon makes an important larger point that gets to part of what I was driving at in my post chiding Omar's comments:
But it's a risk of putting too much emphasis on criminal prosecution as the right way to respond to this obvious assault on the human dignity of Black citizens, especially, and all Americans.

[…]

It's interesting that this prosecution has been conducted by the attorney general of Minnesota, Keith Ellison, not by a typical local prosecutor. He's obviously a more political person.

One of the things I think we're going to see here — I would hope and expect it — is a fair amount of public communication about the nature of these charges and helping the public understand how demanding criminal law is, especially for these kinds of unintended killing theories, so that people will kind of appreciate what "beyond a reasonable doubt" means.

I've always thought cases like the O.J. Simpson murder trial [the former NFL player, broadcaster and actor was tried and found not guilty of the 1994 murder of his ex-wife, Nicole Brown Simpson, and her friend, Ron Goldman] are good examples of where public ignorance about what a jury is actually asked to do — not just asking whether they think the person did it, but whether they think there's a reasonable chance that they didn't — really doesn't sink in very much.
Simon also believes that, if Chauvin is convicted, the fact that the city settled its civil suit with Floyd's family for a whopping $27 million on the eve of jury selection will provide strong grounds for appeal—as it will reasonably perceived as an admission of wrongdoing.
In an ideal world, this trial would not be taking place in such a politically charged atmosphere. We've instead had nearly a year of protests, many of them violent, with George Floyd as a primary focus. So, the jury is under rather considerable pressure to convict, with rioting as a quite likely outcome in the event they don't believe the prosecution proved their case beyond reasonable doubt. And, effectively, Omar was egging them on.