Judge Declares Waters' Comments 'Abhorrent'
They were "disrespectful to the rule of law."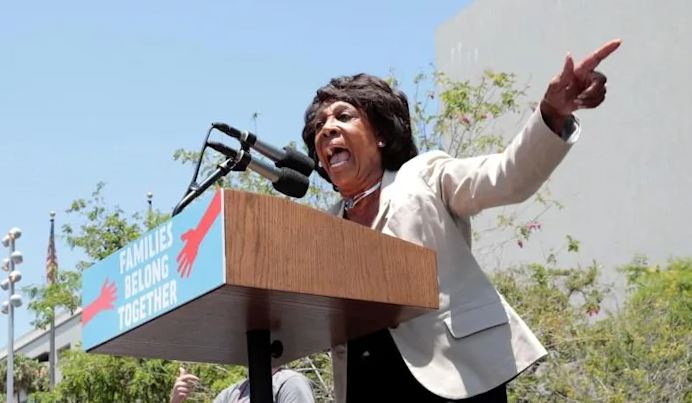 Yesterday, I noted that a handful of Republican politicians and the right-wing news complex was calling out Rep. Maxine Waters for her comments on the Derek Chauvin trial. Now, we have someone a bit more credible: the judge presiding over said trial.
YahooNews ("Judge calls out Maxine Waters's comments on Chauvin murder trial as 'abhorrent'"):
Just moments after the jury had exited the courtroom on Monday to begin deliberations in the trial of Derek Chauvin, the former police officer charged in the death of George Floyd, Chauvin's defense attorney pushed for a mistrial over its coverage.

"Now that we have U.S. representatives threatening acts of violence in relation to the specifics of this specific case, it's mind-boggling to me," Eric Nelson, Chauvin's attorney, said to the judge.

"Well, I'll give you that Congresswoman Waters may have given you something on appeal that may result in this whole trial being overturned," Judge Peter Cahill replied.

Over the weekend, Rep. Maxine Waters, D-Calif., attended a Black Lives Matter rally in Brooklyn Center, Minn., to protest the killing of 20-year-old Daunte Wright, a Black man, by police. At the rally, she encouraged activists to "get more confrontational" if Chauvin is not convicted of murder.

"I hope we get a verdict that says guilty, guilty, guilty," Waters said Saturday in response to a reporter's question. "And if we don't, we cannot go away. We've got to stay on the street. We get more active, we've got to get more confrontational. We've got to make sure that they know that we mean business."

Like Nelson, Cahill took issue with the congresswoman's comments.

"I wish elected officials would stop talking about this case, especially in a manner that is disrespectful to the rule of law," Cahill said. "I think if they want to give their opinions, they should do so respectfully and in a manner that is consistent with their oath to the Constitution, to respect a coequal branch of government."

He went on to call Waters's comments "abhorrent" but not prejudicial to the jury.

"They have been told not to watch the news," Cahill said. "I trust that they are following those instructions."
Obviously, he wasn't going to call a mistrial at this stage of the proceedings. But the defense attorney was right to get the objection on the record for appeal in the event his client is found guilty.
Cahill, of course, is a middle-aged white guy. But he's definitely not a right-winger. A NYT profile notes,
Judge Peter A. Cahill is a 14-year veteran of the bench in Hennepin County. He has previously worked as a public defender, private defense lawyer and prosecutor, rising to become chief deputy under Amy Klobuchar, now a U.S. senator, when she served as the county attorney.
Nor has he been hostile to the cause of racial justice:
He has so far won praise in Derek Chauvin's trial. He kept jury selection on schedule despite obstacles like the city's announcement of a $27 million settlement with George Floyd's estate, which raised fears that the jury would be swayed, and an appellate court's ruling on the charges against Mr. Chauvin. Over the prosecution's objections, Judge Cahill ordered that the trial be televised, a first in Minnesota, because public access to the courtroom was limited by the Covid-19 pandemic.

In a lengthy 2015 decision, Judge Cahill dismissed charges against the organizers of a large Black Lives Matter rally at the Mall of America, saying the demonstration had been peaceful.
He seems genuinely committed to a fair trial and Waters' comments make it harder to achieve that.
Such high profile cases have to be incredibly hard to manage. The jury pool is tainted from the beginning and the media coverage is so over-saturated that it's simply impossible not to be influenced by it. And, even without Waters' inflammatory rhetoric, that the city is a tinderbox and that violence is likely if the jury fails to convict is inescapable. There's only so much a judge can do here.