China's Worrisome Behavior
The competition is slowly ratcheting up.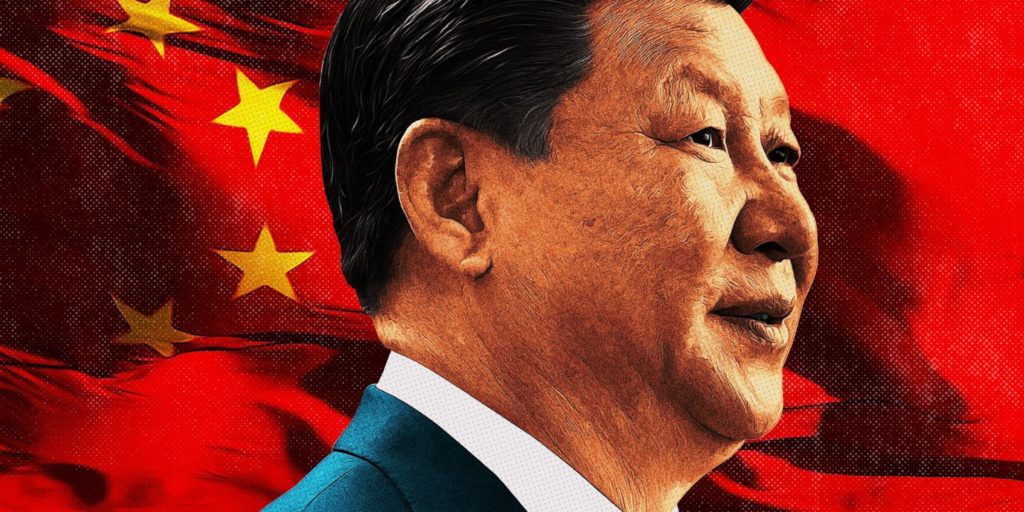 As noted yesterday, the Biden Administration has followed its two predecessors in increasingly focusing on "strategic competition" with a rising China as the centerpiece of its national security strategy. Three reports in today's papers highlight the state of affairs.
NYT ("U.S. Officials Grow More Concerned About Potential Action by China on Taiwan"):
The Biden administration has grown increasingly anxious this summer about China's statements and actions regarding Taiwan, with some officials fearing that Chinese leaders might try to move against the self-governing island over the next year and a half — perhaps by trying to cut off access to all or part of the Taiwan Strait, through which U.S. naval ships regularly pass.

The internal worries have sharpened in recent days, as the administration quietly works to try to dissuade House Speaker Nancy Pelosi from going through with a proposed visit to Taiwan next month, U.S. officials say. Ms. Pelosi, Democrat of California, would be the first speaker to visit Taiwan since 1997, and the Chinese government has repeatedly denounced her reported plans and threatened retaliation.

U.S. officials see a greater risk of conflict and miscalculation over Ms. Pelosi's trip as President Xi Jinping of China and other Communist Party leaders prepare in the coming weeks for an important political meeting in which Mr. Xi is expected to extend his rule.

Chinese officials have strongly asserted this summer that no part of the Taiwan Strait can be considered international waters, contrary to the views of the United States and other nations. A Chinese Foreign Ministry spokesman said in June that "China has sovereignty, sovereign rights and jurisdiction over the Taiwan Strait."

American officials do not know whether China plans to enforce that claim. But Senator Chris Coons of Delaware, who is close to President Biden and deals with the administration often on issues involving Taiwan, said "there is a lot of attention being paid" to what lessons China, its military and Mr. Xi might be learning from events in Ukraine.

"And one school of thought is that the lesson is 'go early and go strong' before there is time to strengthen Taiwan's defenses," Mr. Coons said in an interview on Sunday. "And we may be heading to an earlier confrontation — more a squeeze than an invasion — than we thought."
This is difficult to assess but obviously concerning. For the last two decades or so, I've argued that it's hard to conjure a plausible scenario for a US-China shooting war, given the enormous toll it would take and the degree of economic interdependence between the two. The exception, though, was always Taiwan. While most Western analysts, myself certainly included, since the "One China" policy as a legal fiction, a fig leaf to allow China to save face despite the reality that Taiwan is a separate, independent state, Beijing decidedly does not see it that way. It's an existential issue for them: Taiwan is part and parcel of China and, while they have a large degree of autonomy, allowing them to be recognized as a sovereign nation would be shameful and catastrophic.
Certainly, Beijing's rhetoric on this issue has ratcheted up as its military power has grown. But even experts on Chinese military policy, including my Marine Corps University colleague Chris Yung, have strong disagreements on where the red line is. I simply have no idea how perilous this situation is.
WSJ ("China Targeted Fed to Build Informant Network, Access Data, a Probe Says"):
China tried to build a network of informants inside the Federal Reserve system, at one point threatening to imprison a Fed economist during a trip to Shanghai unless he agreed to provide nonpublic economic data, a congressional investigation found.

The investigation by Republican staff members of the Senate's Committee on Homeland Security and Governmental Affairs found that over a decade Fed employees were offered contracts with Chinese talent recruitment programs, which often include cash payments, and asked to provide information on the U.S. economy, interest rate changes and policies, according to a report of the findings released on Tuesday.

In the case of the economist, the report said, Chinese officials in 2019 detained and tried to coerce him to share data and information on U.S. government policies, including on tariffs while the U.S. and China were in the midst of a trade war.

The report doesn't say whether any sensitive information was compromised. Access to such information could provide valuable insights given the Fed's extensive analysis of U.S. economic activity, its oversight of the U.S. financial system, and the setting of interest-rate policy.
This is worrisome but at a much lower level. Countries spy on one another all the time and it's hardly a surprise that the Chinese government is trying to recruit sources within our government. The Fed is an obvious place where they would like more insight. Presumably, we're trying to do the same sort of thing in China. It's just that, because our society is so open and theirs is not, they have an easier job on this front.
The only piece of this that's outside the normal rules of the game is the threats of imprisonment as a tool for solicitation. I would expect to see some high-level response to this. Certainly, we should further limit the travel of non-diplomatic personnel to China for the foreseeable future.
NYT ("Where China Is Changing Its Diplomatic Ways (at Least a Little)"):
Whirlwind visits to crisis-riven nations in Africa. A sleek training center for the continent's up-and-coming politicians. The prospect of major debt forgiveness for a favorite African country.

As relations with the United States and Europe plummet, China is starting a new wave of diplomacy in Africa, where it dominates trade with resource-rich nations and keeps friendly ties with mostly authoritarian leaders, unfettered by competition from the West.

China's campaign to cultivate African allegiances is part of a great geopolitical competition, which has intensified since the start of the war in Ukraine. Already fiercely vying for loyalties in Asia, Beijing and Washington are now jockeying broadly for influence, with the United States, Europe and their democratic allies positioned against China, Russia, Iran and other autocracies. Heightening the competition, Russia's foreign minister, Sergey V. Lavrov, began a tour of Egypt, Ethiopia, Uganda and the Democratic Republic of Congo Sunday.

In Africa, China is adjusting its approach, more closely integrating financial and diplomatic efforts. It's a recognition that just building new expressways, hydropower dams and skyscrapers — as China has tried to do with the Belt and Road Initiative — isn't sufficient to secure relations.

While the initiative across dozens of countries has helped to relegate the United States to a second-tier position in many places, the projects have also amplified tensions and added to a mounting debt crisis. To complement the rails and roads, China's leader, Xi Jinping, started a new Global Security Initiative in the spring, a broad effort to bring developing countries together.

A big lender to Africa, Beijing is seeking to protect current and future assets, including demand for the continent's vast minerals. It also wants to make sure its first overseas naval base, in Djibouti at the entrance of the Red Sea, operates smoothly to ensure shipments of oil.
This, by contrast, is simply China acting as we would expect a rising power to act. They are absolutely allowed to compete for influence in the world. They have significant advantages over us in gaining these sorts of footholds in Africa because they are not hamstrung by ethical rules that prevent bribing officials and providing certain kinds of technology to countries with dubious human rights records. But we also have an advantage, in that these rules—and our broader strategic culture—also prevent us from imposing the draconian terms the Chinese do for inability to pay off loans on time, essentially forcing countries to cede ports and other key terrain.
As Dan Nexon and others have been arguing for a while, there is some danger in the "great power competition"* lens turning everything into a fight.
Treating it as a guiding principle of American grand strategy risks confusing means and ends, wasting limited resources on illusory threats, and undermining cooperation on immediate security challenges, such as climate change and nuclear nonproliferation. In the long run, a fixation on great-power competition is likely to undermine, rather than enhance, U.S. power and influence.
The Eurasia Group's Ali Wyne has a new book out on this subject and is interviewed by WaPo's Ishaan Tharoor.
His new book — "America's Great-Power Opportunity: Revitalizing U.S. Foreign Policy to Meet the Challenges of Strategic Competition" — makes the case that while "interstate competition is a characteristic of world affairs," it does not need to become "a blueprint for foreign policy." Indeed, when you let anti-Chinese or anti-Russian agendas drive your own, it gives these putative adversaries outsize influence over your own decision-making, he argues.

[…]

The traction that great power competition has come to achieve as a policymaking framework reflects a paradoxical combination: strategic anxiety on the one hand, bureaucratic comfort on the other.

The United States is not as relatively preeminent as it was at the end of the Cold War — or even at the turn of the century — and China and Russia are increasingly able and willing to contest its influence. On the other hand, the existence of formidable challengers would seem to furnish the strategic clarity for which Washington has been searching since the Soviet Union's collapse; it would also, importantly, seem to require a familiar playbook.

For roughly half a century, after all, U.S. foreign policy was largely oriented around dealing with external competitors: imperial Japan, Nazi Germany and then the Soviet Union. The trouble is that that stretch of history primed the United States to expect decisive victories: Japan and Germany suffered military defeats, and the Soviet Union experienced a dramatic disintegration.

It seems unlikely, however, that China and Russia will collapse, notwithstanding their myriad socioeconomic challenges and strategic constraints, so America's task will be to forge ambiguous and uncomfortable cohabitations.
There's a lot more there but you get the point.
_________________
*"Great power competition" was the preferred phrase of the Trump administration, particularly its first Secretary of Defense, Jim Mattis. The Biden administration renamed it "strategic competition" because, well, they wanted to put their own branding on it. Most of the natsec community still uses GPC.