Biden Feared Political Backlash Over Bringing Afghans to America
A humanitarian crisis made worse by shameful delays.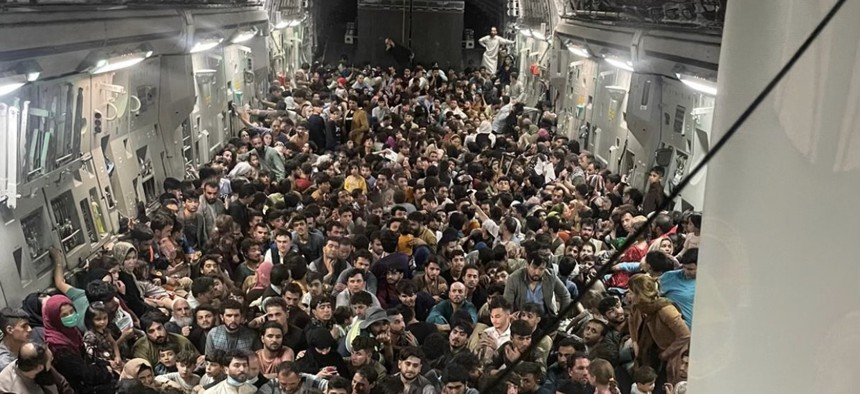 Alex Ward reports for POLITICO ("'They were sitting on their hands': Insiders say Biden's team wasted precious time on evacuating Afghans"):
During an interagency meeting early this summer, a Defense Department official was asked if the Pentagon had a list of all Afghans who worked alongside the United States during the 20-year war. The Pentagon representative responded that such a list didn't exist.

Then during another interagency meeting in early July, this one classified and conducted via video conference, a State Department staffer detailed how they would eventually relocate vulnerable Afghans seeking special visas to the U.S. The official asserted that Kabul wouldn't fall for six to 12 months, so they had plenty of time to hire more staff and position consular officers to the capital to process the 20,000-person backlog.

And in late July, two weeks before the Taliban captured their first provincial capital, a coalition of groups that work with special visa applicants wrote multiple emails to the State Department's Afghanistan Task Force offering their assistance. Those emails were never returned.

These instances, detailed to POLITICO by five U.S. officials and people familiar with the situation, are indicative of how the administration wasted precious time and failed to prepare to evacuate thousands in danger as the Taliban plotted their comeback. Flaws in the planning and execution of the withdrawal have led to wrenching scenes of Afghans clinging to U.S. military cargo planes as they race out of Hamid Karzai International Airport in Kabul, where President Joe Biden has dispatched up to 7,000 troops to handle the chaos.

"They were sitting on their hands," said a congressional aide who, like others, spoke on condition of anonymity to discuss internal matters. "They only started surging three to four weeks ago." In fact, it was only on Saturday that the State Department task force approached those same activist organizations and sought their help to fill out a list with names of people needing relocation.
This is simply shameful. And baffling. When President Biden announced back in April that he was going to follow through on his predecessor's timeline for withdrawal, many of us—and in venues more prominent than this one—immediately noted that it was morally necessary to evacuate those Afghans whose collaboration with us was the closest, as they would naturally be targeted by the Taliban once our ability to protect them locally ended. And they were receiving those same messages, urgently, on the inside as well.
Thankfully, Defense One's Tara Copp reports ("US Ramps Up Emergency Kabul Airlift to Get 5,000 to 9,000 Out Per Day") the administration is stepping up after the initial debacle.
The U.S. is ramping up its airlift for Americans and Afghans fleeing the Taliban and will be able to evacuate 5,000 to 9,000 people per day, Pentagon press secretary John Kirby said Tuesday. 

The rapid escalation of military airlift—ramping up to as many as one departing flight per hour within the next 24 hours—is occurring as the Taliban have taken control of all traffic outside of Hamid Karzai International Airport. 

Defense Department officials are now in direct talks with Taliban leaders on that perimeter security and to avoid any escalation of conflict while the U.S. conducts evacuation operations, Kirby said. 

"Our commanders at the airport are in communication with Taliban commanders on the ground outside the airport, there have been discussions …. and I would just let the results speak for themselves," Kirby said. 

On Tuesday, the Pentagon also acknowledged the extraordinary efforts of an Air Mobility Command C-17 Globemaster crew, Reach 871, who chose not to force out hundreds of Afghans who scrambled over a half-closed back ramp and instead got as many aboard as they could, then took off, rescuing a total of 640 evacuees. The photo of their evacuation was exclusively reported by Defense One. 

"This was an aircrew trying to be as humane as they could," Kirby said in a phone interview. "That photo speaks a thousand words as to the humanity of that aircrew." 
Their excuses for why we were caught flat-footed are thin, indeed. Back to Ward:
Administration officials insist they've done all they can to extricate friendly Afghans, handling complicated logistics while winding down America's military involvement in the war. They also say larger factors complicated their response, such as the previous administration's disinterest in this issue, a decimated staff and the pandemic.

But a State Department official acknowledged that all explanations fall short. "If you want excuses, there are plenty to choose from, but they'll be little comfort to the dead," the official said.

Officials say they've been working to address the visa-applicant issue well before the breakdown in Afghanistan.

"We were asked by the State Department to provide support to their operation. That's not a suggestion that is when SIVs became a priority for the government that has been for many years," Garry Reid of the Pentagon's Afghanistan Crisis Action Group told reporters on Monday.

Pentagon spokesperson John Kirby later noted on Tuesday that the administration will strive to evacuate all visa-seeking Afghans and U.S. citizens by Aug. 31, the planned withdrawal date for U.S. troops.
This, however, is harsh:
Others aren't convinced President Biden and his team prioritized the special visa issue, saying they've long expressed political concerns that delayed their response. They "viewed it as the worst-case political outcome for them to bring Afghans to the U.S.," fearing the domestic repercussions if one commits a terrorist act, a person familiar with the administration's thinking speculated.

An administration official relayed a similar message to POLITICO on Monday: "It's like they want the credit from liberals for ending the Trump cruelty to immigrants and refugees but they also don't want the political backlash that comes from actual refugees arriving in America in any sort of large numbers." White House officials have long denied this is the case.
If true, this is monstrous. We could easily absorb 20,000 Afghan refugees here in Fairfax County, Virginia. We're at over 1.1 million total population and have added 100,000 folks in just the last decade. Over 31 percent of the residents are foreign-born and 20 percent are of Asian descent. Dulles airport is less than half an hour's drive. Bring them on.