Biden Blamed for Afghan Fiasco
The collapse is not his doing. But he's accountable for the poor planning.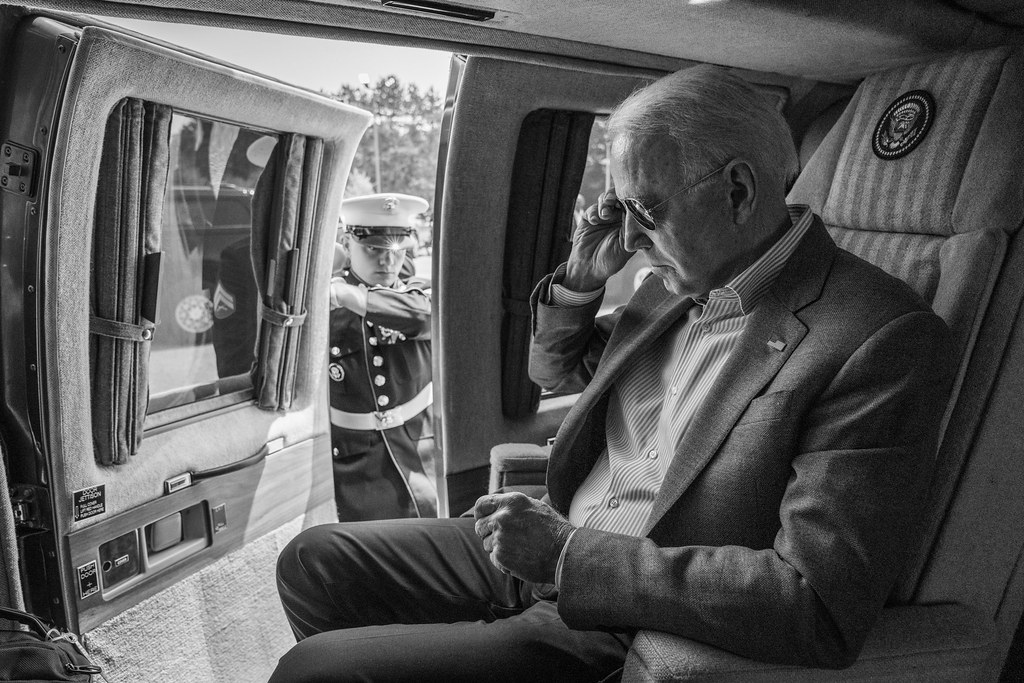 The incredibly rapid collapse of the government and security forces in Afghanistan has taken even the most skeptical of us by surprise. Most thought they would hold out at least a few weeks, not a few days. Now, even friendly voices are pointing the finger of blame at President Biden.
David Sanger, NYT ("For Biden, Images of Defeat He Wanted to Avoid"):
Rarely in modern presidential history have words come back to bite an American commander in chief as swiftly as these from President Biden a little more than five weeks ago: "There's going to be no circumstance where you see people being lifted off the roof of an embassy of the United States in Afghanistan."

Then, digging the hole deeper, he added, "The likelihood there's going to be the Taliban overrunning everything and owning the whole country is highly unlikely."

On Sunday, the scramble to evacuate American civilians and embassy employees from Kabul — the very image that Mr. Biden and his aides agreed they had to avoid during recent meetings in the Oval Office — unfolded live on television, not from the U.S. Embassy roof but from the landing pad next to the building. And now that the Afghan government has collapsed with astonishing speed, the Taliban seem certain to be back in full control of the country when the anniversary of the Sept. 11, 2001, attacks is commemorated less than a month from today — exactly as they were 20 summers ago.

Mr. Biden will go down in history, fairly or unfairly, as the president who presided over a long-brewing, humiliating final act in the American experiment in Afghanistan. After seven months in which his administration seemed to exude much-needed competence — getting more than 70 percent of the country's adults vaccinated, engineering surging job growth and making progress toward a bipartisan infrastructure bill — everything about America's last days in Afghanistan shattered the imagery.

Even many of Mr. Biden's allies who believe he made the right decision to finally exit a war that the United States could not win and that was no longer in its national interest concede he made a series of major mistakes in executing the withdrawal. The only question is how politically damaging those will prove to be, or whether Americans who cheered at 2020 campaign rallies when both President Donald J. Trump and Mr. Biden promised to get out of Afghanistan will shrug their shoulders and say that it had to end, even if it ended badly.

Mr. Biden knew the risks. He has often noted that he came to office with more foreign policy experience than any president in recent memory, arguably since Dwight D. Eisenhower. In meetings this spring about the coming U.S. withdrawal, Mr. Biden told aides that it was crucial they avoid the kind of scene that yielded the iconic photographs of Americans and Vietnamese scrambling up a ladder to a helicopter on a rooftop near the U.S. Embassy in Saigon when it was frantically evacuated in 1975, as the Vietcong swept into the city.

Yet having decided in April to set the Sept. 11 anniversary as the date for the final American withdrawal, he and his aides failed to get the interpreters and others who helped American forces out of the country fast enough, and they were mired in immigration paperwork. There was no reliable mechanism in place for contractors to keep the Afghan Air Force flying as Americans packed up. The plan Mr. Biden talked about in late June to create what he called an "over-the-horizon capability" to bolster the Afghan forces in case Kabul was threatened was only half-baked before those Afghan forces collapsed.

By their own account, Mr. Biden's aides thought they had the luxury of time, maybe 18 months or so, because of intelligence assessments that wildly overestimated the capabilities of an Afghan Army that disintegrated, often before shots were even fired. On July 8, the same day he said there was no need to worry about an imminent Taliban takeover, Mr. Biden said that "relative to the training and capacity" of the Afghan security forces, the Taliban are "not even close in terms of their capacity." He now knows that what they lacked in capacity, they made up for in strategy, determination and drive.
George Packer, The Atlantic ("Biden's Betrayal of Afghans Will Live in Infamy"):
There's plenty of blame to go around for the 20-year debacle in Afghanistan—enough to fill a library of books. Perhaps the effort to rebuild the country was doomed from the start. But our abandonment of the Afghans who helped us, counted on us, staked their lives on us, is a final, gratuitous shame that we could have avoided. The Biden administration failed to heed the warnings on Afghanistan, failed to act with urgency—and its failure has left tens of thousands of Afghans to a terrible fate. This betrayal will live in infamy. The burden of shame falls on President Joe Biden.

[…]

All of this was foreseeable—all of it was foreseen. For months, members of Congress and advocates in refugee, veteran, and human-rights organizations have been urging the Biden administration to evacuate America's Afghan allies on an emergency basis. For months, dire warnings have appeared in the press. The administration's answers were never adequate: We're waiting for Congress to streamline the application process. Half the interpreters we've given visas don't want to leave. We don't want to panic the Afghan people and cause the government in Kabul to collapse. Evacuation to a U.S. territory like Guam could lead to legal problems, so we're looking for third-country hosts in the region. Most of the interpreters are in Kabul, and Kabul won't fall for at least six months.

Some of these answers might have been sincere. All of them were irrelevant, self-deceiving, or flat-out false. While some officials in the State Department, the Pentagon, and the White House itself pushed quietly for more urgent measures that might have averted catastrophe, Biden resisted—as if he wouldn't allow Afghanistan to interfere with his priorities, as if he were done with Afghanistan the minute he announced the withdrawal of all remaining U.S. forces. This hardness is perplexing in a president who spent years in the Senate working on behalf of genocide victims and war refugees; who once promised an Afghan schoolgirl that he would make sure the U.S. didn't abandon her; who cares intensely about the welfare of American troops.

Veterans, with their code of leaving no one behind on the battlefield, have been among the most passionate advocates for Afghan interpreters. A retired officer involved in discussions with high-ranking administration officials told me that the Veterans Administration plans to offer counseling to Afghanistan vets who will experience the trauma of losing their Afghan comrades to beheading by the Taliban. The retired officer struggled to understand Biden's resistance. "If his son Beau were still alive today, he would be able to communicate to his father in a way that he'd be receptive," the veteran told me. "I don't know who else would be able to do that. I've literally thought, How do I try to get a message to the first lady? She and Michelle were both very engaged with military families and veteran issues. I thought she could convey the message in a way the president might be receptive."
Isaac Chotiner and Steve Coll, The New Yorker ("How America Failed in Afghanistan"):
[ Chotiner] You could argue that this shows the Biden Administration's policy was a mistake, but you could also argue that, if this was going to happen so quickly after two decades of American troops in Afghanistan, there was no way to make this work without pledging to stay forever. How do you think about those two ways of looking at the situation, or do you think that dichotomy isn't helpful?

[ Coll] I think that dichotomy describes two poles that represent the range of choices that the Biden Administration faced, and in between those poles had been, more or less, the policy going back to the second term of the Barack Obama Administration—which was a smaller, sustained deployment. There were twenty-five hundred troops there when the Biden Administration came to office. The rate of casualties incurred by nato forces was almost at the level of traffic accidents for much of the past couple of years. So a sustained, smaller deployment—not free, but nothing like the expenditures of the past—linked to a search for some more sustainable political outcome had been visible. The Trump Administration followed that path, too, picking it up from the Obama Administration, and the Trump White House had become quite ambitious about it. It had negotiated with the Taliban an agreement that had a timetable, including regarding American withdrawal. But, until the Trump Administration got to that point, it had been following the same pathway as its predecessor.

I think in between was this question of whether the benefits of a messy degree of stability justified having the small-to-medium deployment that America has in other parts of the world. That is what you are going to hear in Washington. The counter-argument to the Biden Administration's policy is not going to be forever war and the defeat of the Taliban; it is going to be a critique of the haste with which it pulled the plug on what was not a large deployment, and one that was not incurring a lot of casualties.

[…]

[ Chotiner] President Biden's attitude toward Afghanistan of late has seemed to be one of annoyance, while he's also putting a strong emphasis on the need for Afghans to stand up and fight for their country. How do you feel about an American President putting that forward after the U.S. has been intimately involved in that country for decades?

[ Coll] I try to tamp down my emotions about it, because I think it is an outrageous critique. I can understand the frustration that American decision-makers have had with their partners in the Kabul government for the past twenty years. It has been a very rocky road, and it isn't all the fault of U.S. Presidents and Vice-Presidents and national-security advisers. But to suggest that the Afghan people haven't done their bit is a kind of blame-shifting that I think is not only unjustifiable but outrageous. The Afghans now have suffered generation after generation of not just continuous warfare but humanitarian crises, one after the other, and Americans have to remember that this wasn't a civil war that the Afghans started among themselves that the rest of the world got sucked into. This situation was triggered by an outside invasion, initially by the Soviet Union, during the Cold War, and since then the country has been a battleground for regional and global powers seeking their own security by trying to militarily intervene in Afghanistan, whether it be the United States after 2001, the C.I.A. in the nineteen-eighties, Pakistan through its support first for the mujahideen and later the Taliban, or Iran and its clients. To blame Afghans for not getting their act together in light of that history is just wrong.
Representative Seth Moulton (D-MA), a Marine infantry veteran of the war and a member of the Armed Services Committee, put out a long statement as well.
To say that today is anything short of a disaster would be dishonest. Worse, it was avoidable. The time to debate whether we stay in Afghanistan has passed, but there is still time to debate how we manage our retreat. For months, I have been calling on the Administration to evacuate our allies immediately—not to wait for paperwork, for shaky agreements with third countries, or for time to make it look more "orderly."

While I am proud that a strong, bipartisan majority in Congress voted to expand the Special Immigrant Visa program in support of our Afghan friends, my worst fear has become realized: That ultimately this effort would distract from what is truly needed, an immediate evacuation. The fact that, at this hour, we have not even secured the civilian half of Kabul Airport is testament to our moral and operational failure. We need to rectify this immediately. America and our allies must drop the onerous visa requirements where a typo can condemn an ally to torture and death, and the military must continue the evacuation for as long as it takes.

We should also not forget that the tragedy that unfolds before us today was set in motion by Secretary Pompeo and President Trump, who negotiated in secret with the Taliban terrorists last year in order to meet a campaign promise.

Today's tragedy must also serve as a wakeup call to Congress, who holds ultimate, Constitutional responsibility for sending our best and brightest to war on the nation's behalf. Successive leaders of both parties have failed to hold the votes for re-authorizing this conflict for the last two decades since we invaded to find Osama bin Laden. For that, all of us in Congress should be ashamed.
As I've noted previously, there's plenty of blame to go around for the debacle that is Afghanistan and Biden likely deserves the smallest share among the US Presidents who oversaw our involvement. But he absolutely deserves the blame for not adequately preparing for the evacuation of Americans and the Afghans whose lives are most in danger for having cast their die with us. Many of us—including some with much bigger megaphones than me—were pleading with him to do this back in April (see here and here) and there has been focus on this issue since the earliest days of Biden's Vice Presidency.
I am frankly baffled that this was not better planned. Unlike Trump, Biden has decades of experience and a world-class team of competent advisors with whom he has a personal relationship. He knows how to use the resources of the vast intelligence, diplomatic, and military bureaucracies with the necessary expertise to have foreseen this debacle. And he's a fundamentally decent human being who personally feels the tragedy of the death and destruction that's unfolding right now. Yet, the rush to the exits was seemingly handled with Trumpian incompetence and indifference.