The Afghan Evacuation Horror Show Continues
We're not getting Afghans---or even American citizens trapped there---out fast enough.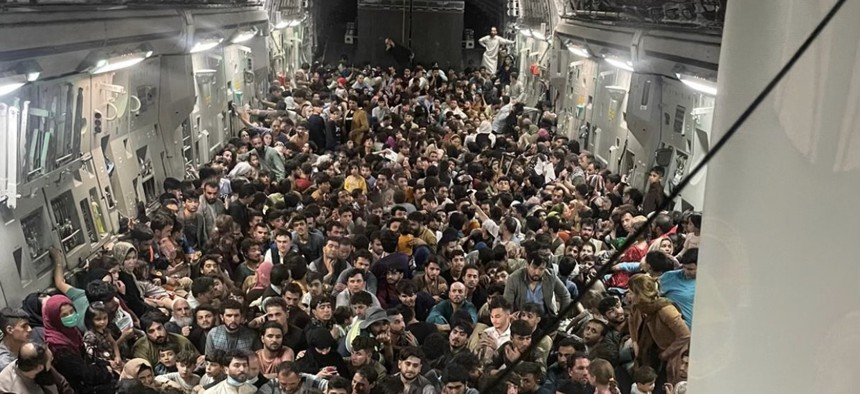 Defense One's Tara Copp and Marcus Weisgerber report "It Really Was 800+ Afghans on That Plane. They Forgot to Count the Kids."
A U.S. Air Force C-17 crew that made headlines around the world for its quick decision to pack in as many panicked men, women, and children fleeing the Taliban into their cargo hold as possible flew more than 800 Afghans to safety after all. The original number did not include children.

The total count? Eight hundred and twenty-three, which is the largest evacuation flight a C-17 has ever flown. The original count released by the Air Force was 640 Afghans. 

"This is a record for this aircraft," Air Mobility Command tweeted Friday. "The initial count of 640 inadvertently included only adults. 183 children were also aboard." 

Reach 871, a C-17 out of Dover Air Force Base, Delaware, was swarmed by Afghans late Sunday night. The plane was empty and the back gate was halfway down when those evacuees began pulling themselves into the plane and then pulling others up behind them. 

That crew faced a choice in that moment: try to force the Afghans off the plane and get them officially manifested and queued up, or allow as many as they can to get on the plane and go. 

They chose to go. 
This is one of a handful of feel-good stories, with news organizations and even private citizens making heroic efforts to get vulnerable people out. And, after getting caught flat-footed, the US military has significantly stepped up the pace of evacuations.
Still, a humanitarian crisis is underway. a running stream from the NYT website:
As the United States tries to ramp up its troubled evacuation in Afghanistan, President Biden is expected on Friday to address the furor over the sluggish process, stymied by mayhem in Kabul and delays in Washington, that threatens to strand thousands of Afghans desperate to flee the Taliban takeover.

[…]

The United States has rushed troops and diplomatic reinforcements to the Kabul airport in recent days to speed up visa processing for Afghans. American commanders are negotiating daily with their Taliban counterparts — the former insurgents they battled for nearly two decades — to ensure that evacuees can reach the airport.

But the reassurances from Washington belie the fear and futility on the ground.

Thousands are waiting fearfully outside the airport gates, where Taliban soldiers have attacked people with sticks and rifle butts. As Afghans clutching travel documents camped outside amid Taliban checkpoints and tangles of concertina wire, anxious crowds were pressed up against blast walls, with women and children being hoisted into the arms of U.S. soldiers on the other side.

Since sweeping into Kabul last weekend, the Taliban have moved swiftly to cement their control over Afghanistan, dispersing protests with force and hunting down opponents despite pledges of amnesty, according to witnesses and a security assessment prepared for the United Nations.

[…]

About 5,200 U.S. troops are securing the airport under the command of Rear Adm. Peter Vasely, a former Navy SEAL who speaks to a Taliban counterpart outside the airport several times a day, said a Pentagon spokesman Troops are also deployed at entrances to the airport, where they assist consular officers in reviewing documents, he said.

As of Thursday afternoon, the U.S. military had evacuated 7,000 Americans, Afghans and others since Saturday. The effort is well short of the 5,000 to 9,000 passengers a day that the military will be able to fly out once the evacuation is at full throttle, officials said.

"There are tens of thousands of Americans and Afghans literally at the gate," said Sunil Varghese, the policy director for the International Refugee Assistance Project. "This could have been completely avoided if evacuation was part of the military withdrawal."
A WaPo report ("Chaos persists at Kabul airport, imperiling Afghanistan evacuation effort") adds:
A chaotic and dangerous dynamic at Kabul's airport showed few signs of relenting Thursday as thousands of people attempting to board flights faced beatings by Taliban guards, the crush of heaving crowds and interminable spells in the dust and heatwhile waiting to escape Afghanistan.

The daily mayhem at the airport — a fixture since the Taliban takeover Sunday — has stoked criticism that the Biden administration was slow to try to get Americans and their allies out, while underscoring fears about how the militants will rule the country.

Several people said Thursday they had received confusing signals from the United States about how exactly they were supposed to leave, citing emails from the State Department urging them to go the airport, only to find there was no one to receive them or to answer their questions on how to board flights.
The rush to the exits is not unfounded:
Taliban militants are going house to house, setting up checkpoints and threatening to arrest or kill relatives of "collaborators" in major cities, the assessment said.

The document, produced by the Norwegian Center for Global Analyses, a U.N.-linked intelligence support center, and dated Wednesday, describes an empowered Taliban eager to seek out and interrogate or punish those affiliated with the U.S.-backed government.

At particular risk are people who were in central positions in military, police and investigative units, according to the analysis, despite a Taliban pledge this week to grant amnesty to former officials.

The fighters are using the West's focus on evacuating foreign nationals to "search unrestrained for Afghan targets inside the cities," the document said. The group is also screening for individuals outside the Kabul airport, the report said.
And, despite heroic efforts to meet the challenge, we're falling well short:
Pentagon spokesman John Kirby said the U.S. military could be evacuating 5,000 to 9,000 people per day from Afghanistan — as soon as it has that many people approved each day for departure. But in the last 24-hour period, only slightly more than 2,000 people — including almost 300 Americans — made it out of Kabul safely, flying out on 12 C-17 aircraft.

State Department spokesman Ned Price said Thursday the department has processed a group of 6,000 people who will soon board planes.

Asked about people being prevented from reaching the airport, he said, "Every report of someone unable for whatever reason to reach the airport is something we take very seriously."
The logistics of trying to evacuate thousands of people in the midst of violence are daunting enough but they're being compounded by bureaucratic rigidity. Not only are we just starting to loosen the visa processing rules—and we have nothing like the capacity to process them in a speedy fashion—we were actually adhering to requirements to have refugees sign documents promising to pay the $2000 or so that the evacuation costs. Much of this is, of course, required by law but we've been very slow, indeed, in issuing emergency waivers for all of this nonsense.